iOS 7 just got announced, and boy is it a doozy. The look is new totally new, and Apple has introduced some really big new features.
Here are some of the main additions:
One of the biggest features is Control Center, a new way to quickly access system toggles (and yes, a flashlight) from anywhere in the OS. There's also way more intelligent multitasking for apps.

With Control Center, you can swipe to reveal settings for toggles like Airplane Mode, screen brightness, and WiFi. Music controls are also available.
The new multitasking is really cool. iOS 7 has intelligent backgrounding for apps you use often which need to pull info from the cloud. The OS adapts to your environment.
New more icons for switching apps. webOS-like cards preview apps as you switch between them. Very nice.
Safari is no longer limited to just 8 tabs. There's a new Shared Links view to see what friends are sharing on networks like Twitter.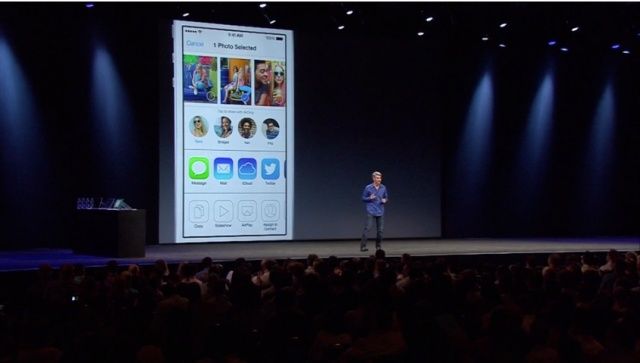 AirDrop allows for sharing between devices without the need for an internet connection. Apps with stuff like photos and video can wirelessly share with other iOS 7 devices. It's like Apple's answer to the old Bump app, minus the actual bumping.
The Camera app is totally new. There also a new square frame to shoot in with built-in filters for sharing directly to Instagram.
The new Photos app has better photo management, including shared Photo Streams (with video support now) that act kind of like a private Instagram network. A new feature called Moments intelligently collects photos as you shoot.
Vist the front page for more on iOS 7.