Remember bookmarks? It's how we used to save sites to go back to later. In theory anyway. Browser bookmark search was pretty terrible, and you had to remember the name of the site to find it again. So we mostly just used Google to search for a site every time we wanted to go there.
And then came Del.icio.us.
Delicious was sold, ignored, killed and then — finally — resurrected.
Founded by Joshua_Schachter in 2003, Del.icio.us (since renamed to Delicious.com), did two things which made it a hit amongst bookmark-collecting nerds: it let you tag your bookmarks, and it let you share them with other people. This meant that you could easily find all your own saved bookmarks (just tag all your recipes with "recipe"), and that you could just as easily find other people's.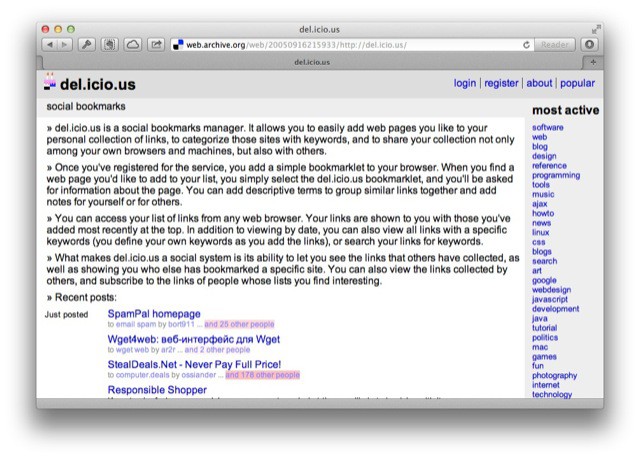 And given that somebody found all those pages worth saving, they were probably worth reading, too. Thus a kind of mini, human-selected Google was born.
Delicious was sold to Yahoo, ignored, killed and then — in 2011 — bought by Avos systems and resurrected. But by then, everybody had gone to Pinboard.in.
Pinboard
Pinboard mostly ditched the "social" aspect of Delicious, focussing on fast and reliable bookmarking. You have to pay a one-time signup fee, which increases as more users join. Currently it costs around $10. This means that the service is self-funding and should be around for a long time to come.
Pinboard tips
Pinboard is built into apps like the amazing Writing Kit, so you can browse and search your bookmarks right from the app.
Pinboard integrates with Instapaper, Readability and Read It Later (Pocket), and you can auto-add articles you save to these services to your Pinboard. You can configure this in the settings
Pinboard works with IFTTT (If This Then That), the internet glue. This lets you do just about anything you like. For instance, I use the Pinboard Channel to automatically bookmark anything I star in Google Reader, instantly saving anything interesting for me to check out later. You can also pipe in all articles from any RSS feed, save URLs for files added to your Dropbox and a whole lot more. Go check it out.
Suck your old Del.icio.us bookmarks into Pinboard. You can add your Delicious.com login to your Pinboard preferences to periodically poll your old account for new bookmarks, or you can do a one-time bulk import from this page. You can also import a bookmarks file from most popular browsers and services to get you started.
Add a note: Pinboard will store plain-text notes for you, and you can tag them as you can any URL (they even get assigned a URL so you can link to them from elsewhere.
Upgrade. For $25 per year, Pinboard will store a permanent archive of any page you bookmark. This means that you'll be able to access it even if it disappears from the web. It also means that you can search all of your bookmarks by content, turning Pinboard into a miniature, personal Google limited to the bookmarks you have saved.
Save Twitter faves. If you give Pinboard your Twitter login, it'll grab your favorites every hour or so and make them available under a Twitter_favs tag. This is pretty damn handy.
Save Browser tabs. This one is incredibly handy. If you have a bunch of tabs open, you can save them all in one go, as a special Tab group. You'll need to add an extension to Safari, and then you'll be able to click a button in the toolbar, pick the tabs you want to keep and save them. I used this in December to keep track of all the products in our Christmas Gift Guide so I could go back and edit the lists easily.
Alternative Services
Delicious
The original Delicious has seen something of a comeback, although it seems to be focussing on a slick interface and sharing features. The new demo version of the site shows the future, with thumbnails of the bookmarked sites, a universal search bar and a simple yet slick interface. The new Delicious makes Pinboard look like Craigslist.
Delicious also has Twitter integration (posted links can be auto saved) and something called Stacks. Stacks are billed as "Playlists for the web," and they are a way to collect a set of tags onto a page, and to decorate that page with some pictures. You can also create private stacks to share with small groups, which I'm sure has uses for porn aficionados everywhere.
There is also an official Delicious app.
Diigo
Diigo is overkill if all you want is to save bookmarks, but it does a pretty good job. It's a service which works primarily via the browser, and lets you save not just web-pages but chunks of text, pictures.
For me, Diigo's neatest trick is web-page annotations, which let you highlight parts of the page (like you'd highlight passages of text in iBooks) and also add sticky notes. These even work in mobile Safari on the iPad using a bookmarklet, although you'll need to install the Diigo iOS app to actually read the highlights (or better, just visit the website — the app is pretty terrible).
Bookmarks are done in the same way, by activating the bookmarklet. This loads amazingly fast, though, so you won't get annoyed. If you're using a desktop browser, you get to use a plugin. Bookmarks can be highlighted and saved into lists, and recovering them is easy.
Evernote
Evernote is my junkbox of choice. Or rather, of necessity. It feels clunky on every platform, almost as if it were written for Windows and then ported everywhere else. But it ties in with so many services it's indispensable.
And it does bookmarks. Again, it's overkill if all you want to do is tag your bookmarks to help find them later, but if you're using it anyway, why not put everything in one place?
Evernote has one clever feature which might sell you on it in this case: the browser plugin (for the desktop) will throw up results from your Evernote notes alongside any Google search you might do, right there on the same page. I find this pretty useless, but if I was collecting bookmarks, I figure it might just be very handy indeed.
Google Bookmarks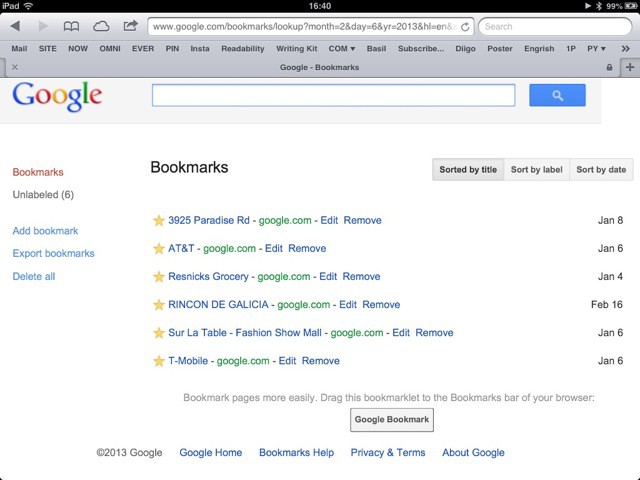 Did you know that Google will save your bookmarks, too? And it actually does it pretty well. In fact, if you have starred a location in Google maps while logged in to your account, you have probably already used it.
Google Bookmarks is as minimal as you'd expect. You can save and tag pages (tags are called "labels") using a bookmarklet, and as I mentioned any locations you have saved in maps will also be added (although they're not labeled — auto-tagging them with the town they're in would be a great help).
Search is a fast and flexible as you'd hope (att will net you results for AT&T stores you've saved), and you can browse by labels and rename those same labels.
Export is possible, and import of bookmarks only seems to work with Internet Explorer via the Google Toolbar, which might give you an idea as to how important the service is to Google. Still, it works great, and is very fast.
iCloud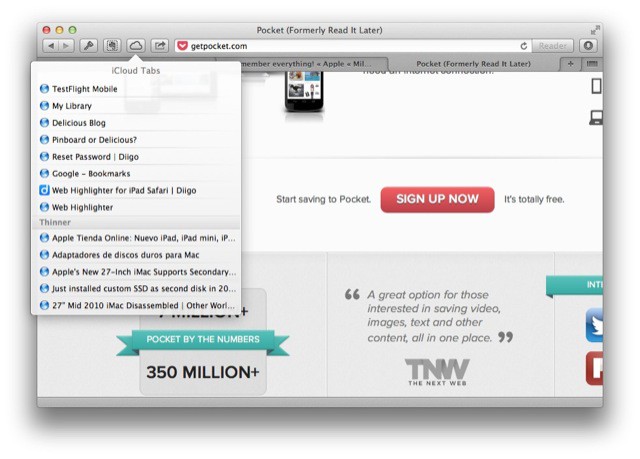 This option id for the laziest of you. If you have iCloud enabled in all your versions of Safari, then your bookmarks will sync across your devices almost instantly. Better still is the Cloud sync: tap (or click) the little cloud icon in the toolbar and you'll see a drop-down list of all the tabs open in Safari on your other devices. I use this all the time to switch from iPhone to iMac, say, or to just make sure I have a map page instantly available on my iPhone — using it almost like a temporary buffer for soon-to-be-needed bookmarks.
ICloud has another killer feature, too: Reading List. This will save a web-page for offline viewing. It's not really a good replacement for things like Instapaper, but if you just want to keep a page handy and available without a net connection (directions to a hotel, for example) then it's perfect. That it automatically syncs to all your devices is just the cherry on top.
Read Later Service
I mentioned Instapaper as a read-later service, but it can also be pressed into use as a bookmarking service. It's pretty bad at this, though, mostly through design: developer Marco Arment has not and doesn't plan to add tags, although you can organize your links into folders.
Better are things like Readability and Pocket. In fact, I use Readability as a buffer for articles that catch my eye for possible write-ups in Cult of Mac.
Really, though, these services aren't great for actual bookmarking unless you rarely add anything to them at all — the tags in the other services are almost essential to finding anything in the future.
Tagging Tips
There are two schools of thought when it comes to tagging: scattershot or structured. You can either use any and everything that you associate with the page you're saving in order to make it easier for your future self to find (try to think of how you'd search for the page, and use those tags).
Or you can stick to a rigid and limited set of tags, almost like your own taxonomy (tags-onomy? ho ho). This works well for structured research, or just if you are incredibly anal.
I prefer the scattershot approach, mainly because it's so flexible. First, you don't need to think too much when you're saving things (a big deal if your tagging system stops you from saving stuff as it's too hard). Second, it's easy to do one or two searches in the future if you don't find the page right away and third, you can use a strict research hierarchy within your ad-hoc tagging.
Use Other people's tags
Pinboard-Compatible iOS Apps
Head over to Pinboard or Delicious next time you want to do a specialist search, say something about jailbreaking, or troubleshooting your computer. It's almost certain that somebody else has done the research before you, and they will have saved their results to use again in future.
These results are pure gold.
Because they have been winnowed and whittled down from the morass of crap available on the internet, and have been deemed useful enough to save for use in the future, these links are almost certain to be better focussed than a Google search. So next time your hard drive runs away or your iPad's battery starts to drain like a bath with its plug yanked out, try a bookmarking service instead of a search engine.
Conclusion
Of these services, I use Pinboard and Evernote. While Evernote is amazing at letting me find documents — PDFs and handwritten notes from paper or Penultimate, mostly — Pinboard is way better at bookmarking. Plus, I keep a limited set of tags in Evernote, relying mostly on notebooks to organize my crap, whereas my tags in Pinboard are a mess. A mess which never fails me, but a mess which needs to be kept away from my Evernote.
I also use Safari's Reading List, and of course the amazing Instapaper. This might sound complex, but I never have to think twice about where a note, or document or bookmark should be filed, so it works for me.
If you want to try out online bookmarking, then I'd strongly recommend Pinboard, as it really is rock-solid and dead simple, and — like Evernote and Instapaper — is integrated into many apps you may use already. Plus, it's like $10.
The others might be free, but what happens to your bookmarks when they finally sell out or shut down?