The current Apple TV set-top box just doesn't cut it. We all want more from Apple, and hopefully we'll get the perfect TV experience one day. Until then, there's only the imagination.
Content distribution and management is a convoluted mess right now, especially in the living room. That's why I'm floored by the beautiful simplicity of this Apple TV concept: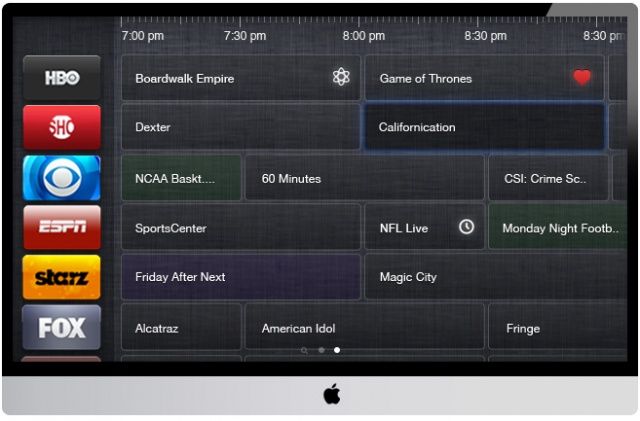 A forum member at The Verge (who goes by the name "Knowledge") created the above mockups, and he's posted a Dropbox link to all of the images in one hi-res collage. (Beware of opening that link on a mobile device; the file size is large.)
Knowledge explains the reasoning behind his mockups:
I would just like to first say I'm not a writer, designer, programmer, engineer, etc etc, just a guy with a vision, a man with the dream of paying only for content I want to watch — content that actually matters to me. When I set out to compile these ideas I thought it would be impossible for anyone to ever launch such a product because of the current monopolization by the cable companies, but rather than figure out a way around that I decided to come up with a product that would be my ideal product, the product of my dreams and probably many others regardless how impractical the politics and economics of the whole thing might be.
For not being a designer, the mockups look pretty slick. I like the attention to detail with the linen backgrounds and iOS-like folders for subscription icons. Interestingly, a FaceTime camera is also included in the concept. Awhile back we reported on an Apple HDTV prototype that had FaceTime.
I wish that something this wonderfully integrated could exist, but it would be a licensing nightmare. Apple has been trying to negotiate deals to get a live TV/internet-based product off the ground, but it looks like there's still plenty of red tape to navigate through.
Make sure to check out the rest of these mockups on The Verge.
Source: The Verge