There's something about good food that inspires people to whip out their iPhones, snap a pic, apply a retro filter, and share it with the world on Instagram. Turkey Day was a massive successful for the Facebook-owned social network. Today Instagram revealed that a record-setting 10 million photos were shared yesterday, with an upwards of 200+ uploads per second. That's insane for an app that's only a couple of years old.
Earlier this month, Instagram's CEO revealed that Hurricane Sandy was the most photo-documented event in history. More than one million people shared photos on Instagram with the "#Sandy" hashtag. The holiday season has already blown that number out of the water.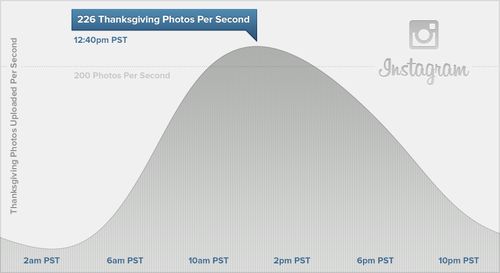 Instagram now boasts more than 100 million users, but it still has a long way to go before it catches up with Facebook's billion+ users who share more than 300 million photos per day.
Source: Instagram Blog
Image: ceegeez