A couple weeks ago we told you that Borderlands 2 was coming to the Mac this month. Fast forward to today, and the highly-anticipated shooter has hit OS X only two months after it debuted on the PC.
And who said Macs couldn't be gaming consoles?
Cult of Mac's Eli Milchman explained Borderlands a couple weeks ago:
For those unfamiliar with the Borderlands franchise, the games straddle the line between first-person shooter and role-playing game. Yes, there are heaps of big explosions, adrenaline-filled battles and careful tactical considerations; but all that seat-of-your-pants excitement is given huge scope with a big world you're allowed to roam or drive around in freely, different types of characters to play — like a elemental-weapons specialist or long-range sniper, all with their own level-up trees — and a cooperative play system. The whole thing is set in a cartoonish post-apocalyptic backdrop that gives the Borderlands games a slick, heavily stylized feel. Then there's the most unusual aspect of the game, a system where weapons (mostly guns and grenades) are randomly generated with different stats, assigned a rarity value based on their impressiveness and then tossed in lockers or slung off dead bodies for players to find.

While the original was fantastic, reviews of Borderlands 2 say the sequel is even better: New character classes, more varied, prettier environments (the original mostly stuck to desert backdrops, even in some of the DLC) and a much-expanded random-loot system that isn't just about guns and grenades, but adds shields and alien artifacts.
The game is now available for Mac and PC on Steam and Aspyr's GameAgent store. It costs $60 on Steam right now, but only $45 on GameAgent. Borderlands 2 should eventually be available in the Mac App Store as well. Minimum hardware requirements are: Intel Core 2 Duo, 4 GB of RAM, and 13 GB of free hard drive space.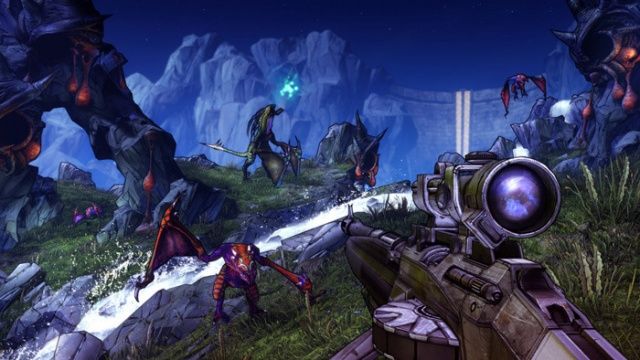 Source: Borderlands 2