Headquake is a music sound enhancement app for iOS. It claims to "flat narrow sounds to an enormous yet perfectly balanced 3D Sound experience surrounding your head." But hearing, like music, is a very individual thing, and Headquake's efforts aren't always much of an enhancement.
Let's start with the UI. The controls are small and closely-packed, which makes sound adjustments a little more fiddly than they should be.
As you slide the Position and Ambience controls from side to side, you get some visual feedback in the background. Once you've grasped how the visuals relate to the slider positions, you can start to try memorising a few layouts that suit a particular genre or song.
You'll have to memorize them, because unfortunately Headquake doesn't include any sort of preset saving functionality. If you tend to listen to a lot of similar stuff, that might not be an issue. But if your tastes are varied, it might mean you find yourself having to return to the app again and again as your playlist evolves, fiddling with the sound settings to suit what's playing.
The "Position" control tries pull of the 3D sound trick, fooling your ears into thinking that the sound – particularly the vocals – is being played in front of you. Through a pair of basic Apple ear buds, the effect is middling-to-poor. It made Joni Mitchell sound like she was singing into a teapot. With "Ambience" turned down low, you get a warmer, closer sound. Turn it up higher for something more echoey.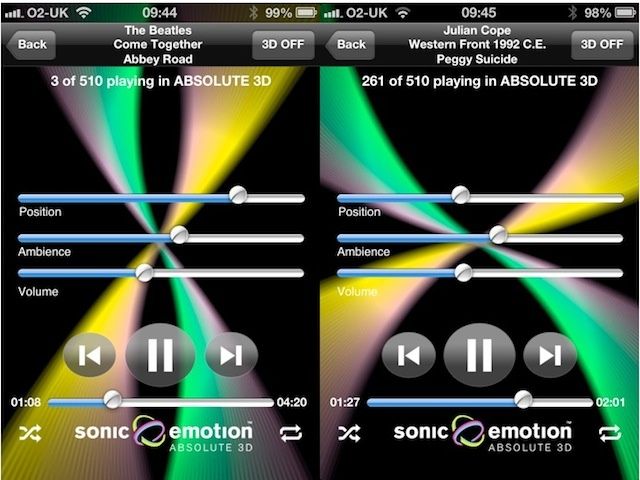 To hear the difference the app is making, hit the "3D OFF" button and everything will play normally for a few seconds, then jump back to 3D mode. Overall, I found most of the effects too treble-heavy for my liking, giving too many songs an emptier, tinnier feel than they had before. When I tapped the "3D OFF" button, I heard more detail and a better balance, especially from the bass end.
Headquake takes into account what you're listening with, be it Apple's own ear buds, in-ear, or over-the-ear headphones. There's no word yet on whether it supports the new Apple EarPods.
No matter how much I put Headquake sounds round my head, I can't get my head round the app. It doesn't seem to add a great deal to the music listening experience, in fact it just adds more work for you to do as you listen.
The technology at work here, Sonic Emotion, is also used in home cinema and hifi products, and there's a good chance that it does a much better job in those environments. I'm not convinced that it's a worthwhile investment on iPhone, though. You're probably better off saving your one dollar towards a pair of good quality, comfortable earphones.
Source: Sonic Emotion
Thanks: Jesse