SAN FRANCISCO — This is Charlie Hufnagel, who was paid $1,500 to be first in line for the iPhone 5 at Apple's flagship store here in the city.
Hufnagel was hired through TaskRabbit, an increasingly popular freelance odd-job company in this economy. He's been camping out in front of the store for 94 hours (nearly 4 days) to snag a new iPhone for a "private investor."
In fact, there are about 70 "TaskRabbits" in line here in San Francisco, who are being paid $55 to wait up to four hours for other people. A TaskRabbit rep estimated that one in four in line here are TaskRabbits.
Hufnagel says he got the plum $1,500 job because he advertised that he had a tent, which he's been sleeping in.
TaskRabbit has been bringing him burritos and other sustenance. Hufnagel actually hired another TaskRabbit yesterday to hold his line in place while he got a shower.
Hufnagel has been unemployed for a couple of months. He's been using TaskRabbit to pay his rent while he looks for work.
"This isnt the wierdest thing I've done for Task Rabbit," he said. "I delivered a singing telegram and made twelve papier-mache alligator pinatas."
Here are some of the other people waiting in line in San Francisco this morning:
This is Rose Marie, an official TaskRabbit line holder. She's holding up a reservation ticket just given to her by an Apple Store retail employee. Rose Marie has been waiting in line since 3am. She has ticket #10 for iPhone 5.
And here's the actual ticket.
I'm not sure where these people went. Maybe they couldn't sell their spot, so they just left!
Hugo Gonzalez and Christian Soto are second in line promoting their business, Compupod. They fix iPhones and other iDevices for a living. A cracked screen will cost $50-$99 depending on the model. They have been in line since Wednesday and brought their own tent.
Charlie Hufnagel's TaskRabbit sign.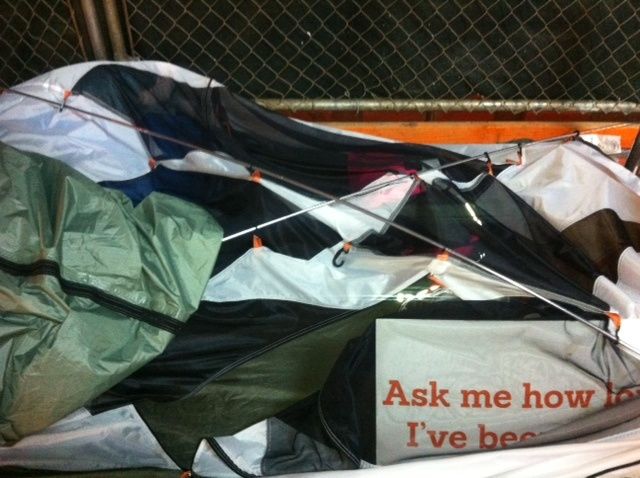 Hufnagel's tent being taken down.
The Apple Store window in anticipation of the iPhone 5 launch.
Alan Martello is a film student. "I want it. That's why I've been standing in line since 3am," he said.
Oliver the dog waited in line for 8 hours with one bathroom break. His owner said "no," when I asked him to change his name to "Apple."
TaskRabbit hands out pastries.
Ivisor keeps bubbles away.
Giving out apple-flavored Izze fizzy drinks.
An Apple staffer walks the line.
Hufnagel plays Europe's "Final Countdown" on a portable Jambox speaker.