Mac OS X 10.7 "Lion" (2011)
Lion represented a major step forward, installing via download rather than DVDs, dropping all support for PowerPC software, and implementing interface elements popularized on iPads and iPhones. With Lion Apple brought the lessions of iOS "Back to the Mac".
The primacy of Search taking precedence over browsing the filesystem is complete, as the default Finder window opens to a new "All My Files" view. The home folder in the Sidebar has disappeared. Auto-Save and Versioning for documents were introduced as a supplement to Time Machine capabilities, though Save As… was sacrificed for the cause. Exposé and Spaces merged into Mission Control, and both became more useful in the process.
In a controversial move, Lion changed the default scrolling behavior to match how iOS devices work – the reverse of how Macs traditionally worked. On iOS devices content is pushed up in a window, whereas on a traditional computers a scroll bar is pulled down to move the window over content. Apple calls the new behavoir "Natural Scrolling". Also matching iOS behavior, scrollbars are now hidden by default and only appear when need.
Among the masses outside Cupertino, these changes in behavior were largely met with one of two reactions: either viewed as slight improvements, or the Most Annoying Things Apple Has Ever Done.
New user interface themes appear again in Lion, though this time it wasn't iTunes leading the charge. iCal and Address Book both adopted a skeuomorphic approach, mimicking the (faux) paper desktop calendar and leather bound address book first seen on the iPad. iCloud also made its debut during Lion's reign, and quickly became a cornerstone of Apple OS efforts across both Macs and iOS devices.
OS X 10.8 "Mountain Lion" (2012)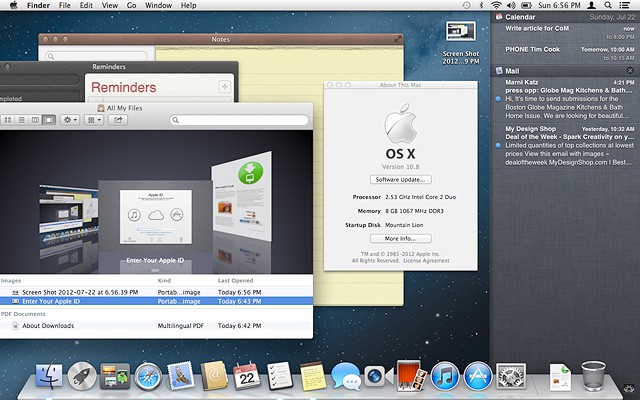 As Felidae Mountain Lion leaps onto the scene in 2012, Apple has switched back to an annual release schedule. It's notable, given recent changes in Apple's ecosystem, that the "Mac" moniker has been dropped from the operating system's name and this release is branded as just "OS X".
The Finder is largely unchanged although the Dock now has become a frosted glass shelf, more opaque with less mirroring. In another nod towards iOS philosophy, the glowing "running app" indicators are barely visible in Mountain Lion, they're just small smudges at the very bottom of the screen. These are easy to miss, I suspect they'll be gone entirely in 10.9.
Notifcation Center makes it's debut in OS X at the top right hand side of the menubar, a click expands the list. The Dock sports new icons for Reminders and Notes, two apps brought over from iOS. iChat has been renamed and expanded as Messages, Address Book has been renamed Contacts, and iCal is now Calendars. iCloud is heavily integrated into the OS, and many Apple apps offer options save files either locally or online.
In a quiet change, the default system preference in Mountain Lion has switched back to Close Windows when quitting an application, rather than Restore windows when quitting and re-opening apps. Apple's intent with Lion was to mimic the way iOS apps pickup work where you leave off, but the reversal suggests many Mac users preferred pre-Lion behavior.
One thing which hasn't changed in many years is the selection of system alert sounds, many of which have been the same since Mac OS X debuted in 2001. Did Apple's lone sound designer resign with the demise of Mac OS 9? Are we really going to have to choose between "Sosumi" and "Submarine" for our system beeps forever?
As you can see, here at Cult of Mac we focus on the Important Things. Ahem. Carry on…