While the built in Photos app can do some basic things like rotating photos or sorting them into albums, chances are most of us have wished we could do a few more basic tweaks to our photos before we send them off to be printed or shared with friends and family. Now that it's vacation time for a lot of families, we though it'd be great to run through some basic photo editing tips using Apple's own iPhoto for the iPad, for easy yet powerful editing on the go.
First up, the iPhoto for iPad app is $4.99, which is surely not going to break the bank. Included with iPhoto are many of the pro-sumer level effects that should meet the needs of most, if not all, non-professional photographers. Download the app from the App Store right away to follow along step by step.
Cropping photos well is a basic yet underutilized editing technique that most photographers do first. In iPhoto, tap the photo you'd like to crop and tap, well, the Crop button in the lower left of the screen. Touch the image, then, to crop it. you can twist your fingers to rotate the photo, tap and drag the crop handle by its edges, or just pinch in or out to adjust the photo size relative to the frame around it. You can also tap the gear icon to choose a preset image ratio (like 4 X 3 or 5 X 7).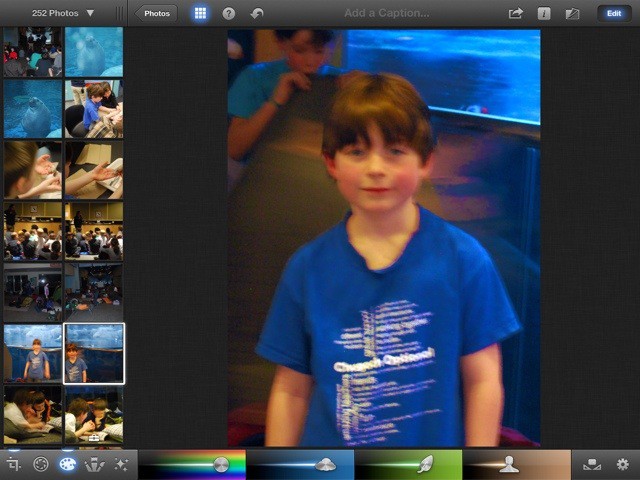 Color correction is another quick way to make good images great. Select a photo, then tap the palette icon in the lower left of the screen. Touch the area in the image you want to adjust, and iPhoto will auto-magically know if you're touching blue sky, skin tones, or green scenerey, and adjust accordingly. When the adjustment handles appear, you'll be able to drag your finger left or right to adjust that specific color in the image. Touch anywhere else in the image and you'll be able to drag your finger up or down to saturate or desaturate the color in the whole photo. Look below the photo to adjust colors with the four sliders along the bottom of the screen to adjust the saturation, blue skies, greenery, or skin tones for the whole photo.
There are even some preset color adjustments you can do by tapping the White Balance (WB) icon in the lower right. Just choose a preset, like Cloudy, Incandescent, or Sun, to adjust the image accordingly.
Got an iOS tip of your own? Need help troubleshooting your iPhone, iPod touch or iPad? Drop me a line or leave a comment below.