This entire week we've been showing you guys how to take your DVD movie collection, rip the movie files off your DVDs, and get those movies playing on your iPhone, iPad, or Mac. Thanks to the software gurus at Digiarty, the entire process is free this week to Cult of Mac readers because Digiarty is giving away their popular MacX DVD Ripper Pro Stream Edition software absolutely free to anyone who reads Cult of Mac and has a pretty smile.

Yesterday we showed you how to rip your DVDs onto your computer, but what if you don't want to waste all your iPhone or iPad's storage space on movie files you might not watch for a while? Well, Digiarty has an easy-to-use solution which solves that dilemma. Air Playit is part of the free giveaway package Digiarty is handing out, and it turns your Mac into a server that will stream your ripped DVD movie files straight to your iPad or iPhone. It's so simple your grandma can do.

Follow these three steps to get your ripped DVDs streaming to your iPad or iPhone right now:


Step 1. Download the free Air Playit Mac app contained in the free giveaway package on Digiarty's website. Then download the free Air Playit iPhone app or iPad app from iTunes.

Step 2. Run the Air Playit server app on your Mac. Click on the "Shared Folder" to import the video ripped by MacX DVD Ripper Pro.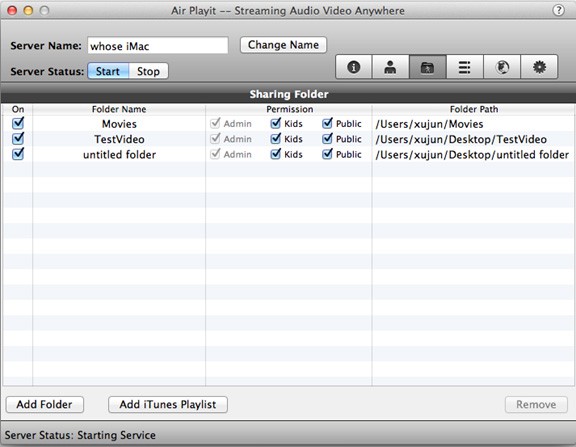 Step 3: Launch the Air Playit app on your iPhone or iPad. It can discover the server by itself. Find the video folder as you setup on the server, and find the video you want to watch. Click "Play". You can also download it to your device directly if it is an iOS supported video format.
That's all it takes and you're ready to snuggle up with your iPad and enjoy all of Ryan Gosling's sex appeal streamed straight to you. It's like magic, only a lot easier. Don't be selfish though. Spread the love and tell your friends on Facebook and Twitter all about the awesome MacX DVD Ripper Pro Stream Edition that they can get for free. Hurry up though because this giveaway ends on May 1st at 12pm PST.

This giveaway has been sponsored by Digiarty. If you or your company are interested in running a Sponsored Giveaway with Cult of Mac limited slots are available. For more information please email us.