SAN FRANCISCO, MACWORLD/IWORLD 2012 — I spent the afternoon on the floor hunting down unique products and people.
The show is about the same size as last year: about 300 exhibitors. It's not all iPhone cases, as it has been in years past. There are some interesting products tucked away, especially at the edges of the show floor. There are also plenty of booth babes. If you're into that sort of thing.
ScreenPro (makers of screen protectors) sponsored a live artist who painted this picture of Steve Jobs with his fingers on the spot.
This is the artist with his other creations.
MacKeeper has lots of booth babes who are happy to pose for pictures.
More booth babes were promoting Opena, a $40 iPhone case with a bottle opener. I was surprised to find two bottle opener cases at the show. I suppose it's handy if you're  at a tailgate party or a fraternity party.
SellYourMac has even more booth babes promoting their product. This chap was only to willing to pose for a picture.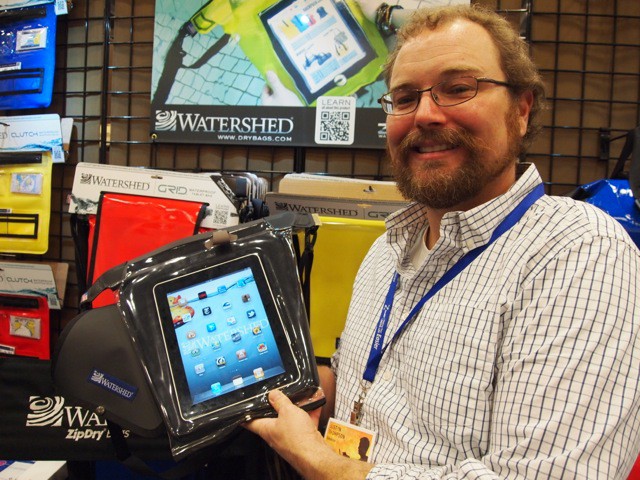 The Watershed Drybags is introducing the Grid Tablet Bag. Completely waterproof for up to 15 feet submerged. The $80 bag comes in 6 colors. Great for a surfer or rugged outdoorsman. This company provides the Navy Seals with bags.
iBallz is a shock absorbing harness that offers total 360% protection for your iPad. The squishy balls protect it and are fun to play with. Perfect for schools and kids.
iKeyboard makes a $35 keyboard that attaches to your iPad with magic tape for touch typing. Super fun to play with the clear bubble buttons. Clever idea.
FlyGrip had a purple cat suited girl showing off their one-handed iPhone case/holder.
Nivio won the best swag/booth award. Their oxygen bar was a big hit for the attendees.
Two Star Wars fans from Vallejo who happen to be best friends. May the fleece be with them!
Have a spare $68,000 burning a hole in your pocket? All Jack has a custom-built speaker system you can buy. Insane amount of money to spend for one special speaker. But it sure is pretty.
The  iLid claims Lid to be the worlds thinnest iPhone wallet. It's a case but opens up and becomes a wallet. Everything a guy needs for a night of clubbing; house key, money and credit card. Don't forget protection. Yeah that will fit too.
The Intoxicase is a $35 iPhone case that has a bottle opener on the back. The company has a drink app with it that shares how many beers you are drinking and where you are. In case you have forgotten, it reminds you where your car is parked   Probably not safe to drive though if you're so drunk you can't remember where your car is. I'm just saying.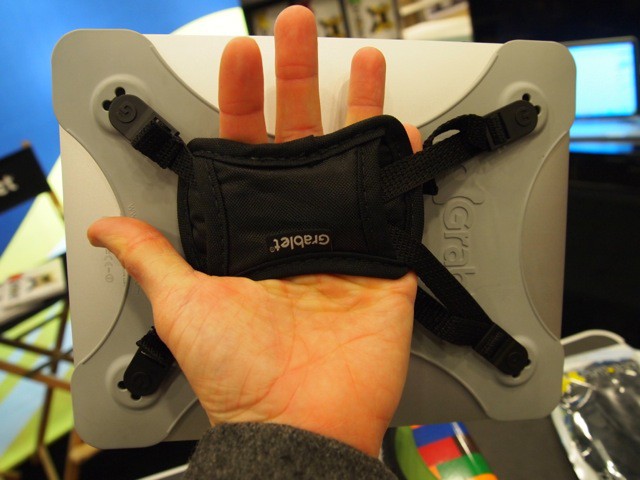 The $39.99 Grablet has a case and a handle To carry around your iPad. Grab it and go.
The wave cradle low profile is an iPhone sound enhancing stand. Available for $19.95 in three colors.