Want the iPhone 4S but still unsure which carrier to commit to? It was easier when there was just one, right? Well maybe this will help you decide: A test performed by Metrico Wireless highlights the strengths and weaknesses of all three iPhone 4S providers — AT&T, Sprint, and Verizon — with Verizon coming out on top when it comes to reliable calls, and AT&T beating the others to faster data.
Metrico rigorously tested Apple's latest iPhone by performing over 21,000 webpage downloads; 8,000 download and upload tests; and 6,000 voice calls on both real and simulated networks, while stationary and in motion.
Their results revealed Verizon was by far the most reliable carrier for making calls, with just 2.1% of calls being dropped. Its rivals, AT&T and Sprint, dropped 2.8% and 3.7% of calls respectively. However, Metrico notes some of the dropped calls will be thanks to the iPhone itself, with the average dropped call rate for the industry at just 1.4%, and the device being famous for its poor call reliability.
Although Sprint was at the bottom of the pile with regard to dropped calls, it came out on top for live network voice quality on the uplink (outward traffic connecting to mobile satellites). AT&T did beat the carrier on the downlink, however, and Verizon showed lag on both.
AT&T proved to be by far the best carrier for data speeds, with those on the iPhone 4S showing a significant improvement to speeds achieved with the iPhone 4. The new device reached download speeds of up to 6,047Kbps on AT&T, which was followed by Verizon with less than half that at 2,371Kbps, and Sprint in third, achieving just 1,767Kbps.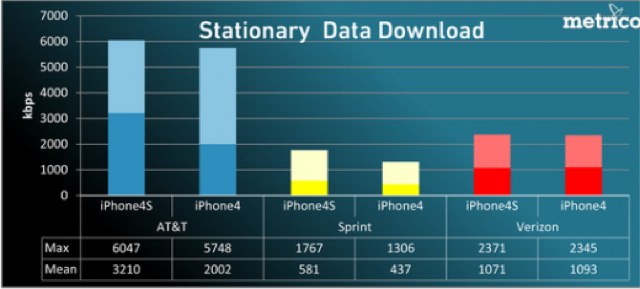 Metrico notes that their results accurately reflect the marketing messages preached by each of the carriers:
While AT&T touts its data speeds, Verizon stresses that reliability trumps all else. Sprint, which didn't dominate its rivals in any performance category, instead promotes its status as the only unlimited carrier.

Metrico wouldn't go so far as to recommend which phone to buy, but Malhotra says the hope is that consumers use the numbers to pick their priorities and that handset makers and wireless operators use it to improve their shortcomings.
So, there you have it: For more reliable calls, get your iPhone 4S on Verizon. For better data speeds, choose AT&T. And for unlimited but slow data, choose Sprint.
[via The Next Web]