What a difference a week makes. Last week I went to the San Francisco downtown Apple store to take pictures of the sad Steve Jobs memorial. This week it was a different world at the iPhone 4s launch. Business as usual. There was only one reminder of Steve, a single bouquet of flowers stashed in the corner of a window.
The crowd was small compared to past Apple product launches. There were only about 200 people or so waiting in line. There were plenty of iPhones to go around. In fact the ratio of store employees to customers was almost equal. Just about every one of the store's 350 staff members was working today, according to one employee. Here are the "Golden tickets" — tickets given to everyone in line to reserve their iPhone 4S. Everyone in line got a ticket (and an iPhone) and there were plenty of iPhones left over after the initial rush died down.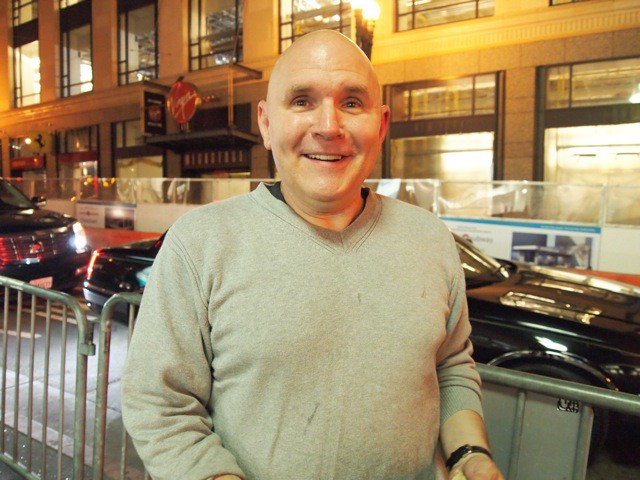 This is Duncan Fraser, the first person in line. He had been waiting since 4:30PM Thursday to grab the first iPhone 4S. He is a launch virgin — he's never waited in line for any Apple products before. He lives two blocks away and the weather was beautiful. He just wanted to be out of his hot apartment for a while. Plus, he wanted a new iPhone real bad. He slept for a total of 10 minutes. But he managed to sneak home for a quick shower while number two in line held his place. His very first Apple product was a 1977 Apple II plus. Enough about him though.
This is Kevin from San Francisco. He had the #5 spot in line. He just wanted to make a few bucks being a placeholder for someone willing to buy his spot. When I first arrived at 6:30AM he wanted $300 bucks.
But after 45 minutes without any takers he lowered his price to $100. He was pretty pissed because nobody seemed interested. Poor Kevin! Better luck next time with the iPhone 5.
These two experienced line waiters brought their own blue chairs to chill out in. Not willing to give their names — only their numbers in the line, #6 and #7 — they have been sitting pretty since 9:30PM on Thursday night.
This is Doctor Popular, #8 in line. He was promoting Postagram, an app that instantly prints and ships photos from Instagram, Facebook or your phone. The app's super-slick postcards cost just 99 cents. A steal if you ask me.
Jeremy Brooks was in line not to purchase a phone but to support his buddy Doctor. He was also promoting his own app, Interlacer. The app combines alternating lines from multiple images to make a new image. The end result can vary from a multiple exposure to a color-tinted photo. The result is often a very abstract creation. The app is free today — check it out.