The star-studded Apple TV show lineup is starting to look like it could become a legitimate contender to Netflix and HBO. After going on a Hollywood spending spree in the last eight months, Apple appears poised to make a huge push into original content.
Thanks to its new worldwide video executive team, many of the Apple TV series in development actually look really promising and diverse. From Steven Spielberg's Amazing Stories to mysterious new sci-fi series See, Apple's working on some shows everyone could enjoy.
Check out all the full list of TV series Apple is working on:

Amazing Stories
Genre: Sci-fi
Sounds like: Black Mirror meets Stranger Things
One of Apple's first major projects is rebooting Steven Spielberg's 1980s TV show Amazing Stories. The sci-fi, fantasy and horror series has been in the works since 2015 at NBC, with Apple purchasing it last year.
Apple's show will be similar to the original, in that each episode will consist of a self-contained plot and characters. Original showrunner Bryan Fuller reportedly wanted to make the Amazing Stories reboot similar in tone to bleak sci-fi series Black Mirror. Apple wanted a more family-friendly show, so the two sides parted ways. After that, Hart Hanson took over the showrunner role before he left as well.
Spielberg still serves as executive producer on the project. The show promises to bring viewers "worlds of wonder through the lens of today's most imaginative filmmakers, directors and writers."
Morning Talk Show

Genre: Comedy
Sounds like: The Office mixed with Anchorman.
Apple is making a big investment in Reese Witherspoon's media company Hello Sunshine. The iPhone-maker has three shows in the works that are being produced by Witherspoon. First up: A comedy starring Witherspoon and Jennifer Anniston that sounds kind of like The Office or Parks and Rec — except it takes place at a morning TV talk show.
Apple already purchased two seasons (with a total of 20 episodes). However, the production is off to a rocky start. Creator and showrunner Jay Carson recently departed the project over creative differences. A search for his replacement is still underway.
You Think It, I'll Say It
Genre: Comedy
Sounds like: Master of None, only take out the cooking part and add a female lead.
Kristen Wiig is coming back to TV thanks to Apple. In her first TV show since leaving Saturday Night Live, Wiig is set to star in a new comedy series created by Reese Witherspoon's production company.
The show is based on Curtis Sittenfeld's short story collection, You Think It, I'll Say It. Even though the show will be a comedy, it sounds like it will tackle some series issues. The book is described as one that "upends assumptions about class, relationships, and gender roles in a nation that feels both adrift and viscerally divided." The first season will consist of 10 half-hour episodes.
Update: Wiig has reportedly dropped out of the comedy due to scheduling conflicts with her filming for Wonder Woman 1984. A replacement for the lead role hasn't been revealed yet but Wiig will stay on as an executive producer.
Are You Sleeping
Genre: Drama
Sounds like: The Good Wife with a podcasting murder-mystery twist.
Reese Witherspoon's third show in development with Apple will star Oscar-winner Octavia Spencer in an adaptation of the true crime best-selling book "Are You Sleeping" by Kathleen Barber.
We don't know a lot about it, except that the adaptation is being written by Nichelle D. Tramble, whose credits include The Good Wife and Justified. The show will be about a podcast team that reopens a long-closed murder case that affects the staffers' lives, too. It sounds a lot like a TV version of NPR's Serial podcast, only with more drama.
Little America
Genre: Comedy
Sounds like: Fresh Off the Boat mixed with some Atlanta style.
Immigration will take center stage in one of Apple's most original comedies called Little America. It's being written by Silicon Valley star Kumail Nanjiani and his partner, Emily V. Gordon. The duo wrote the 2017 indie hit Big Sick together.
Little America is described as "a small, collective portrait of America's immigrants — and thereby a portrait of America itself." Considering Nanjiani and Gordon's previous work, the series probably will deliver lots of laughs as well as touching dramatic moments.
Lee Eisenberg will serve as showrunner and will help write the show with Godron and Najiani. Master of None co-creator/executive producer Alan Yang is set to join the project as executive producer with Universal Television.
See
Genre: Drama
Sounds like: A bad ass sci-fi space opera.
Apple tapped Peaky Blinders creator Steven Knight to create one of its most ambitious shows. We know the series name — See — but details beyond that remain slim. See is described as an epic world-building drama set in the future. That's pretty much all we know for now, other than that it's being directed by Francis Lawrence of The Hunger Games fame.
Game of Thrones and current Aquaman actor Jason Momoa is set to play the lead role of Baba Voss, described by trade magazine Variety as, "a fearless warrior, leader and guardian." So a totally different type of role for Momoa, then!
Foundation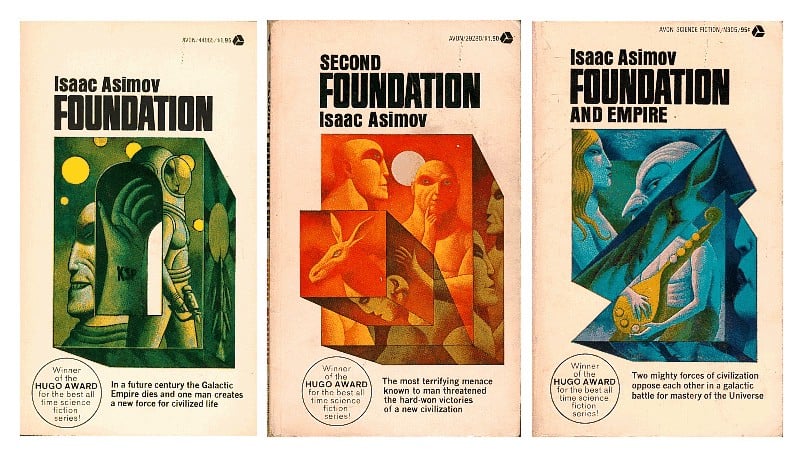 Genre: Drama
Sounds like: Game of Thrones only it's in space and the scale is even bigger.
Isaac Asimov's sci-fi trilogy Foundation is finally getting the TV series it deserves. Apple media boss Eddy Cue previously said the company wants a show as big as Game of Thrones — this could be it.
The trilogy centers on a galactic empire of humans living on multiple planets across the galaxy. If the concept of Foundation sounds a bit like Star Wars to you, that's because it was one of the biggest inspirations behind George Lucas' sci-fi fairy tale set in a galaxy far far away.
The story's protagonist possesses the ability to see the future and the empire's upcoming demise. He sets out to save all of mankind's knowledge from being wiped out. The Dark Knight writer David S. Goyer is set to lead the project.
This isn't the first time someone's tried to turn Foundation into a TV show, so don't get your hopes up too high. Jonathan Nolan wanted to make it into an HBO series back in 2014, but created the cable network's Westworld reboot instead.
Central Park
Genre: Comedy
Sounds like: It won't be as good as Rick and Morty.
New York City's Central Park provides the setting of Apple's first animated music comedy. Central Park is being produced by Bob's Burgers creator Loren Bouchard and actor Josh Gad.
Apple describes the show as "a family of caretakers, who live and work in Central Park, end up saving the park, and basically the world."
Cupertino already ordered two seasons consisting of 13 episodes each. Central Park will bring some A-list voice actors to the cast. Gad, Kristen Bell, Titus Burgess, Stanley Tucci, Leslie Odom Jr., Daveed Diggs and Kathryn Hahn all signed on to the project.
Swagger
Genre: Drama
Sounds like: Friday Night Lights focused on basketball.
The early life of NBA star Kevin Durant provides the inspiration for Apple's first sports-focused show. Swagger will explore the world of Amateur Athletic Union basketball and the players, coaches and family members involved with it.
The series sounds similar to Friday Night Lights, only with basketball as the lens to view its characters' lives through. Ron Howard and Brian Grazer — the same producers that made Friday Night Lights a hit — will produce the series.
Untitled Ronald D. Moore sci-fi series
Genre: Sci-fi drama
Sounds like: The Man in the High Castle, only U.S.A and Russia won WWII but never ended the space race.
A futuristic world where the space race between the United States and Russia never ended will serve as the setting for an Apple sci-fi epic created by Ronald D. Moore.
Moore, who helped create the amazing Battlestar Galactica reboot, will create the series and serve as lead writer. Apple brought on Fargo co-executive producers Matt Wolpert and Ben Nedivi to help produce the show, too.
Joel Kinnaman, Michael Dorman and Sarah Jones will star in lead roles. Kinnaman, who previously appeared in the RoboCop reboot and Netflix's Altered Carbon, will play Edward Baldwin, one of NASA's top astronauts. Dorman (who starred in Amazon's Patriots) and Jones (USA Network's Western drama Damnation) will play Gordo and Tracy Stevens, a prominent NASA couple.
Untitled M. Night Shyamalan series
Genre: Drama
Sounds like: Something strange.
Shyamalan inked a deal to executive-produce a new TV show for Apple that's being described as a psychological thriller. All other details remain tightly under wraps. The show is being written by Tony Basgallop, with Shyamalan set to direct the first episode. So far, Apple ordered one season of 10 episodes, each about a half-hour in length.
Untitled Damien Chazelle series
Genre: Unknown
Sounds like: A total mystery.
Academy Award-winning writer/director Damien Chazelle has also been tapped by Apple to create a mysterious new original TV show. Chazelle's deal with Apple came a year after his film La La Land scored six Oscars, including Best Director and Best Screenplay for Chazelle.
Each episode will be written and directed by Chazelle, who is also listed as an executive producer on the project. No actors have signed to star in the series yet, but we're sure to hear more about the cast as the project develops.
Homes
Genre: Family reality show
Sounds like: The Apple edition of Lifestyles of the Rich and the Famous
The most extravagant homes in the world will be on display for Apple's first lifestyle TV show. The new docuseries, called Homes, will explore some of the most fabulous abodes in the world, along with the minds that made them. Think Lifestyles of the Rich and Famous only with more of a focus on design. Hopefully, they get Jony Ive to narrate.
Little Voices
Genre: Dramedy
Sounds like: Glee only not as lame
J.J. Abrams and Sara Bareilles teamed up to executive-produce this musical dramedy. With Jessie Nelson of I Am Sam fame serving as showrunner, the series is described as a love letter to the diverse musicality of New York. It will explore the universal journey of finding your authentic voice in your early 20s.
Emily Dickinson
Genre: Comedy
Sounds like: 21st-century feminist comedy with 19th-century flair.
American poet Emily Dickinson and the constraints of society on gender and family in the 19th century will serve as the inspiration behind this Apple comedy series. The half-hour show stars Hailee Steinfeld as Dickinson, a writer who examines her out-of-place role in society with modern sensibilities.
David Gordon Green of Pineapple Express and Vice Principals is set to direct and executive-produce along with Michael Sugar and Ashley Zalta from Sugar23 Productions. Alex Goldstone and Darlene Hunt produce for Anonymous Content.
Shantaram
Genre: Drama
Sounds like: Slumdog Millionaire without the game show.
Shantaram will be based on the best-selling novel of the same name that has sold more than 6 million copies worldwide. It tells the story of an Australian prisoner on the run named Lin who tries to get lost in the city of Bombay. He then finds a new life in the slums and underworld of India.
American Hustle writer Eric Warren Singer will write and executive-produce the series. (Singer also wrote the screenplay for the upcoming Top Gun sequel.)
Jonny Depp bought the rights to the novel, with Warner Bros. developing it as a movie. Joel Edgerton was attached to star but the project got canceled. Currently, no actors have signed on to the project that we're aware of.
Apple was the high bidder for the rights to create a TV series based on Pachinko, a best-selling book about a Korean family written by Min Jin Lee.
This is one of nearly two dozen TV programs Apple is paying to produce, even though the company has announced no plans for a video service. Yet.
Pachinko
Genre: Drama
Sounds Like: Fievel Goes West only with humans and its set in Korea.
Apple secured the rights to create a TV series based on Pachinko, a best-selling book about a Korean family written by Min Jin Lee.
The iBooks review of Pachinko says the novels follow one family for over half a century, "tracking their winding course from a seaside village in occupied Korea to gambling halls in Japan."
Min Jin Lee will serve as one of the executive producers with Soo Hugh, serving as showrunner. She previously was showrunner for the first season of The Terror,and created The Whisperers.
Time Bandits
Genre: Dark Comedy
Sounds Like: A TV version of the 80's movie Time Bandits
Terry Gilliam's fantasy film Time Bandits is set to be turned into a TV series by Apple.
Written and directed by Terry Gilliam, Time Bandits is a follows a young boy who accidentally joins a band of time-traveling dwarves that jump from era to era looking for treasure to steal. They travel to the Napoleonic times, Middle Ages, the early 1900s, the time of Legends and the Fortress of Ultimate Darkness where they confront Evil.
The series will be developed as a co-production between Anonymous Content, Paramount Television and Media Rights Capital. While Gilliam won't write for the series, he will serve as an executive producer.
Video Game Developer Comedy
Genre: Comedy
Sounds Like: The Office mixed with a little It's Always Sunny In Philedelphia.
From the minds of It's Always Sunny in Philadelphia stars Rob McElhenney and Charlie Day, one of Apple's most ambitious comedies is set to take place at a video game development studio.
The show — currently unnamed — will star Rob McElhenney, who will also co-write along with Charlie Day. Insiders have described the comedy as "cutting edge" saying that it will "explore the intricacies of the human condition through hilarious and innovative ways." Game-developer Ubisoft is serving as one of the producers. McElhenney and Day won't have to submit a pilot episode. Apple has reportedly approved the show to go straight into production.
Calls
Genre: Horror
Sounds Like: Twilight Zone meets Black Mirror only weirder.
One of Apple's most curious TV projects is English language adaptation of Calls, a highly experimental French short-form series that tells short stories through real-life audio sources and minimal visuals.
Calls will be co-produced by Canal+, making this Apple's first international co-production. Frankly, we have no idea what this will be about, but it certainly shows that Apple is willing to experiment. On IMDB, the original French series is described as being a mystery horror series.
Hilde Cracks the Case
Genre: Mystery
Sounds Like: Nancy Drew set in 2018.
Even though still a pre-teen, Hilde Lysiak wanted to be a reporter, and started her own newspaper in Selinsgrove, PA, the Orange Street News. She was serious enough about it to dig into a cold-case murder and ended up solving the crime.
Apple has subsequently bought the TV rights to her story and plans to turn it into a 10 episode TV series. The TV show is being created by Dana Fox and Dara Resnik, best known for Daredevil. The director will be Jon M. Chu. Apple didn't require a pilot for the show, signing off on just the proposal.