Real life gets old real quick. Work, chores, traffic jams, monotony — all the details of the daily grind infect the human body and build into a fever that only breaks when bags get packed.
The search for diversion leads to amusement parks and roadside wonders, roller coasters and stage extravaganzas. Kids can be kids, adults can be kids again, and sometimes, David Walter Banks is on hand to capture fantasy becoming reality with behind-the-scenes images that cast new light on tourist attractions.
Such moments of cognitive dissonance comprise The Fourth Wall. The entertainment industry takes in billions annually but even the most luxurious resorts and casinos provide an imperfect illusion. Visitors fill the gaps between animatronics and costumes with their own imagination, and the disconnect beats at the heart of Banks' photo project.
"I love the idea of these places," he says. "As adults, so many of us have lost our wonder and given up our urge to chase dreams. In a way, these places invite the adult population to chase an outlandish dream once more, even if only for a fleeting moment. Even if it's plastic and cracked and they know it is all fake. They are still getting up, putting on their tennis shoes, and going out in search of magic."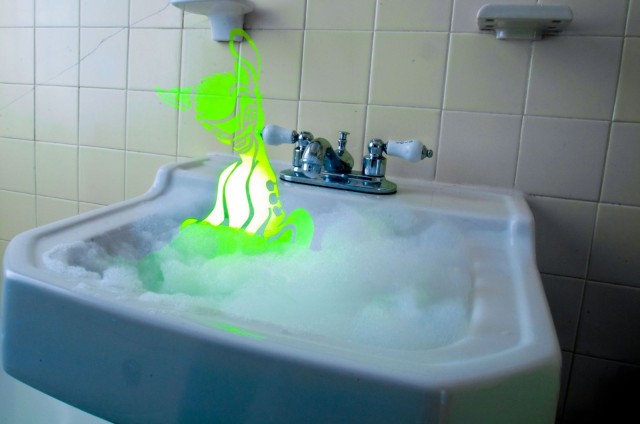 Photography is all about light, and photographers are all about light painting. There are many tricks to try, from isolating objects with incandescence outside the frame to shining light directly at the camera as in Janelle Pietrzak's Bambi series, created using light stencils.
Creating this interesting analog photo effect doesn't require any special equipment, just a detachable flash, some craft materials and a lot of imagination.
Splicing a cute little animal into a photograph doesn't take more than a few seconds for anybody with a copy of Photoshop.
But Colorado artist Janelle Pietrzak spends hours cutting light stencils with a razor blade, then uses a shoebox and long-exposure photography to bring Bambi and other cuddly creatures to life inside her home.
"If you look at my photographs there is fantasy world full of mythical creatures, floating orbs, ghosts and goddesses, all created by manipulating light," Pietrzak tells Cult of Mac. "The catch is that I hardly use any Adobe Photoshop. What you see in the images is basically what I saw on the back of my camera."
As everyone who has ever read J.R.R. Tolkein's classic fantasy novel, The Hobbit, knows, Bilbo Baggins, Gandalf, Thorin Oakshield and a company of twelve other dwarves make their way from Bag's End to the Lonely Mountan to battle Smaug on a journey by way of Rivendell, the Mirkwood and the Misty Mountains.
Here's what the actual trip looked like. Thank goodness they didn't trust iOS 6 Maps as their navigator, right?
Via: Bullz-Eye
As the NFL pre-season kicks off, the league has begun reminding fans about the various online programming and mobile apps that it offers. While we still have a month before the season starts, August is the time to check in with how your favorite teams are shaping up for the new season. It's also the time to begin researching your fantasy football draft options – if you haven't already.
For the preseason and fantasy prep time, the NFL is offering a  mobile apps – many of which will be familiar to fans with iPhones and iPads. We'll be taking a look at the various official and third-party fantasy tools for Mac and iOS users as the pre-season rolls on, but here's a quick look at the official options from the NFL.
This is/will be/will never be the iCam, an un-product from the mind of Antonio De Rosa that combines a sleek future maybe-iPhone and a chunky interchangeable lens camera system.