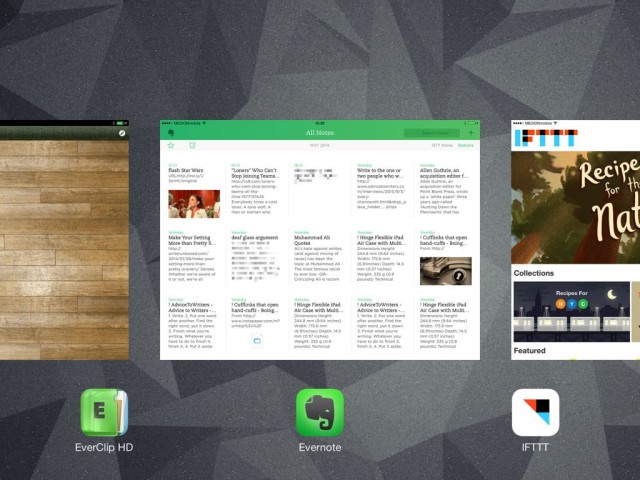 Welcome to the final part of our series about note-taking for writers (or anyone else). Today we're going to look at getting clippings and bookmarks into Evernote, to be stored and accessible alongside your scanned, paper-based notes (Part 1) and your text notes grabbed on your iPhone or Mac (Part 2).
We'll use a few apps and services to get this done – EverClip, Mr Reader, IFTTT and Pinboard are the main ones.
As ever, you could just do much of this using Evernote and its web clipper, but this only works in Safari and Chrome on the desktop. In 2014! Clearly that's no good. Let's see how we can do it better.
As an Evernote junkie and web-searcher, I use Evernote Web Clipper on my Mac, like, all the time. When I come across a great website, story, or even just some text on a page, I clip it right to Evernote, and then have the clipped notes with me on any platform, whether on the go with an iPad, iPhone, or at home on my Mac.
I've long wished for a way to do the same thing from my iOS devices, though. I typically copy the URL from my iOS browser of choice, then launch Evernote for iOS and paste it in there. Thank goodness, though, there's another way, with EverClip, an iOS app for iPhone or iPad that lets you keep everything you copy to the clipboard–images, text, website URLs, whatever–synced up in an Evernote note.
Here's how.
Kicking off this week's must-have apps roundup is EverClip for iPad, a terrific tool that lets you "clip" almost anything to Evernote, so that you can't forget them. We also have a wonderful new music player for the iPad, the new Star Wars Pinball game, and more.
Everclip is one of the most used apps on my iPad, despite being iPhone-only. Until now, that is. Along with an update to the regular iPhone Everclip, there's now an iPad version. No, it's not universal and yes, it'll cost you another $6, but if you're an Everclip fan, you really won't care.