Android doesn't look like it's about to lose any of its market share to competing platforms any time soon. During the first quarter of 2013, Google's platform powered a whipping 59.9% of all smart mobile devices sold as total shipments hit 308.7 million units.
Apple's iOS, on the other hand, was installed on just 19.3% of devices — despite the success of its iPhones and iPads.
That's pretty incredible when you think about it. Canalys, which conducted the research, looked at shipments of smartphones, tablets, and notebook computers, and Android was the dominating force throughout the three-month period.
iOS took second place by claiming 19.3% of the market share, and that's largely thanks to the iPad, according to Canalys. Microsoft's Windows and Windows Phone platforms secured 18.1%, thanks to its strength in the PC market; its smartphones and tablets continue to struggle, however.
The tablet market continues to be the fastest-growing of the three, with worldwide shipments growing 106.1% year-on-year to 41.9 million units. Apple leads this market with a 46.4% share, but it lost share to Android-based rivals for the third consecutive quarter. Not too long ago, the iPad was accounting for more than half of tablet sales.
Android smartphones accounted for a massive 75.6% of total smartphone shipments, mainly thanks to Samsung's popular Galaxy devices, growing 64.3% year-on-year. The iPhone's share grew just 6.7%, which is the lowest level since its launch in 2007.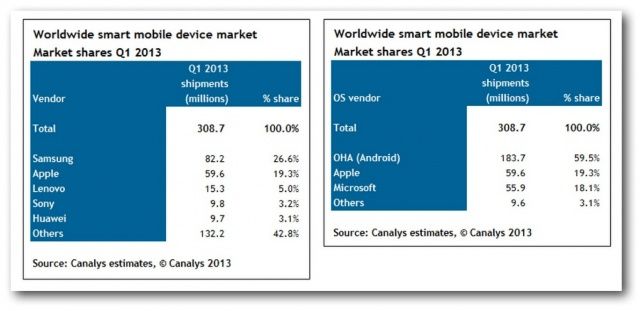 Canalys blames that on its aging iOS operating system.
"Despite its slowing growth, Apple still shipped over 37 million iPhones," said Pete Cunningham, Canalys Principal Analyst. "But HTC and Samsung have raised the bar with their latest handsets and Apple needs to respond with its next iPhone. The iPhone user interface is now six years old and badly in need of a refresh."
Apple also faces problems with its hardware, Cunningham said, with consumers increasingly looking for smartphones with larger displays. The iPhone's 5-inch display just isn't big enough, but Canalys expects Apple to increase that again later on. It doesn't anticipate a "phablet-style iPhone," however.
After Samsung and Apple, Huawei, LG, and ZTE completed the top five smartphone vendors, but all three had less than 5% market share.
Source: Canalys