We're only five days into the new year and I'm personally already itching to see what Apple has planned for this year.
While 2017 was a disappointment of a year in general, Apple released some brilliant products. But what better way to get excited about the year than rounding up all of the rumors for what to expect this year.
HomePod
The HomePod was originally supposed to be out in time for the 2017 Holiday season. Due to some unresolved issues, it won't launch until sometime in early 2018 and we couldn't be more excited to try it out.
Apple's $349 smart speaker will pump out pristine audio thanks to a seven-tweeter array and a 4-inch woofer. HomePod's "spatial awareness" capability will let the smart speaker "read" its environment, then sculpt the audio to deliver the best possible sound (a feature found in many high-end audio devices). You can also gang up two HomePods for even better sound, assuming your credit card isn't maxed out.
With Siri built in, you'll be able to ask HomePod to play a certain song or serve up recommendations you might like. Perhaps more importantly, the HomePod will also serve as a smart assistant, able to read messages and reminders, play podcasts, control HomeKit devices and perform other useful functions.
The smart speaker will become the always-listening home-automation hub that's been missing from Apple's product lineup.
iPhone SE 2
2018 could be the year the popular iPhone SE will finally get updated. The original iPhone SE launched back in March 201 and was a smash hit thanks to its combination of one of the best iPhone designs with the latest specs… at the time at least.
Apple manufacturer Wistron is reportedly gearing up to produce the next-gen iPhone SE at its factory in India.
The new 4-inch iPhone SE will reportedly be made available in early to mid-2018, keeping the look of its predecessor, but it'll come with an A10 processor, iOS 11, will boast 32GB and 128GB storage options, with a 1700mAh battery
It is suggested that the new phone is part of Apple's strategy to double its market share in India over the next five years. India is one of the big future hopes for Apple as a market — particularly with Apple running into various problems in China.
The iPhone SE 2 (or whatever it will be called) will ship to the Indian market first, before expanding to other markets. It may be cheaper than the first-gen model due to a 10 percent exemption in basic customs duty, "making the product more competitive in the Indian market." The cheapest model would be around $450.
In a conflicting report though, respected Chinese analyst Pan Jiutang told investors that Apple has no plans to refresh the iPhone SE. He said the company simply sees no need for a refresh with more and more people switching to larger devices.
3 new iPhones
As well as the new iPhone SE Apple is reportedly working to improve the next generation iPhone X equivalent's battery life. Bringing it up from 2,716mAh of power in the current model to a battery capacity of between 2,900mAh and 3,000mAH next year.
Provided that's real, it theoretically means an increase of 10 percent, or up to a couple of hours — although extra battery life can be eaten up depending on the extra features Apple adds for the handsets.
All of Apple's iPhones for 2018 will reportedly support pre-5G technology and Face ID. If true, that means that 2017 will be the year we officially wave goodbye to Touch ID, which Apple first introduced in 2013 with the iPhone 5s.
Also according to Kuo, Apple will release an iPhone X Plus next year with the biggest smartphone screen the company has ever made. Kuo says Apple will release three iPhones in 2018 with a notch design.
There will supposedly be a 5.8-inch and a 6.5-inch model, both with OLED displays. The third iPhone will supposedly have a 6.1-inch LCD display but come with the same bezel-free design as the iPhone X.
The 6.5-inch iPhone X Plus will have a display with 480 to 500 pixels per inch, possibly making it more pixel dense than the iPhone X. The 6.1-inch LCD version will only have a display with 320 to 330 PPI.
KGI Securities analyst Ming-Chi Kuo earlier reported that the next iPhone won't have a TrueDepth sensor on its back. Apple is likely to make rear-facing camera improvements — it does so every year — but it seems like they will be slight.
Kuo says Apple will continue to use the same six-element lens system it has employed for years now. Apple has struck a balance between quality and form factor, Kuo adds, and changing this could lead to complications in the supply chain.
Apple has already suffered supply chain complications with iPhone X. Thanks to problems manufacturing Face ID components, the device is in severely short supply. That's why it sold out so quickly when it went up for pre-order.
A potential repeat of these production problems isn't worth the minor improvements a glass lens system would bring.
iOS and macOS Apps Merge
Another rumor currently circulating about what's up Apple's sleeves this year is a plan to merge iOS and Mac Apps into one.
Apple has always denied that merging its mobile and desktop operating systems is a good idea. But from 2018, it is reportedly starting to explore that road by giving developers the ability to create apps which work on iPhones, iPads, and Macs.
Depending on the hardware you use them on, these apps could be controlled via touchscreen, mouse, or trackpad — and would be equally at home on both iOS and macOS.
Apple will reportedly let developers start creating these apps from the first half of next year, possibly at WWDC, while end users will get to use them in the fall, when Apple rolls out its next-gen software updates.
The project responsible for this initiative inside Apple is supposedly codenamed "Marzipan." The Bloomberg report about the project, which cites unnamed individuals familiar with Apple's plans, notes that there is still a chance that the project could be canceled.
It's not clear what this would mean for the iOS and Mac App Store as individual entities, and whether these changes would affect all apps or just a few, depending on developer preferences.
AirPods 2
It's surprising to think that the AirPods have been out for over a year now, and they can still be awkward to get your hands on.
Well Apple is planning to release an updated version of its AirPods wireless earbuds in the second half of 2018 if you believe the rumors.
In a note to clients, Ming-Chi Kuo doesn't share too many details about what the new AirPods will do differently, he does suggest that they will adopt a smaller quartz component — quite possibly making them even smaller than the first-gen model currently available.
In his note to investors, Kuo also sheds a bit of light on the current supply issues Apple is having with the AirPods. At present, AirPods are next to impossible to find, and shipping estimates are currently showing up as 7 business days, despite other devices like the iPhone X now showing next day delivery. According to Kuo, the problem involves the device's rigid-flex printed circuit board, which is causing a supply chain bottleneck.
Perhaps due to this lack of availability, Kuo thinks Apple will experience increased calendar Q1 sales for the AirPods. He also suggests that Apple will double its AirPod shipments next year to 26 million+ units.
Cheaper, updated iPad
Hot on the heels of the iPad's success in 2017, Apple is said to be developing a new inexpensive iPad for 2018.
Sources say it will be even cheaper than the 9.7-inch model currently on offer as the company looks to take on affordable rivals from the likes of Amazon, Samsung, and Huawei.
Apple made the iPad cheaper than ever back in March. At just $379, its entry-level 9.7-inch model is even more affordable than an iPad mini. Customers still get a sharp Retina display, a snappy A9 processor, and an 8-megapixel rear-facing camera.
Cheaper tablets are still available, however. Now Apple wants to chase after them with a new 9.7-inch iPad that will cost just $259, according to Digitimes.
iPad sales have been falling every year since 2014 as the tablet market matures. However, during the third fiscal quarter of 2017, iPad sales actually rose year-over-year.
iPad Pro, with its additional functionality and features, played a large part in that, but a more affordable iPad was certainly a big factor, too.
Apple will be hoping its next entry-level model will have just as much impact.
Supply chain sources expect Apple's new entry-level iPad to arrive in the second half of 2018.
iPad Pro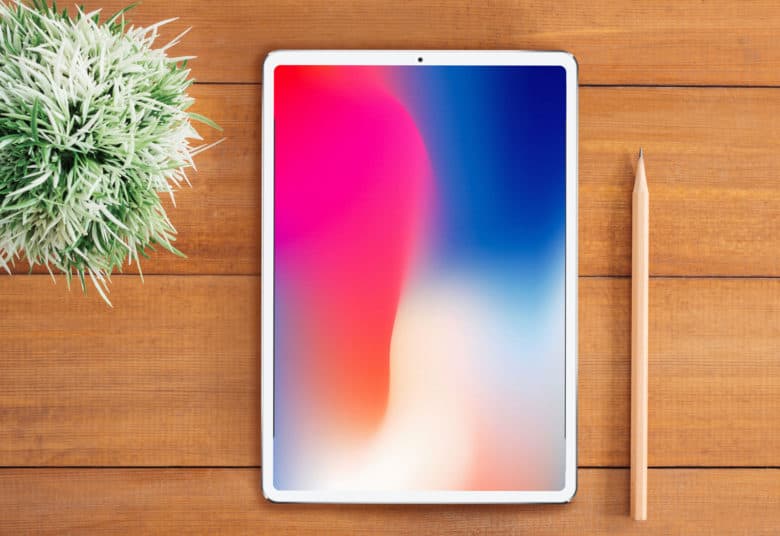 The Pro models of iPad won't be left out either. It's set to get a huge processor upgrade in 2018, based on the latest rumor out of Apple's supply chain in Asia.
Apple supposedly plans to slap an octa-core processor in next year's iPad Pro, making them the most powerful tablets Apple's ever made. The chip will allegedly be manufactured by TSMC and will pack a few features the A11 chip on the iPhone X doesn't have.
The super-fast new chip will supposedly be named the A11X Bionic chip, according to the Chinese site MyDrivers. Citing industry sources, the site claims the eight-core chip will pack three high-performance Monsoon cores and five energy-efficient Mistral cores.
For the iPhone X and iPhone 8, Apple created the A11 Bionic chip that comes with two high-performance cores and four high-efficiency cores. The addition of two more cores will undoubtedly give the 2018 iPad Pro some huge performance gains.
An M11 coprocessor will probably be included on the A11X Bionic chip along with a neural engine that specializes in AI computations so that Apple can bring Face ID to the iPad lineup next year.
Apple isn't expected to unveil the new iPad Pros until spring or early summer. Other new features could include an iPhone X-style edge-to-edge display, upgraded cameras, a new Apple Pencil and more.
One feature the 2018 iPad Pro probably won't pick up from Apple's flagship smartphone though is the iPhone X's shockingly great OLED display.
Samsung is the only company with the ability to produce the OLED screens Apple would want by 2018. However, financial and technical restraints make the switch to OLED screens for iPad Pro unlikely.
Apple Watch Series 4
When it comes to the Apple Watch, last years Series 3 model gave a real boost to their wearable line, so much so that I barely take mine off these days.
This year, Apple is planning to cut down on its reliance of Samsung displays with future models of the Apple Watch by adopting microLED screens according to a new report out of Asia.
The previous models of the Apple Watch use OLED displays sourced from a couple of different manufacturers.
For the iPhone 8, Apple relies solely on Samsung to produce the display. Apple prefers to source components from multiple manufacturers to mitigate risk, so it's looking to move to a new technology.
MicroLED displays aren't quite ready to be used in smartphones, but Nikkei reports that Apple's pushing ahead to bring it to the Apple Watch first.
One of the advantages of microLED displays is that they don't require a backlight. This would allow Apple to make the Apple Watch thinner than ever, or devout more space to battery life.
Jumping to microLED would be a huge feat though. Producing microLED displays in mass is still incredibly difficult for all of the top display makers, so we'll just have to wait and see if this becomes a reality.
All-new Mac Pro
The one product I'm most excited to see refreshed this year is an all-new Mac Pro. It's been over 4 years since Apple properly updated the go-to editor's machine, and Apple already admitted last year that it needs some love.
Back in April last year, Apple revealed that it is planning to introduce an all-new Mac Pro and a new external display for 2018.
The company acknowledges that the existing Mac Pro doesn't fulfill all the needs of its pro customers, but the new model with have a more traditional modular design that will allow Apple to "keep it fresh."It's been almost four years since Apple introduced the "trash can" Mac Pro.
Phil Schiller told reporters "We are completely rethinking the Mac Pro," And there will be a brand new Apple display to go with it.
"Since the Mac Pro is a modular system, we are also doing a pro display," Schiller added. "There's a team working hard on it right now."
This could signal the return to a more traditional desktop computer, which would give users the freedom to upgrade things like the processor and graphics cards as they see fit. The new iMac Pro, for example, is notoriously difficult to upgrade and even with the current Mac Pro these things are not replaceable, and that's an issue.
Even when it launched, the Mac Pro wasn't as powerful as it could have been. Apple uses the kind of GPUs more commonly found in notebook computers, and they can't compete with the dedicated video cards most consumers want in a high-end rig.
Unfortunately, Apple didn't actually say when they would be available; we just know it should be this year.
One more thing?
Also in 2018 we could see Apple step into Augmented Reality further after showing how invested it is with the iPhone.
Ming Chi-Kuo predicts that Apple will benefit from a few advantages over its rivals. Cupertino could enjoy a 3-to-5-year lead over competitors by redefining AR experiences on the iPhone, iPad and Mac. New business fields like autonomous driving systems will also help the company put its AR software everywhere.
Apple supposedly has hundreds of engineers developing both AR and VR headsets. It also scooped up a number of augmented-reality companies such as Metaio and hired some big names in both fields.
But as part of CCS Insight's predictions for 2018, analysts for the firm suggest that Apple will launch a video subscription service, designed to compete with Netflix.
Should Apple go down the streaming video service route, CCS Insight suggests that Apple's original content, currently in development, will play a major role.
And to me, personally, this makes much more sense than the recent rumors that Apple may buy Netflix.
Although its first efforts in original content, the reality TV shows Planet of the Apps and Carpool Karaoke: The Series, have been critical flops, Apple is supposedly readying $1 billion to spend on launching additional shows.
Initially, it seemed that Apple's original content would be exclusive to Apple Music, but more recent reports have suggested that it would be distinct from it.
While there's a lot of if's and but's there, let us see your predictions for this year in the comments below. Also, make sure to subscribe to the Cult of Mac YouTube channel to see the latest videos as soon as they drop.