June 23, 2003: Apple launches its gorgeous Power Mac G5, a powerhouse desktop computer with a perforated aluminum chassis that earns it the affectionate nickname the "cheese grater."
Starting at an affordable $1,999 ($2,650 in today's terms), the Power Mac G5 is the world's first 64-bit personal computer — and Apple's fastest machine yet.
Putting the 'power' in Power Mac
Inside its distinctive, anodized aluminum case, the Power Mac G5 boasted IBM's PowerPC G5 CPU architecture. This provided a massive step up from the aging Power Mac G4, which had been Apple's high-end Mac from 1999 until 2002.
Apple launched three different Power Mac G5 models running at 1.6 GHz, 1.8 GHz and 2 GHz. All used the same 64-bit PowerPC 970 (G5) processor, which offered higher clock speeds and vastly improved massively parallel computing capabilities.
In Power Mac G5 advertisements, Apple touted the new computer's speed when compared to PCs.
"In side-by-side tests using industry-standard benchmarks," one said, "the [top end] dual 2.0-gigahertz Power Mac G5 is up to 41% faster than both the fastest Pentium 4 and dual-processor Xeon workstation. And the results get even better when using real-world applications: the new Power Mac G5 runs Photoshop more than twice as fast as the fastest PCs."
Steve Jobs promised that a 3 GHz model would be available "within 12 months," but this never happened. In fact, users didn't got a Mac with a processor capable of running at that speed until Apple introduced the Intel Xeon-based Mac Pro in 2006.
In terms of other hardware features, the Power Mac G5 packed an AGP 8X video card, FireWire 800, Gigabit Ethernet, up to half a terabyte of internal Serial ATA storage, and a SuperDrive for authoring DVDs.
As far as professional-level computers went, very few could beat the Power Mac G5 in 2003. For trivia buffs, this was also Apple's first computer to include USB 2.0 ports.
Power Mac G5: A stunning piece of design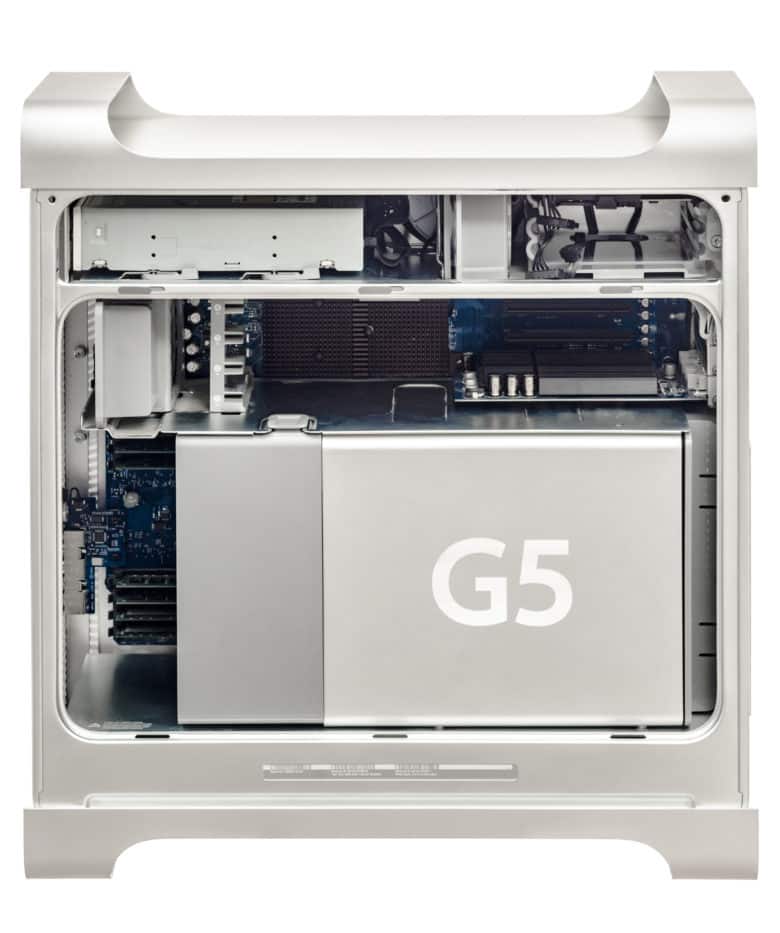 The stunning, industrial-inspired design of the Power Mac G5 made it distinctive in its day — and it still looks great almost a decade-and-a-half later. The gorgeous design wasn't limited to the unique case, either: The Power Mac G5 was the first Apple computer to have its interior — which most users would never even see — designed by Jony Ive and his team so as to be aesthetically pleasing.
The computer wasn't wholly without problems, however. Some models suffered from noise and heating issues, although a liquid-cooled version sold later attempted to correct these shortcomings.
Still, this remains one of my favorite Macs of all time. It underlined the fact that Apple was doing much more than building fashionable mass-market devices like the iPod, or consumer-friendly computers such as the iMac G3 and iBook, models the company was most associated with at the time.
If you're interested in tracking down a Power Mac G5 now, it will likely set you back around $100 on eBay today. Do you have fond memories of this machine? Leave your comments below.