With the announcement of a single piece of hardware, Apple has obsoleted thousands of iPhone accessories, almost overnight. Between the thinner, taller case and the new Lightning sync/power adapter, pretty much none of your old accessories (or any accessories you can currently buy) will fit the new iPhone.
Does it matter? Should you stop buying iPhone-specific accessories? Just how useful will these stop-gap adapters be? Find out with our iPhone 5 accessory guide.
First, be thankful that you're not a hotelier like Michael Mueller, who just laid out $115 apiece for 600 iPhone dock-equipped clock radio for his rooms. That's almost $70,000.
Mueller's story perfectly illustrates the problem of changing such a widely used connector. It pisses off recent customers, and would seem — at first — to annoy manufacturers. But gadget makers will soon see this for what it is: an opportunity to sell us the same gear all over again, only with a different plug.
Adapters
There are three adapters which you can use with the new Lightning port. The first is Apple's own electronic 30-pin dock connector to Lightning adapter, a $30 dongle which will let you plug most current accessories into the new port. It's not small, looking like a camera connection kit with a little tongue sticking out, but it does the job.
$30 for an adapter, you scream? Well, sure, you have a whole stack of accessories, but you only have one iPhone. Just keep the adapter close and weather the storm. Before long all your accessories will be Lighting-compatible anyway.
And then, in the EU, there's also a Micro-USB to Lightning adapter, a tiny little €20 piece of plastic which is there only to charge your iPhone with a USB cable, to comply with EU regulations.
Finally, Apple will also sell you a cable with a male Lightning connector on one end and a female 30-pin dock connector on the other. This is just like the dongle above, only it costs $39 and lets you get to harder-to-reach places.
Docks
The most obvious casualty of the Lightning connector is the iPhone dock, but not just for the reasons you're thinking. The adapter dongle is so big that it is unlikely that your iPhone 5 will fit into any dock whilst wearing it, but what of multi-use docks?
Right now, many speaker docks work with any and every iDevice. With a little padding, you can drop in an iPad, an iPod Nano or an iPhone.
But the new iPod Nano has its connector off to one side. Even that isn't disastrous, as the new Nano looks small enough to be able to fir into an iPhone dock anyway. But what of the iPad 4? Will the new iPad even have its Lightning connector on the bottom?
Perhaps things will be worked out, or maybe we have seen the end of the dock as we know it. Which brings us to…
Bluetooth 4
Apple's own AirPlay arguably obviated the need to ever plug an iDevice into speaker, and it works over Wi-Fi or Bluetooth. The only problem was keeping the iPhone charged while you listened. Now, with Bluetooth 4, the power draw is so small that it really can replace a dock.
Not only that, you can use buttons on the speaker to remote-control your music playback, removing another advantage of the hardware dock.
This means that you are no longer tied to proprietary Apple-only designs. You can use any Bluetooth speaker, and you can use it with any device.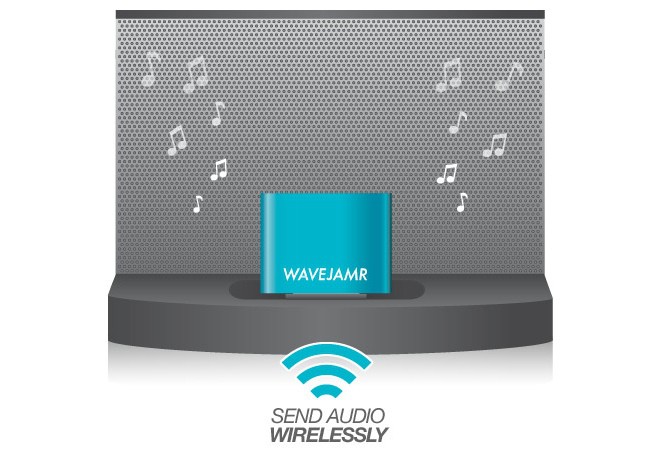 But what if you're stuck with a speaker dock? Well, there's good news. You can buy a Bluetooth adapter from Radtech which will slide onto the vestigial dock connector of your otherwise defunct speaker and turn it into a wireless receiver. It's called the WaveJamr, and it's tiny, is powered by the dock itself (needing no battery) and costs just $40.
Camera Accessories
The other big iPhone accessory market is camera add-ons. Lenses like the Olloclip, which clips over the corner of the phone to cover the camera, will be flummoxed by the new slimmer case, but will surely be updated soon enough — a new purchase for you, but great news for Olloclip.
Lens cases are also out of luck, but those annoying magnetic lenses which stick to a metal ring which you in turn stick to the iPhone will work just fine. Which is to say, they'll be as fiddly as they ever were.
And let's not forget the accessories Tripod adapters like the Glif rely on a good fit with the iPhone for their tight grip. These, at least, will surely be open to a little hacking: With a drop of superglue and a layer of old bicycle tire inner tube, you should be golden.
There are also plenty of camera accessories which marry with the iPhone through the dock connector. Some, though, like Enlight's iOShutter, connect to the iPhone using the headphone jack, and talk to the iPhone using sound. These will keep working just fine.
Video
If you want to pipe video from your iPhone 5 to a TV or a projector, you now have one choice: AirPlay. That old pico projector with the 30-pin dock connector? Dead. If you want to see your photos and movies on the big screen, you'll need to drop another $100 for an Apple TV.
The iPhone 5S
Should you forget about buying iAccessories altogether? Well, yes and no. While you should probably avoid speakers and other audio gear in favor of standard connectors (jacks, USB) and Bluetooth, some accessories need to hug the iPhone to be useful. Cases, camera lenses and so on all work best when integrated closely with the iPhone's design.
Luckily, Apple seems to be following a two-year "tick-tcok" cycle on iPhone design, with new case design followed by refinements and speed bumps a year later.
So next time you buy a new accessory, remind yourself that it is for two years at the most. And whatever you do, don't be like Michael Mueller and pony up $70,000 for a bunch of iPhone alarm clocks just before the new models ships.