Widget Platform
There are currently two Apple-approved widgets in iOS 5: Weather and Stocks. They can be viewed in the Notification Center window. Apple is only scratching the surface with this.
When widgets were introduced last summer, jailbreak developers immediately started making third-party widgets for controlling the Music app, toggling settings, enabling the iPhone's torch light and more. There's all kinds of possibilities for widgets, and Apple has a number of ways to approach opening up its widget API to third-party developers.
Apple could create a widget section of the App Store where developers can sell and distribute standalone widgets for Notification Center. The problem is that most widgets (like toggling WiFi, 3G and Bluetooth settings) would likely need access to iOS APIs Apple doesn't let developers touch.
Jailbreak extension Dashboard X brings widgets to life on the iPhone and iPad. You can place third-party widgets anywhere on the iOS Home screen with your finger. A handy Dashboard window can also be invoked with all your widgets in one place. Creating a Home screen layout with a couple widgets looks particularly nice on the iPad's larger display. It's an open, highly customizable experience Apple could easily borrow from for iOS 6.
Then there's always the possibility that Apple could create a widget platform for existing apps only, meaning you wouldn't be able to create a standalone widget that could be installed on its own. Each third-party developer would be encouraged to create some sort of widget that enhanced the user's experience with the app. As an example, Apple could create a Mail widget that lets you quickly interact with your inbox in Notification Center.
There are a lot of options on the table, but Apple should definitely do something more with widgets in iOS 6.
Smarter Siri
People either hate or love Siri, but there's no denying that the digital assistant could be improved. Tim Cook recently hinted that Siri would be getting some major upgrades soon, and we wouldn't be surprised to see a third-party Siri API roll out alongside iOS 6 at WWDC.
Siri can interact with Apple's stock apps and pull from Wolfram Alpha to provide information, but she can't interact with any app on your iPhone. We've already told you how to supercharge Siri on your jailbroken iPhone 4S, and there's plenty of tweaks in Cydia Apple could add. Lingual lets you translate other languages with Siri. MyAssistant lets you use your voice to toggle iPhone settings, like WiFi. Hands-Free Control makes Siri be always present, allowing you to ask her a question without actually touching your iPhone 4S. A keyword followed by your request automatically enables Siri from across the room. "Siri, what's the current temperature?"
You should be able to control apps like Spotify, Wunderlist, or Skype with Siri. Opening up the API will let developers take mobile app interaction to the next level.
Siri proxies let jailbreakers install the AI on non-4S devices, like the iPhone 4, iPod touch and iPad. It's a very tedious process that's difficult to keep working for very long. We don't expect Apple to bring Siri to other devices alongside iOS 6, although Siri Dictation is in the third-gen iPad and the new MacBooks are rumored to have Dictation as well.
More Privacy Controls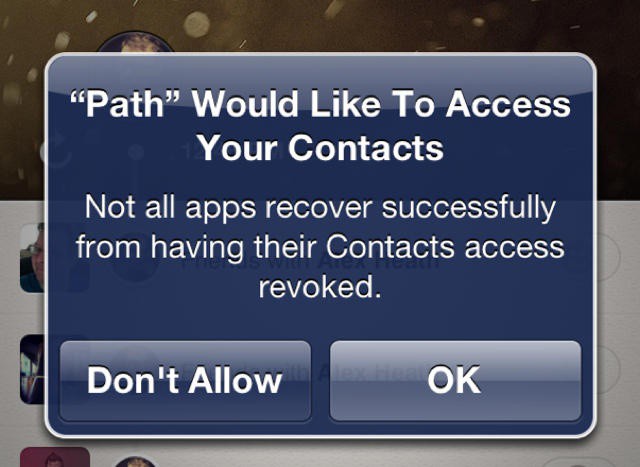 This is a sensitive subject for Apple, as the Path scandal revealed how poorly iOS manages its user's private information. When it was discovered that apps could access personal information, like an iPhone's address book, without the user's permission, a jailbreak tweak called ContactPrivacy was released to show when an app made the request to access contacts.
Apple has said that it will be adding more privacy settings in a future iOS version, presumably iOS 6, so we expect some new preferences. A permissions panel for each installed app in Settings would be a good way to toggle which apps can access what info at any given time.
iPhone Gestures
Zephyr is a fantastic jailbreak tweak on the iPhone that brings iPad-like gestures to the smaller 3.5-inch display. Swiping up from the bottom of the screen brings up the app switcher, and swiping from either side of the screen seamlessly switches between open apps, like 4-finger swipe on the iPad. Apple should bring this to the iPhone and iPod touch in iOS 6.
Home Screen Improvements
There are minor improvements Apple could make to the iOS Home screen experience that are already available to jailbreakers. Infinifolders allows you to have as many apps as you want in a folder, which is something Apple should have honestly allowed from the beginning. FolderEnhancer lets you place folders inside of folders. Shrink lets you scale icons to different sizes while Gridlock opens up the possibility to move icons anywhere on the Home screen, regardless of being placed next to another icon in a row or not.
Jailbreakers have been theming iOS to give it all kinds of crazy looks for years, but don't think for a second that Apple will suddenly open up the floodgates and allow themes. They can be pretty and interesting, but Apple likes a unified look and feel to its software. iOS themes will stay exclusive to Cydia for the foreseeable future.
Notable Mentions
While these have been the staple jailbreak concepts we can imagine seeing in iOS 6, there are plenty of other tweaks that deserve a nod.
Tim Cook recently said to "stay tuned" for what Apple has planned with Facebook, so expect some sort of integration there in the near future. A jailbreak tweak called Fusion already lets you post status updates to Facebook anywhere in iOS.
It would be nice to see some improvements made to the Mail app in iOS 6. AnyAttach and Mail Enhancer Pro bring a ton of functionality already, like the ability to add attachments in-app and work with labels.
OS X Lion introduced fullscreen apps on the desktop, so why don't we have totally fullscreen apps all the time in iOS? There should at least be the option to toggle fullscreen mode for apps like Safari, and FullScreen for iPad does that already in Cydia.
There are some features we know Apple will not add to iOS, although they would be neat to have. Direct file management, like iFile in Cydia, would be nice for power users. Although carriers would throw the hugest temper tantrum, FaceTime over 3G would be a welcomed addition. Luckily jailbreak tweaks like 3G Unrestrictor enable that already.
Lastly, it would be refreshing to have a different way to unlock an iOS device. You can use gestures to get past the Android lock screen, and a slick jailbreak tweak called Stride brings gesture-based unlocking to iOS. We know Apple has used gesture unlocking instead of the traditionally 4-digit PIN internally, and we're hoping the feature sees the light of day eventually.
Looking Ahead
We don't know much about iOS 6, but Apple has plenty of room to mature its mobile platform this year. Some want Apple to totally redo iOS, but we would be content with baking some of the above features into the OS we already know and love. There are core aspects of iOS 5 that need to be improved, like multitasking and Notification Center, but nothing drastic enough to require a complete overhaul.
Then again, something totally different could be fun.