Trying to play a song in iTunes and getting the same error over and over can be frustrating. If your computer isn't authorized with your Apple ID via iTunes, it won't let you play any songs you've downloaded from the iTunes Store until it is. Sometimes iTunes will seem to get "stuck" prompting you again and again with the need to authorize.
If you're having trouble playing your purchased iTunes on your Mac due to the repeated prompts to authorize your computer, there are a few things you can do.
Before you jump through too many hoops, make sure you have the latest version of iTunes for your OS.
Use an administrator account
If you're not logged in as an administrator on your Mac, it's possible that iTunes won't let you authorize that computer. Make sure your account has administrator privileges in the System Preferences app, Users & Groups section. If your Mac's account doesn't say Admin under it, log into an account that does. You may need to go to your IT guy if you're using a work computer.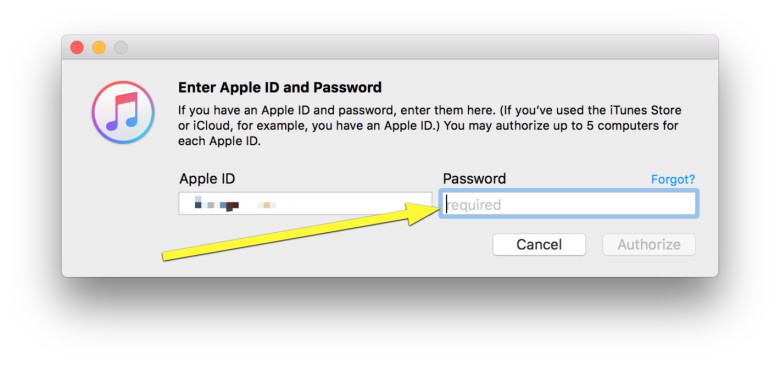 Then, authorize your computer: head up to the Store menu in iTunes and choose Authorize this computer. Enter your Apple ID and password in the spaces provided. Once that goes through, you can then log out of the admin account and return to your own account if that's how you work on your Mac.
Check that you're using the correct Apple ID
It's possible that a song you're trying to play was purchased with a different Apple ID than you remember. To see which ID was used for a specific song in iTunes, check the song file itself.
Select a song that you purchased via iTunes in your iTunes library and then go up to the File menu to choose Get Info. Click on the File tab and you'll see the Account name in the list – this is the Apple ID used to purchase that song. If it's different than the one you thought, go ahead and authorize the computer from the Store menu for this other Apple ID.
Remove the SC Info folder
If the above fails, you might need to delete the files that store your authorization information. If the file is corrupted in some way, deleting it will force iTunes to recreate it, thus possibly stopping repeated authorization requests.
First, quit iTunes and any other apps until only the Finder is running. Click on the Go menu at the top of your screen and choose Go to Folder. Type or paste in /Users/Shared/SC Info into the Go to Folder field, then click Go.
Set your Finder to Column view by choosing "as Columns" in the View menu if it isn't already. Find the SC Info folder, then click and drag it to your Trash. Empty your trash and then restart your Mac. Open iTunes and authorize your computer the regular way; it should work now.
Remember that you can authorize up to five computers for each Apple ID, and you can authorize your Mac for as many different Apple IDs as you like, provided you know the password for each.