We've had some great response to the Winter 2011 Mac Phenom Bundle over the past week. We're really happy to see so many readers enjoying the apps. As a reminder to all those who have been debating whether or not to purchase the bundle, the deal ends tonight at 11PM PST, so get it while you can!
The Holiday season is here, and you can get all your holiday shopping done while sitting in your pajamas sippin' eggnog in front of your computer screen. With the Winter 2011 Phenom Bundle you can either gift individual apps from your own bundle, or better yet, get the entire lineup for your friends and family! We're really excited to be able to bring you 11 amazing apps for a tasty price of $50. Individually these little gems would cost a total of $486, but we've been able to negotiate a great deal for you just in time for the holidays.
This great bundle of Mac OS X apps includes:
Nisus Writer Pro
Motion Composer
Bellhop
PhotoStyler
Tidy Up!
MacGourmet Deluxe
Rubbernet
Boom
AppDelete
Remote Buddy
MacScan
Nisus Writer Pro – The word processor that's fast, clean, and has all the power you need. Nisus Writer Pro is a powerful multilingual word processor. Nisus Writer Pro brings new features such as Table of Contents, Indexing, Bookmarks, Widow and Orphan control, Cross References, Line Numbering, and Text Wrap around images. Familiar Classic features are also on board, like attribute sensitive Find and Replace, an upgraded Nisus Macro Language, and Glossaries.
Nisus Writer's native file format is RTF (Rich Text Format), which is read by almost every word processor on the planet. A variety of other formats are also supported including Microsoft Word.
MotionComposer – Take the hassle out of Flash and HTML5 creation. MotionComposer allows you to create engaging Web content once and run it anywhere, no coding required! Animations and interactive content created with MotionComposer for Mac runs on any computer, smartphone, and tablet, including iPhone, iPad, and Android.
MotionComposer's unique technology plays interactive content as Flash in Web browsers that support Flash, and automatically plays a HTML5 version in browsers that don't support Flash. Now your interactive Web content will play in any browser, including iPhone and iPad!
Bellhop – finds, books, and manages your hotel bookings easily… all from your Mac! Bellhop brings you the best hotel rates you can find anywhere, thanks to a partnership with TravelNow, Expedia, Hotels.com & TripAdvisor. No ads, no web pages to load. Just hotels.
PhotoStyler – the easiest way to style your digital photos with your Mac. This simple, fast and accurate native solution combines the powers of Apple's core technologies with the flexibility and efficiency of proprietary application-specific modules.
PhotoStyler supports all image formats supported by MacOS, including RAW images. It uses your GPU to process the photos wherever possible, and it turns photo styling work into fun. Once you've used PhotoStyler to style your first photo, you'll appreciate the speed with which you're able to achieve results you'll love.
Tidy Up! – a complete duplicate finder and disk tidiness utility.
With Tidy Up! you can search for duplicate files and packages by the owner application, content, type, creator, extension, time modified, time created, name, label, visibility and date/age. You can also search by the tag, duration and bit installments of MP3 and AAC sound files and EXIFmetadata, search the contents of the iPhoto, Aperture, iTunes, iPod databases and Mail mailboxes, and synchronize deletions with iPhoto, Mail and iTunes.
MacGourmet Deluxe – So what would you rather have – a small box stuffed with pieces of paper that is, well, mostly in order and where, after some frantic looking, you'll be able find what you wanted? Or a nice, tidy, well organized, EASILY searchable file? That's a trick question, right?
Get rid of the box. Think of MacGourmet Deluxe as the iTunes for recipes. Enter a recipe and you have instant access to all the information about ingredients, directions, preparations, notes, nutritional values – even a picture. Just try and put that on a 3 × 5" card! When you need to find your favorite recipe, you won't have to thumb through a bunch of cards. With the search function in MacGourmet Deluxe, finding your favorite dish is a click away.
Rubbernet – provides a breakdown of per-app network usage, so you can quickly detect apps that phone home, connect to servers without your knowledge, or pinpoint the app that's slowing down your network.
8Real-time network dashboard:* Real-time monitoring so you can keep an eye on the exact state of your live network connections. With the Activity sidebar, you'll be able to see which applications are currently communicating over your network. When connections are idle, they will dim to let you know that traffic has stopped.
Boom – boosts the volume of your Mac at all levels. From boosting the volume of your music on iTunes, it booms the YouTube videos playing on your web browser. You can now boost the volume of any application playing sound or video like QuickTime, Podcasts, Skype, iChat, DVDPlayer, Garageband, iMovie and so on.
Boom is a simple volume booster and system-wide equalizer that lets you boost the volume of your Mac and your music files.
AppDelete – an uninstaller for Macs that will remove not only Applications but also Widgets, Preference Panes, Plugins, and Screensavers along with their associated files. Without AppDelete these associated items will be left behind to take up space and potentially cause issues. For a proper uninstall don't just delete but be sure to AppDelete!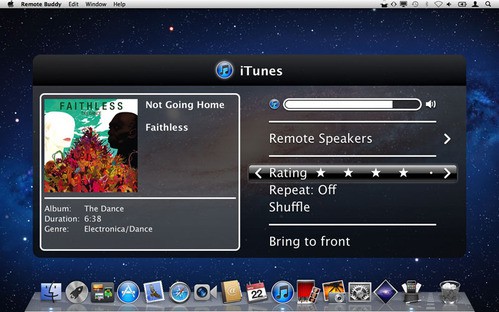 Remote Buddy – Control 100+ applications, virtual keyboard, virtual mouse – and more – right from your Apple Remote, iPhone/iPod Touch or Wii Remote! Remote Buddy gives its users full control over their Mac via their Apple Remote, iPhone/iPod Touch, Wii Remote and many other remotes. With built-in support for controlling more than 100 applications and system functions, a real virtual mouse and keyboard, built-in presentation tools and powerful customization capabilities, Remote Buddy is the perfect match for presenters, home theater PC (HTPC) owners and everybody else looking to control their Mac with a remote.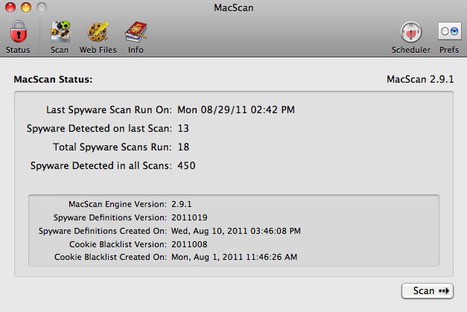 MacScan – is the premier Macintosh security program, protecting you against the latest malware and privacy threats for Apple Mac OS X, offering protection against keystroke loggers, trojan horses, and other spyware.
MacScan also cleans up Internet browsers, offering complete privacy wipes by deleting caches, browsing histories and more, ensuring safe browsing and security against prying eyes. MacScan's blacklisted cookie scanner allows users to quickly remove unwanted tracking cookies without disrupting saved information such as usernames, passwords, or preferences for websites. Stay protected against the newest threats with MacScan's updated malware definitions.
For more info on each app click here to be directed to Deals.CultofMac.com