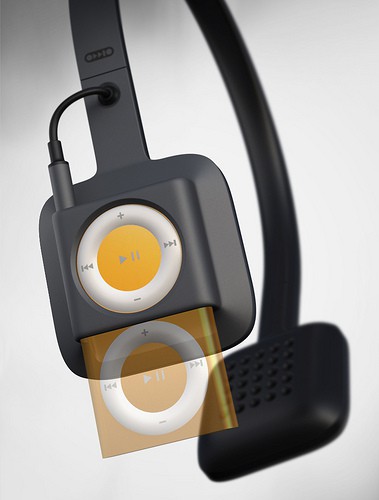 Here's a fun idea from Kickstarter: hip headphones with built-in housing for your iPod shuffle.
Review by Kelly Keltner
Before encountering Altec Lansing's women-specific Bliss Platinum earphones ($70), I had never considered the idea that my ears might be too feminine and precious to handle having a larger earpiece forcibly shoved into their delicate canals. Now I know that, like many things, most earpieces are made for men and we poor, sweet ladies must go about life making do with too-big things. Altec Lansing hopes to solve that issue by giving ultra-precious lady ears a much-needed rest from all the bigness with the Bliss Platinum.
"If something ain't broke, don't fix it" is a phrase Etymotic must have taken extremely seriously, judging by a look at their now-mythic, $99 ER-6i. The set has been around since their release in 2004, after which they quickly became the standard against which all other sub-$100 IEMs were tested. But seven years is an eon for a product to have remained essentially unchanged in the gadget world. Are they still as good now as they were then?
During the pre-review back-and-forth with Jerry Harvey's vaunted audiophile-focused lab — the flagship creation of which are the JH Audio JH16 Pro in-ear monitors being reviewed here — I asked them offhandedly how a set of IEMs with eight drivers in each ear (that's right, almost unbelievably, eight tiny armatures and a crossover are cocooned within each earpiece) would compare with something akin to the single-driver-per-ear Etymotic hf2's we liked so much. The answer came back: Don't be daft.
Remember the WALDok? It sounded like the unholy cybernetic offspring of WALL-E and Iron Man's creepy hypercephalic floating robot head nemesis, MODOK, but the WALDok was actually a Kickstarter project for a gorgeously compact speaker dock for the iPod nano capable of outputting some truly impressive sound while simultaneously juicing you up.
The only problems with the WALDok? First, it was iPod nano only… a design decision which seemed to unnecessarily specify the WALDok into obscurity. Second, as a Kickstarter project, it hadn't yet made enough money in $59 pledges to guarantee that it would ever be made.
Luckily, over the weekend, both problems resolved themselves. Designer Hern Kim not only redesigned the WALDok to accommodate other iPod models, but also surpassed the $30,000 pledge total thanks to some publicity from Gizmodo and Wired, meaning that the WALDok will soon be a very real product. $59 pledged at this point is as good as a pre-order. Hooray!
LAS VEGAS, CES 2011 — In a world grown tired of identical iPod speaker systems, TDK has dared to think different.
Here at CES the company debuted three iPod boomboxes that dispense with the ubiquitous speaker dock in favor of a simple USB port at the back. That means the boomboxes are still iPod/iPhone compatible (via the standard USB cable), but aren't dominated by a dock on top or up front.
So why dispense with the dock?
"The iPod really dictates the design," explained TDK spokesman Tren Blankenship. "You have to put it front and center. Losing the iPod allowed us to make something nice and clean."
Homade's Boom Dock is a decidedly goofy tribute to the days when a portable music player was a huge tape deck turned up to 11 carried on a shoulder and crammed right up against your ear drum. It's unpowered, so the sound is lousy, but it's yours for just $25… the perfect accessory for a Lilliputian electric boogaloo.
[via Technabob]
Looking to convert your old vinyl to a format your iPod can understand? Sharper Image's iPod Turntable will help you archive your old LPs to MP3 that your iPod or iPhone can read, no middle-man computer required (although it is an option through USB).
Earlier this year, Etymotic began a new program that allows purchasers of pretty much any of their products — earphones, Bluetooth headsets, whatever — to own custom-molded eartips for an extra $100. Etymotic offered to let me try a set of these custom eartips (full disclosure: on their tab) with the hf2s I tested, and off we went.
Maybe it's my (only somewhat) jaded inner journalist, but bubbly marketing language almost never rouses me. So naturally, I dismissed the phrases "rediscover your music" and "stunning mobile music fidelity," printed on the box of Etymotic's microphone-equipped hf2 earphones, as standard advertising blather.
After a few hours of listening to music through the hf2s I went back and read the box again, this time with wider eyes — because damned if for once some outfit's marketing department hadn't made a claim that was actually spot-on accurate. In fact, the thought crossing my mind as I gleefully ripped through my music collection, trying to see how many tracks would give me goosebumps, was that maybe those marketing peeps had even been too subtle about the hf2's performance — that maybe the box should have just been plastered in wild neon stickers bearing candid phrases like "THESE ARE *&@#$ AWESOME!!" (and that's why I wouldn't last long in marketing).