Lightning cables are the most boring part of your iPhone or iPad kit, but one of the most essential. After all, without one your iPhone won't last much longer than a day. Apple's cables prove adequate, but we wouldn't recommend buying one as a replacement or a spare. You can find several better (and cheaper) options for charging your iDevices. Here are our picks for the best Lightning cables.
What to look for in a Lightning cable
A good Lightning cable is trouble-free and long-lasting. Apple's own offering, which comes included in every iPhone and iPad box, is pretty much 100 percent reliable, but it will fray and fail if you do anything more strenuous than leave it on the desk as a permanent home-charging connection.
At $20, it is also expensive to replace when it does wear out. This price also prohibits keeping spare cables around. If you're anything like me, your Lightning cable collection consists of old, yellowed cables left over from previous iPhones, repaired using Sugru.
Lightning cables that take the strain
Toughness largely comes down to the strain-relief collar where the cable enters the plug. This part of the cable takes the most abuse. After awhile, a poorly-protected connection will break. The purpose of strain relief is to stop the soldered joints inside the cable from ripping out when you twist the cable, or yank it out of the iPhone by grabbing the wire instead of the plug. It also protects the joint when you bend the wire too far.
Apple's cables offer minimal strain relief. As a result they usually fail where the cable meets the plug. Our picks all deliver better strain relief, and one — the ToughTested Armor Weave, offers a five-year warranty, so confident is the manufacturer of its toughness.
You should also consider the size of the cable: both its length and the size of its plug. A slim Lightning plug means you can use the cable without removing your iPhone or iPad's case. Some plugs prove just a little too big to fit. Apple's is perfect, but that may be because most accessories are tested against it.
Length is also important. If you want a cable to keep in your purse or pocket, shorter is better. We would avoid the stubby, stiff, ultra-short cables though. They look handy, but in practice they're too stiff to be useful. If you try to hook up a battery to the iPhone with one of these, it will lever itself out of the socket while in your bag. A better option is a 6-inch or 1-foot regular cable.
Long and short Lightning cables
The iPad Pro comes with a giant cable in the box — fantastic for use at home or in the office. Because the big iPads take so long to charge, you may want to plug them in while watching video, or when recording and editing music, for example. A long cable lets you do this more comfortably.
And finally, the cable should be MFi-certified. Without this, the cable may not be up to spec. Because Lightning is Apple's own spec, any uncertified cables are knockoffs by definition, and could cause all kinds of problems.
Best Lighting cable to replace your frayed Apple cable
In our opinion, the best replacement Lightning cable comes from Anker. We like the 3-foot Anker PowerLine Lightning Cable as a replacement for the Apple-branded cables that come supplied with your iPhone or iPad for a couple of reasons.
One is the price. At around $8, you could buy two of these for the cost of Apple's $19 version, and have cash to spare.
It is also stronger than Apple's cable. Anker says the cable is made from "bulletproof aramid fiber," which sounds good but probably doesn't mean much — after all, what use is bulletproofing in a cable? You may as well buy bulletproof contact lenses.
What is useful is the strain-relief collar, which stops a bending cable from ripping the soldered joints apart inside the plug. The Anker collar is stiff plastic, compared to the too-soft Apple collar.
This cable comes with an 18-month warranty, and has a 4.5-star Amazon rating from more than 3,000 reviewers.
Short: Buy from: Amazon
Long: Buy from: Amazon
The best extra-long Lightning cables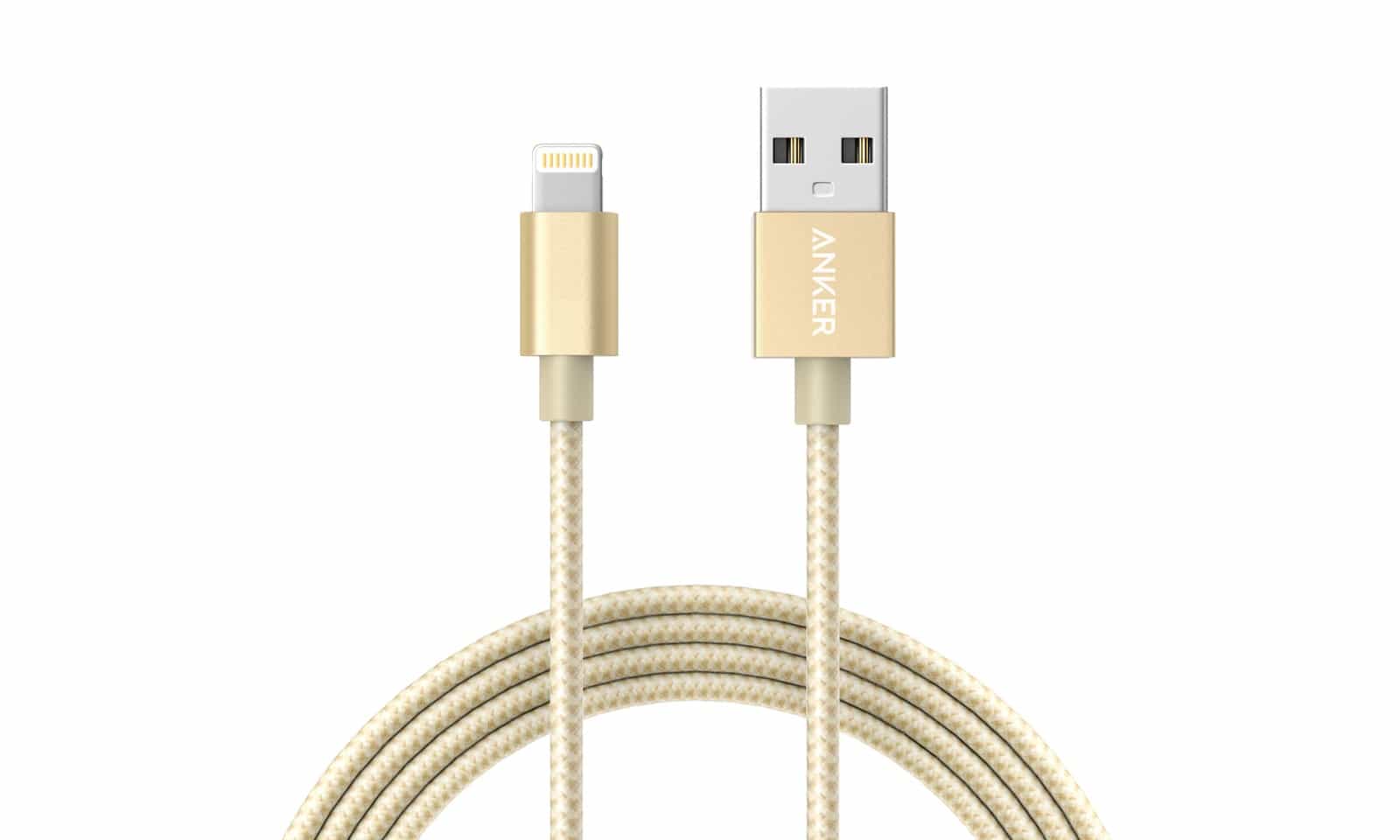 Surprise surprise, it's Anker again. This time we present another choice from Cult of Mac's Killian Bell, the 6-foot Anker braided cable with aluminum plugs. Aside from being better for using at home because it's longer, this cable is also super durable. The braided nylon sleeve and the aluminum casing on the plugs means it should outlast plain plastic. The braiding and the metal cases give this a nice classic look, too. Anker capitalizes on this by offering the cable in gold and rose gold, as well as black or white.
Buy from: Amazon
ToughTested 8-foot Armor Weave
We don't know what kind of cable abuse you might be engaged in if you require a Lighting cable as tough as this, but at only a few dollars more than the overpriced Apple Lightning-to-USB cable (and often found cheaper), you might buy it just to stop your dog or your kids from chewing through the casing.
The 8-foot Armor Weave provides extra strain relief at the transition between the plug and the cable. A slim aluminum tip is intended to make the plug work with any case. And it comes with a five-year warranty (which we have not tested).
ToughTested claims that the polymer woven jacket covering the cable is "chemical, heat and abrasion resistant," making it the perfect cable for use in your meth lab.
Buy from: Amazon
Apple Lightning to Micro USB adapter
I hate to recommend this, but in a pinch, Apple's own overpriced Lightning to Micro USB Adapter can be a lifesaver. Or a connection-saver, at least. It has several downsides — it costs the same as a full-size Lightning USB cable, and it is far too easy to lose — but it is also super-duper handy. The adapter slips onto the tip of any microUSB cable and turns it into a Lightning cable. It has worked on every cable I've tried it with. And, thanks to some professional-level being careful, I have yet to lose it. Wait, scratch that. I can't find it right now.
Buy from: Amazon
Other picks for best Lightning cables
You can bookmark this page and keep coming back to it. Whenever we find alternatives to our picks for best Lightning cables, we will post them here.