Like the current bloom of retro-styled shooters, but don't like the $500+ prices? Unsurprisingly, Olympus has you covered – the new Stylus SH1 looks hot in a silver and black/white body, and packs Wi-Fi, a built-in zoom lens and 5-axis image stabilization.
If you want an SLR-style mirrorless camera, the Olympus OM-D E-M5 is the camera to beat. But if you don't want to spend $1,000 on the Micro Four Thirds body, then you can now opt for the OM-D E-M10, a $700 body which uses lots of it's big brother's parts.
I'll be honest: I'm writing about Olympus' new Stylus camera mostly based on its look. Because frankly, I usually hate superzoom cameras for the ugly non-compromises that they are. They want to give you everything, and usually they deliver nothing.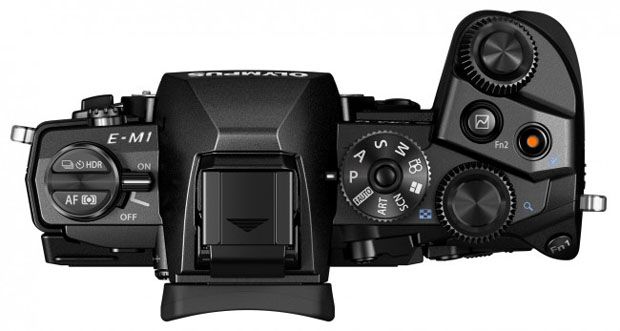 If you happen to have a bunch of Four Thirds lenses lying around, and your in the market for a new camera, then Olympus has you covered: The new OM-D E-M1 is an SLR-style body which will accept old Four Thirds lenses, as well as new Micro Four Thirds lenses. And more importantly, they actually work, and focus at a decent speed.
Olympus was always the company with the best gimmicks, the smallest cameras and the coolest TV ads (in the 1980s UK, at least). And that (apart from the ads) continues to this day. Almost a year ago, the company showed off the Body Cap Lens, and now it's available to buy. As in, "buy from Amazon today."
We checked out Olympus's gorgeous new M.ZUIKO DIGITAL ED 60mm f/2.8 "Nature Macro" lens, along with this fall's additional release to the Japanese company's excellent PEN series cameras, the PEN E-PM2 ($599). This new PEN compact system digital camera will please both experienced and neophyte photographers alike.
One truly great feature of these PEN series cameras is the highly responsive touch shutter release, which instantly autofocuses on the tapped area of the camera's high-resolution 3″ LCD screen and captures. It's amazing, allowing intricate images of even the smallest close-up subjects at lightning-fast speeds.
The natural upgrade for iPhoneographers wanting a little bit more than their awesome cameraphone can offer is Micro Four Thirds — it's small but gives fantastic results.
And the obvious, almost obligatory Micro Four Thirds lens was — until now — the Panasonic Lumix 20mm ƒ1.7, a fixed-focal-length wonder: perfect for low-light and amazing shallow depth-of-field images.
But there's a new challenger from Olympus: the M.ZUIKO DIGITAL 17mm f1.8.
Olympus joins the Photokina news bukake-fest with two new PEN cameras and a smart compact.
Olympus is entering Photokina week with three new cameras: the E-PM2 and E-PL5 for its PEN Micro Four Thirds lineup, and the X-Z2 as a flagship compact camera.

Both PEN cameras feature a 16.1MP CMOS sensor, a max ISO of 25,600, in-body image stabilization, a 3-inch touchscreen, touch shooting, 8fps continuous shooting, photo filters, RAW files with in-camera editing, and 1080i HD video recording.
We know that you Cult of Mac readers are also a bunch of photo nerds, so we thought that this week's best-of list could be about cameras. You're iPhone might be great (and even makes it into this list) but sometimes you need something more powerful, more rugged or just plain better. Here's our list of the best cameras out these.