While London-based dental student and Redditor callum-edw studies how to fix your teeth, maybe you should study how he builds a classy computer setup with solid tech plus a few swanky details and DIY touches.
Callum's rig centers on a MacBook Air M1 tethered to a 24-inch Dell U2419HC UltraSharp external monitor.
This post contains affiliate links. Cult of Mac may earn a commission when you use our links to buy items.
For the laptop, the U.K. student uses a first-gen wireless Magic Keyboard that he's looking to replace with something newer. His 2020 11-inch iPad Pro gets its own Magic Keyboard.
For quality sound, there's a HomePod mini perched just in front of the monitor.
The trackpad and mouse combo
Callum is one of a legion of users we've noticed touting the use of both a trackpad and a mouse for various aspects of navigation, beyond just pointing, clicking and moving around the desktop.
Commenters often ask, why use both?
"I mainly use [the Magic Trackpad 2] for the macOS multitasking gestures, so swiping between full-screen windows, swipe up to view windows and pinch to zoom," Callum replied to a query. "Of course, if you have a Magic Mouse, you can do all this anyway, but I just prefer the experience on the track pad."
Callum replaced his Magic Mouse with a Logitech MX Master 3 for Mac. But when a commenter pointed out all the gestures he maps to his Magic Mouse via the BetterTouchTool app – closing tabs, adjusting volume — Callum said he might get his Magic Mouse out of the drawer and try it.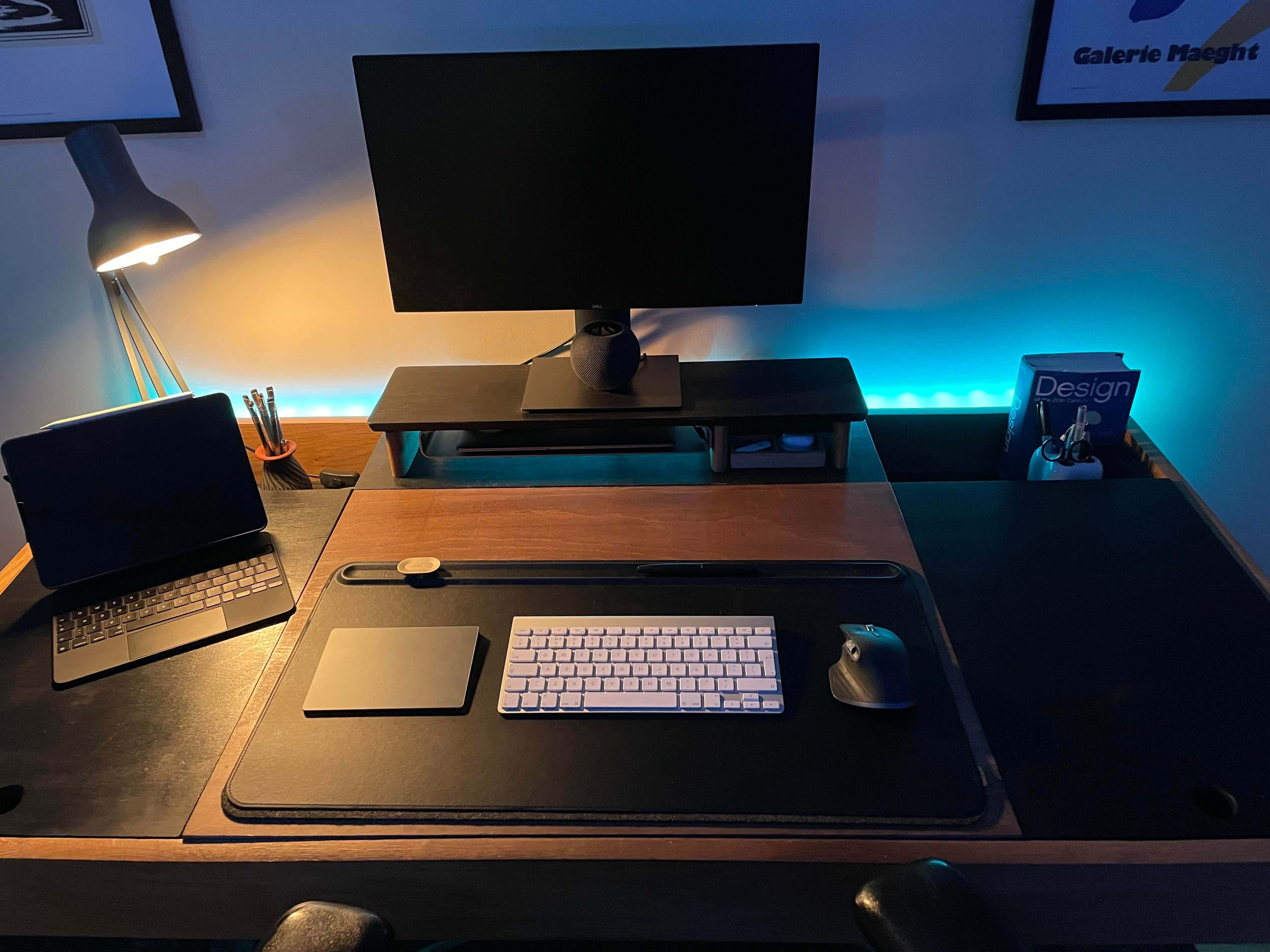 Moft iPad case and stand
One commenter looking to get a bigger iPad wanted to know how Callum enjoys his Moft case and stand – especially getting the tablet in and out of it.
Callum said he has mixed feeling about the product, mainly because it has more "wobble" than a dedicated stand would.
"It doesn't bother me too much because most of the time it using it, it's in Sidecar so I'm not touching the screen," Callum said. "It's not hard to get in and out but it's definitely more effort that the Apple cases with the magnets built in. I'm actually waiting for the newer Satechi iPad stand to come back into stock to replace it with for desk use."
DIY touches
The Dell display sits on a riser Callum built by hand. For that matter, he also handcrafted the underlying desktop as well as a tray that holds swanky stuff like Lamy 2K and vintage Montblanc 146 double-broad fountain pens. He made the tray out of the Lamy's box and its felt insert.
Some other nice touches round out the setup. A Philips Hue Smart Lightstrip behind the desk provides atmospheric lighting. The Orbit Key Desk Mat has a top section that helps organize cables and store fancy pens. And a Vitra Eames House Bird as décor ups the swank factor a bit.
And, in case you weren't already jealous of everything else, there's a classic Herman Miller Aeron Chair Callum says he scored on Facebook Marketplace for … 20 pounds (about $28).
Shop these items now
Computers and peripherals:
Accessories, lighting and furniture:
If you would like to see your setup featured on Cult of Mac, send some high-res pictures to info+setups@cultofmac.com. Please provide a detailed list of your equipment. Tell us what you like or dislike about your setup, and fill us in on any special touches or challenges.