In this week's Cult of Mac Magazine: With an update likely coming soon, Cult of Mac lays out our best guesses (and most fanciful dreams) for all the features that could be coming to Apple's fantastic wearable.
You'll find that top story and much more. Get your free subscription to Cult of Mac Magazine from iTunes. Or read on for this week's top stories.

Cult of Mac Magazine, Issue 258
Our Apple Watch Series 4 wish list
Soon, Apple looks set to unveil the biggest upgrade yet to its popular wearable.
While the external appearance of Apple Watch has not changed much since its launch, recent leaks suggest we can expect a new form factor with a larger screen when Apple Watch Series 4 lands.


Everything to know re: iPhone shutter speed
Your iPhone camera is pretty good at taking photos automatically. You just point it, shoot, and the camera works out all the tricky stuff. But what is actually going on in there? How does it take the light that you see and render it as an image on the screen?


The top 20 most important Macs of all time
Two decades after the Bondi Blue iMac sparked a revolution (and saved Cupertino's bacon), we take a look at Apple's most game-changing machines.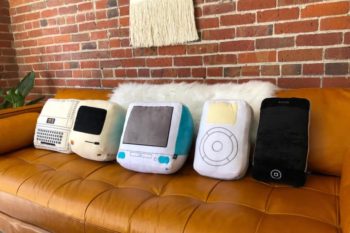 Dream different with these Apple pillows
The Iconic Pillow Collection, designed to resemble the Apple II, Apple Macintosh, the Bondi Blue iMac, the iPod and the first iPhone, is the latest line of plush pillows from digital lifestyle company Throwboy.


Rip audio from YouTube videos with iPhone
Lots of folks post audio files to YouTube, only they gum up the songs with slideshows. Here's how to fix that problem and save audio files to your phone.


How to get the best price for your old iPhone
We're around a month away from Apple's next iPhone event, which means it's time to start thinking about what you'll do with your old iPhone.


How to block any website on iPhone and iPad
Whatever your reasons, these three methods make it easy to block any website on your iPhone or iPad (or on your kid's devices).


Type the Apple logo on iPhone, Mac & iPad
It's pretty easy to type the Apple logo on any of your Apple devices, although it's easier on some (like the Mac) than on others (like Apple TV). Below is a quick list that lays out exactly how to type the Apple logo on any Apple device.


Casetify stainless steel Apple Watch bands get colorful
Stainless steel meticulously weaves its way through the Mesh Band for Apple Watch — Casetify's answer to the significantly more expensive Milanese Loop by Apple. Casetify's version is just as stylish, and now comes in three brand-new finishes: Space Gray, Yellow Gold and Fuschia Purple.


Bliss out with noise-canceling Bluetooth headphones
Treblab Z2 headphones pack great features like 40mm neodymium drivers, Sound2.0 driver technology and noise-cancellation, ensuring high-fidelity audio. Get a pair for just $78.99 — a 69 percent discount!


Build a pro website with this cheap service
Running a website doesn't have to be prohibitively expensive. Get a lifetime of Obior Unlimited Website Building and Hosting for just $39.99. That's a massive 95 percent discount.


]Apple's car plans and our most-loved tech
This week on The CultCast: Alex Jones and free speech, Part 2. Plus: Ming-Chi Kuo says the Apple Car is real, and you might drive it off the lot in 2023! And stay tuned for our most-loved tech! We'll discuss the gadgets and apps we can't go without.