Users of chatroom (and time-wasting tool) Slack will be familiar with typing out emoji reactions. To insert a smiley face, for example, you just type :smile:, and your text will be replaced by a smiley-face emoji when you hit enter.
If you ever find yourself missing this handy feature anywhere else on your Mac, you should take Rocket for a spin. It's a macOS app that exists to make emojis easier.
Rocket app simplifies Mac emojis
The free version of Rocket is probably enough for most people. It sits in your Mac's menu bar, waiting for you to type a trigger character (by default, the same colon as Slack uses). When you do, Rocket pops into action.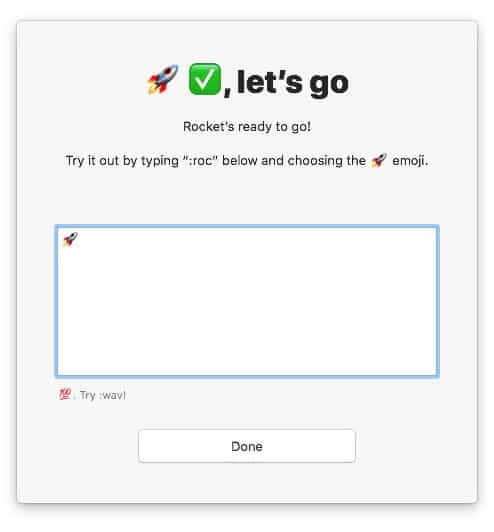 Rocket appears next to your text, and shows a little pop-up bubble that suggests emojis as you type. It's just like autocomplete spelling, only with little pictures instead of words. To choose one, hit enter, or use tab or the arrow keys to select the entry you want from the list of suggestions.
And that's it. When you hit enter, the emoji will be inserted into your text. The beauty of Rocket is that it works anywhere on your Mac that accepts text entry: web forums, Facebook, email, everywhere that uses rich text.
The free version doesn't do much more than that. You can customize the pop-up bubble, change the trigger from a colon to something else, and set a default skin tone for emojis featuring hands and faces. If you want more than that, you need to go pro.
Rocket Pro
If you buy Rocket Pro for $5, you get custom GIFs and stickers. Any GIFs you drop into a provided folder will be available in the Rocket browser, ready to be inserted. Plus, you can access the app's own built-in GIFs. This isn't as nice as Slack's Giphy integration, which offers GIFs based on a typed keyword, but it's not bad.
The pro version of Rocket also lets you chain together combos into ready-made clumps, to be accessed with a custom text shortcut, as well as a full emoji search window.
If you're into emojis, then the free version of Rocket is what the young people call a "no-brainer." It's way, way easier than browsing the Mac's built-in emoji picker, which is even clunkier than the built-in iOS one. But if you don't want to give yet another app access to everything you type on your Mac, then there's a home-grown alternative.
The DIY emoji picker alternative
This is the method I like to make emojis easier on Mac. It uses the Mac's built-in text shortcuts feature to insert emojis. We have a whole how-to on rolling your own emoji shortcuts, so I'll keep it short here. The gist is that you open up System Preferences > Keyboard > Text, then use the emoji picker to create specific shortcuts for your favorite emojis. It's not as flexible as Rocket, but if you only use a few emojis regularly, it's just as good. Better, in some ways, because it also works on iOS, with your shortcuts syncing via iCloud.
Whichever method you pick, anything is better than the poor emoji implementation on both the Mac and iOS. The good news is that you don't need to suffer any longer.
Price: Free/$4.99
Download: Rocket (Mac)