The AirStash is a $100 USB card reader with a built-in Wi-Fi hotspot. It is used to stream media to other devices, which means broadcasting movies, music, and video to your iPhone, iPod touch, or iPad and other gadgets with limited amounts of memory.
If only it worked.
What's Good: The AirStash is a great idea: a portable Wi-Fi USB drive that turns any memory card into a media streamer for devices like the iPad and iPhone. Resembling a stick of deodorant, you pop in a media card and it's available on your Wi-Fi network to compatible devices. That means (in theory) you can load a bunch of memory-hoggin movies onto a media card, and not worry about them taking up space on your favorite iDevice. And since it's basically a USB card reader, you can also use it on any Mac as though it were a thumb drive. (However, it will not connect that way to an iPad using the Camera Connection Kit's USB dongle, because the iPad cannot provide enough power).
You can add up to 32GB of external storage using SD/SDHC cards to any iPhone, iPod touch, or iPad and use it to store all kinds of files. There is a lengthy list of common file types that can be used with the AirStash and you can see a complete list of those here.
What's Bad: The software side of the AirStash is clunky and definitely its weakest point. As a result the device did not always work the way I expected it to — if it worked at all.
The AirStash requires Safari on your iPhone, iPod touch, or iPad to access its web interface. Accessing it isn't limited to these devices, since you can access it from any device or computer that has a web browser and Wi-Fi.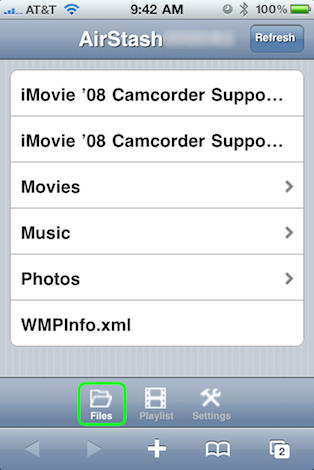 File transfers between the AirStash and my iPhone 4 were slow, but browsing the files on the AirStash wasn't bad. Since it is only capable of connecting using the Wi-Fi B or G protocols that might explain why it was so slow. I often sat waiting a long time for movies to stream to my iPhone 4 and start playing. Access to photos and music by comparison was fairly quick. Streaming video on the iPad was too jittery to even consider using.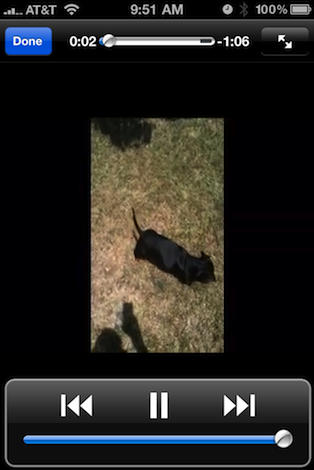 I could not get the AirStash to play my MP3 files even though they are listed as supported on the company's website. Since I used to buy most of my music on CDs I have a vast number of MP3 files in my iTunes library so this was a disappointment. If I converted these to AAC, another supported file type, they worked fine.
The web interface used to access the AirStash is a major kludge since, for example, photos could only be transferred through Safari onto my iPhone 4 Camera Roll one at a time. There was no way to grab multiple photos. This was a real drag on productivity. On my iPad I can import pictures quicker by using my Camera Connection Kit so I thought my  iPad would save me if I tried using the AirStash with it as a thumb drive. Unfortunately the iPad complained that the AirStash wasn't compatible, since as I stated previously the iPad cannot supply the AirStash with enough power. So I was stuck with the lame one photo at a time interface for importing photos into my iPhone 4 or iPad.
Finally, I had frequent problems while accessing the AirStash web interface. It would crash Safari quite frequently and in the case of my MP3 problem it would go completely bonkers forcing me to force quit Safari on my iPhone 4. I did test the MP3 files I tried to play in iTunes and they were all fine.
Conclusion: The AirStash works (kind of), but its software interface to the outside world is very awkward and its weakest point. The AirStash inventors really need to consider writing a native iOS app that accesses their device directly to make things a lot easier for iPhone, iPod touch, or iPad users. You could consider the Airstash to be a good idea, but the badly-implemented software makes it less than pleasant to use most of the time. Future AirStash firmware updates may address some of these issues, but for the time being I can honestly say that after spending time with my AirStash I regret having bought it in its current form.