Facebook's algorithmic nostalgia is all well and good — until it starts pulling up the worst memories you've shared. Not everyone wants to be reminded of these awful memories.
Introduced this past March, "On This Day" is a Facebook feature that lets you re-share important digital memories from one year ago. Now you can keep specific people and/or dates from appearing in your feed, thanks to a pair of filters introduced on the social network.
Here's how to make sure your worst memories aren't surfaced by Facebook.
Head over to Facebook's On This Day page in your web browser of choice, and then click on the Preferences button in the upper right of the page.
You'll get a dialog box that pops up. It says:
"Your memories are yours, so you should control which ones you see in On This Day. Memories include things like your posts and others' posts you're tagged in, major life events and when you became friends with someone on Facebook. Use these filters to help make sure we show you memories from On This Day in a way that's meaningful for you."
Click on the Edit button next to the People filter, and you'll get another dialog that lets you type in the names of the friends you'd rather not see in your On This Day feed. This will keep out the awful memories you shared about specific people in your past that you'd rather not see again.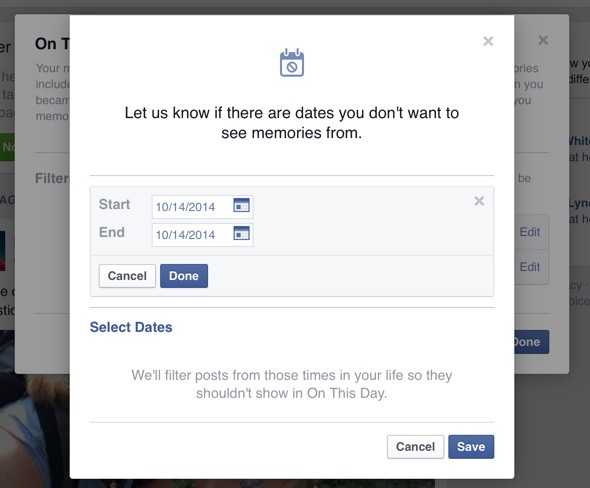 Click on the Edit button next to the Date filter, and you'll get a second box — you'll need to click on "Select Dates." Once you do, you'll get the typical calendar-style date selection tool. Type in or click on the date range you'd like to exclude from your On This Day feed, and those awful memories won't show up on Facebook again.
Hopefully you can now rest a bit easier knowing that those horrible memories you'd rather not see on your Facebook page won't pop up and trigger you.
Via: The Verge