Traditionally Black Friday takes place on the Friday immediately following Thanksgiving — November 26th this year. It is the official start of the holiday season when retailers generally open up very early and offer deep discounts on items geared towards drawing you into their stores. They hope you'll buy more through impulse buying.
However, in recent years things are changing so start looking for deals – now. The holiday shopping season seems to start earlier every year, but actually practically after Halloween in the US. Best Buy, Target and Walmart are already offering pre-Black Friday deals on their websites and many other retailers are too.
If you are looking for the best Black Friday deals you're in luck because you have Apple technology to help you find them. You need to use that technology to your advantage so you don't miss out on some good deals. I will help you get started with this first post — a technology overview for all you avid shoppers out there.
Later this week and next week I'll follow-up with more specific information on applying these technologies which I'll summarize here. I hope all this information will turn you into a savvy Black Friday shopper.
Internet
The internet will have a lot of different Black Friday themed websites alerting you to various deals. However, you can get a good start with this website, Black Friday Deals, which will open up a cornucopia of Black Friday websites for you to browse through. Just use the drop down at the top center of the website to pick from 12 different Black Friday deal sites.
These sites will educate you about Black Friday — you'll learn about pricing, coupons, online vs. in-store deals, and logistics (like when the stores will open on Black Friday).
Apple Technology
The internet is a good place to start, but you should consider using your Mac,  iPhone, iPod touch, or iPad to find good Black Friday deals. Grab and one of these devices and use various search tools like your web browser, the various chain store apps (i.e. Best Buy, Walmart, etc.), or just search for "Black Friday" in the iTunes App Store.
I have no doubt that you will find that any of your iOS devices are going to be helpful companions for your holiday shopping needs. You can use a lot of free apps on these devices to track sales, prices, etc. In some cases you can receive sales alerts or get notification of last-minute surprise Black Friday deals. If you don't have an iOS device – your Mac will be just as helpful, but just harder to carry around in some circumstances.
Socialize Deal Sharing
If you have Twitter or Facebook installed on your iOS device — use these to search for Black Friday deals and encourage your followers or friends to immediately share any deals they hear about. Use Apple's YouTube app to check that service for Black Friday deals too. You might be able to catch an ad you missed on TV using that service.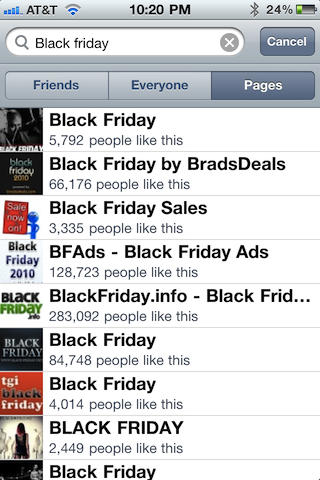 Next Up
Later this week, I'll take a good look at iOS apps that will help you shop until you drop on Black Friday or anytime you want to go shopping.