Cult of Mac is making it rain again with some great apps for your iPhone and iPad. We'll pick 5 random winners to win 6 great apps. If you want a chance to get your hands on some great apps this week, then follow the instructions carefully below:
Tag us Cult of Mac in your status and mention we're giving away free apps.
Your Status Tag will be your entry into the giveaway, only ONE entry is allowed per person, and the giveaway will last until 11:59pm tonight. We'll contact the winners on Tuesday or Wednesday and how to get the codes!
Optional step – Tell us what you think about these apps if you own them already in the comments section.
Special Thanks to Appular for helping us put together these app code giveaways! If you've got a mobile app that you'd like marketed effectively, contact the good folks at Appular!
Here's a look at the apps we're giving away:
Xenome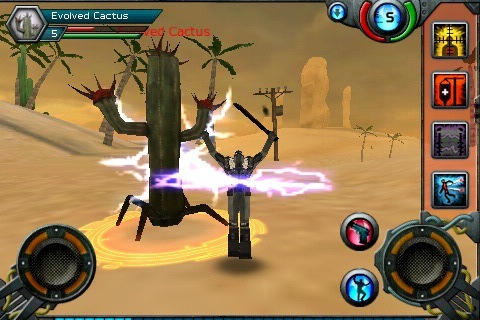 Xenome is an open-world, action/adventure role playing game for the iPhone. Set in a future where genetic manipulation is key to survival, mangled strands of "XNA" (Xeno Nucleic Acid) have given rise to the bizarrely mutated inhabitants of the Xenome world. As you progress through the 5 square miles of a feature-rich environment that's both beautiful and deadly, you'll gather creatures' genetic material to splice their XNA and take on special abilities.
The Moron Test
The Moron Test is a hilarious and wildly popular brain teasing iPhone game now with a series of over 200 questions with more than 400 steps shared between 4 sections. The DistinctDev team recently unveiled "Food Fight", the latest free section introducing many more of the features that players have come to love about the series.
DoodleJump
In Doodle Jump™, you guide Doodle the Doodler™—using some of the most subtle and accurate tilt controls in existence—on a springy journey up, up, up a sheet of graph paper, picking up jet packs, avoiding black holes, and blasting baddies with nose balls along the way.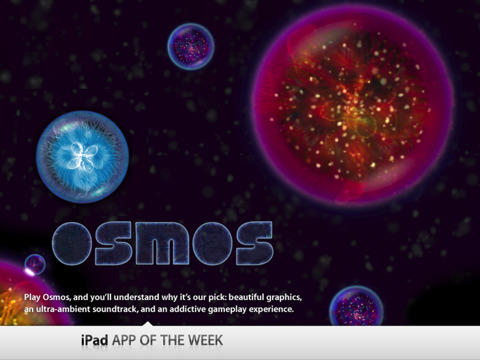 Osmos features addictive, physics-based gameplay, fluid multi-touch controls, lush, flowing visuals, and a chill, ambient electronic soundtrack.  Your goal is to grow by absorbing smaller motes; but to propel yourself you must eject matter behind you, causing you to shrink. From this fundamental balance, Osmos leads the player through ambient playgrounds, deep solar systems, competitive petri dishes, dense mote-fields, and more.
Air Sharing
Mount your iPhone or iPod touch as a Wi-Fi drive on your computer (Mac, Windows, or Linux) or connect from your computer's web browser. AirSharing lets you drag-drop files between your iPhone or iPod touch and your computers to View and email documents in many common formats. AirSharing uses a familiar finder-like file browser. In-App purchase lets you upgrade to Airsharing Pro.
Brushes for iPhone and iPad
Create art anywhere, with Brushes on your iPad! Brushes is a popular painting app, specially designed for the iPad. Simple to learn, yet powerful enough for pros! Brushes is a painting application designed from scratch for the iPhone and iPod touch. Featuring an advanced color picker, several realistic brushes, layers, extreme zooming, and a simple yet deep interface, it is a powerful tool for creating original artwork on your mobile device.
Terms of Giveaway: You must be 18 years of age to enter the giveaway, these codes are only good for U.S. iTunes use, and this giveaway is void where prohibited.  There is no purchase necessary.