Creating a spiritual successor to 2014's lovable platformer Leo's Fortune was a labor of love for its developers. Now, four years later the Norse-themed platformer Oddmar finally debuts on iOS. (Check out our review here.)
"The story is set in a Viking universe and is our take on Norse mythology," designer and director Ozgur Taskin told Cult of Mac. "Developing this game gave us a great opportunity to imagine the environments of the North through art and animation."
Cult of Mac got a look behind the scenes of a future gaming classic.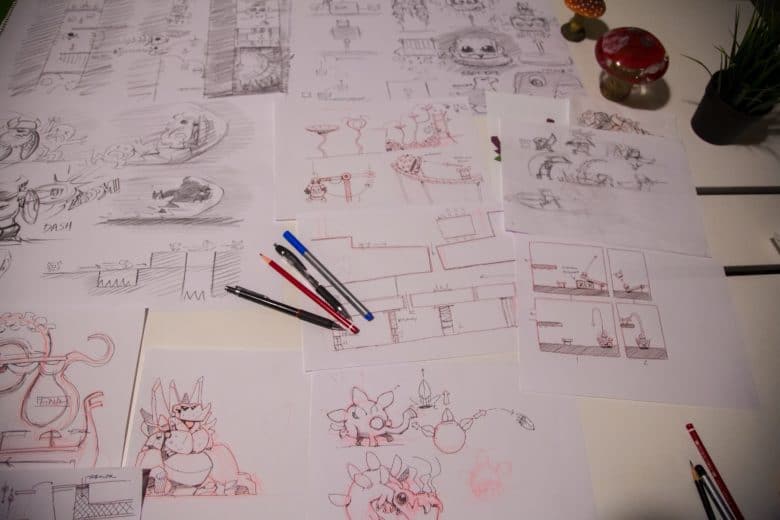 Oddmar: A Norse Leo's Fortune
When released in 2014, Leo's Fortune charmed just about everyone who played it — Apple included. The game represented a milestone in graphics and gameplay on iOS. The platformer become a hit with reviewers and customers, and Apple named it its first "iPhone game of the month."
As much as we loved it, however, the makers of Leo's Fortune weren't quick off the mark with a follow-up. Unlike many other App Store hits, no thinly veiled reskin of the game waited in the wings. In fact, no news of a successor appeared until 2015.
This was supposed to be Viking Mushroom, a Rayman-looking platformer with a Nordic setting supposedly set to ship in 2016. Only it didn't. The game experienced delays, and eventually fell off the radar. Now it's finally here, retitled Oddmar. And from its lush visuals to its inventive graphics, it was well worth the wait!
Oddmar: It's finally here
Almost four years to the month after Leo's Fortune landed, Oddmar delivers the same thrills and spills. However, instead of guiding around a Pixar-style furry ball, this time around you control a Viking hero (the titular Oddmar) as he journeys through colorful levels, dodging enemies and deadly death traps in the process.
Designer and director Taskin said they modeled Oddmar gameplay on classic platformers like Mega Man, Mario and Donkey Kong.
"Not only did those games introduce a lot of the fundamentals of platforming games, but they also created their own universes of characters, environments and mechanics," he said. The game pays homage to these classic titles with its gorgeous 2D graphics.
The most obvious reference point, though, is Leo's Fortune. For Oddmar, the devs took what worked so well about the game's predecessor and incorporated some new game mechanics.
Can Oddmar improve on the nearly perfect Leo's Fortune?
"Oddmar adds depth to the controls of Leo's Fortune by the addition of shields and weapons," says producer Johan Knutzen. "There are also a lot of unique enemies, boss fights and characters that you can interact with in the world. Another aspect that we put a lot of focus on was the animations that were created by the twin brothers Volkan and Okan Yenen. The environments are very dynamic and are filled with friendly and adversarial characters that Oddmar encounters along the way."
These dynamic environments add extra levels of complexity to the gameplay. In one level, you maneuver around a constantly changing structure being lifted up by a balloon. In others, you encounter companions you can ride on, temporarily switching up the way the game plays.
While the App Store is more crowded with great games than ever, Oddmar's developers are optimistic that they have created one of 2018's best premium games.
"When we worked on Leo's Fortune, free-to-play games were emerging as a new way of monetizing games," producer Shahrouz Zolfaghari said. "Since then, the free-to-play model has become the most prevalent for games on mobile platforms. We did not take the route of creating a free-to-play game because it would compromise on the game design. This allowed us to focus on great gameplay instead, and we believe that the App Store is a great place for premium games. We are really excited to see what players think of Oddmar."
We're already fans of the finished product, which is likely to go down as one of 2018's best. If you haven't given it a go yet, you can download it from the App Store here.