With Christmas only two weeks away, there's still a few days to order that perfect Apple Watch band in time for holiday gifting.
We've gathered some of our best Apple Watch accessories, and rounded up the cut-off dates for ordering from the Cult of Mac Watch Store in time for U.S. holiday delivery. (International orders placed now will most likely not arrive in time for the holidays.)
The brands listed below will ship in time for Christmas. Check out our collection of gorgeous, high-quality Apple Watch bands and accessories — and get shopping in time for the holidays.

Juuk
For nearly 20 years, watchmaker Eugene Ho has been making luxury timepieces for the likes of Hugo Boss, Tommy Hilfiger, Timberland, Ecko and Reebok. Now he's branched out on his own. His startup, Juuk (pronounced "juke"), makes beautiful, high-end bracelets for Apple Watches. Juuk's wristbands rival Cupertino's aesthetics and quality — but cost half the price.
Juuk's bands come in different styles and sizes, with offerings for both men and women.
Cut-off date for domestic shipping: December 15
Buy from: Watch Store
Clessant
French company, Clessant, is making a big impression in the world of luxury accessories. Recently featured in Vogue (and, Cult of Mac!), Clessant takes its band-making to detailed levels: The craftsmanship of a Clessant strap is a specific and complicated process, with more than 60 different steps to completion.
Located in Chapareillan, the small company is young as are its founders, William Laurent and Nicolas Perot, entrepreneurs who share a common passion for luxury accessories. Designed for "people who wear what they love," each artisan-made strap is as beautiful as it is practical.
Cut-off date for domestic shipping: December 18
Buy from: Watch Store
Bezels & Bytes
Wearable tech just got way more fashionable with Bezels & Bytes — a San Francisco-based company dedicated to empowering women who love technology with new and fashionable ways to wear it. Bezels & Bytes was launched in 2015 by Melissa Koerner and Sarah Shapiro — two retail entrepreneurs who love and embrace fashion and tech.
The female-owned company designs high-quality, well-made leather Apple Watch bands accented with shiny, stainless-steel zippers, and studs, and chains … oh my.
Cut-off date for domestic shipping: December 15
Buy from: Watch Store
Nomad
Nomad, maker of minimalist, practical accessories for Apple Watch and iPhone, dropped its slick Sport Strap a few months ago, and it's been extremely popular with customers. This silicone strap is strong, lightweight, sweat- and water-resistant, and also-super comfortable on the wrist.
Also, check out Nomad's Charging Stand for Apple Watch as well as the Pod Pro for iPhone and Apple Watch.
Cut-off date for domestic shipping: December 18
Buy from: Watch Store
E3 Supply Co.
Whether working from their shop in Brooklyn, New York, or from the mini leather workshop in the back of their customized 1977 Toyota Chinook, E3 Supply Co. do things the old-fashioned way.
Rather than the Italian leather utilized by great brands like Strapple and Ullu, E3 opts for American hides from the Horween Leather Company, a Chicago tannery that's been operating for more than a century.
All E3 bands bear the trademarks of the shop: hands-on craftsmanship, top-quality materials and a seriously cool vibe. If you are looking for a distinctive, handmade (and made in America) Apple Watch band, check out the E3 Supply Co. line in the Cult of Mac Watch Store.
Cut-off date for domestic shipping: December 15
Buy from: Watch Store
Bucardo
The Silver Pinstripe Pocket Watch by Bucardo is a totally unique way to wear Apple Watch, bucking current trends by melding vintage style and tech. The pocket watch transforms your Apple Watch into a classic yet au courant accessory.
Part of Bucardo's Pendulum Collection, the Silver Pinstripe Pocket Watch takes its design cues from the way timepieces were originally worn, fusing Victorian-era sensibilities with a decidedly modern turn.
Cut-off date for domestic shipping: December 18
Buy from: Watch Store
Ottm
A statement piece, each Ottm watchband is made from exotic hardwood like Gabonese Zebrawood or Indonesian Sandalwood. No two bands are alike, the natural variation in grain makes each band completely unique to you.
ach link in your Ottm band has been sanded by hand to a smooth finish, giving it an especially comfortable fit on the skin. Make your Apple Watch unique with Ottm watch bands. Comes in really lovely packaging.
Cut-off date for domestic shipping: December 15 (Ottm does not ship internationally at this time.)
Buy from: Watch Store
Nyloon
Based in sunny southern Spain, Nyloon is comprised of a group of tech and Apple enthusiasts with a special love for Apple Watch. Wanting to use the famous NATO strap with their Apple Watches, but unable to find nice versions anywhere, Nyloon was formed.
Early adopters of the NATO strap were attracted to its usefulness and "tacti-cool" street cred. Nyloon has taken this into account in designing its straps to offer a seamless blend of form, function and fashion. Made with ballistic-grade nylon that's thicker and tougher than ordinary polyester bands, Nyloon's straps are built to withstand the most adverse weather conditions.
Cut-off date for domestic shipping: December 18
Buy from: Watch Store
Ullu
Based in Dubai, Ullu loves luxury and embraces the finer things. Its bands are made by hand from Italian full-grain calf's leather. Each strap is unique, beautiful and impeccably finished.
The Apple-centric accessories brand features luxurious bands in premium calf's leather and hand-colored leather among its extensive lineup, which also includes exotic leathers like ostrich and stingray. Handmade from the first cut to the final stitch, Ullu's bands are a reflection of the company's ethos: a deep commitment to high-quality craftsmanship and impeccable products for its discerning Apple Watch wearers.
Cut-off date for domestic shipping: December 17
Buy from: Watch Store
Just Mobile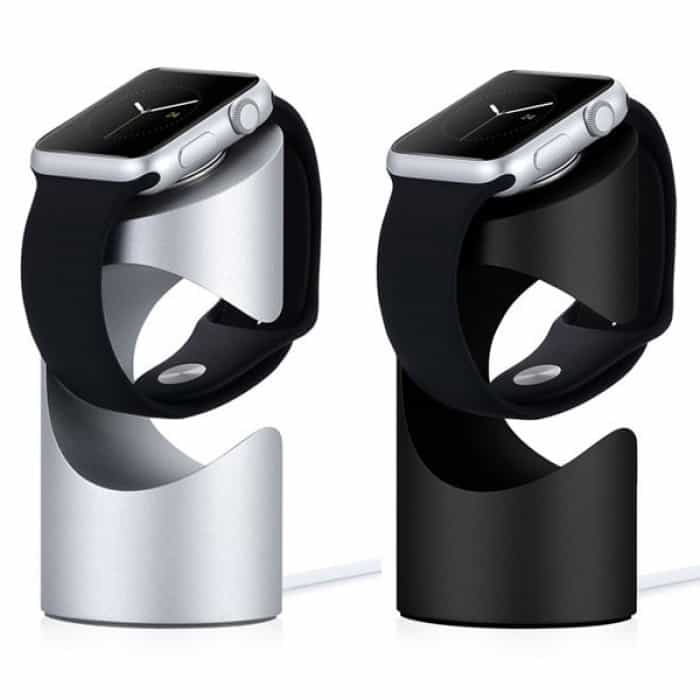 Now's the time for an excellent deal on Just Mobile's design-award-winning accessories for Apple Watch. For the month of December, you'll receive a $20 AluCable Flat lightning cable for free with the purchase of two ($50 worth of) Just Mobile accessories.
Cult of Mac has reviewed and recommends Just Mobile's offerings, whether you choose the HoverDock, TimeStand or Lounge Dock. Check them out below, pick a few up for the holidays and receive your free Just Mobile AluCable Flat lightning cable this month only.
Cut-off date for domestic shipping: December 15
Buy from: Watch Store