It's already mid-March, but at the Cult of Mac Store we're just getting warmed up with the top deals on gear and gadgets. The week, we've got a bundle of ten top shelf apps for less than a tenth the usual price, a versatile tripod for any mobile device, a lifetime of VPN access, and a firewall for all your internet-connected devices at home. Everything's discounted significantly, some by more than 90 percent. Read on for more details.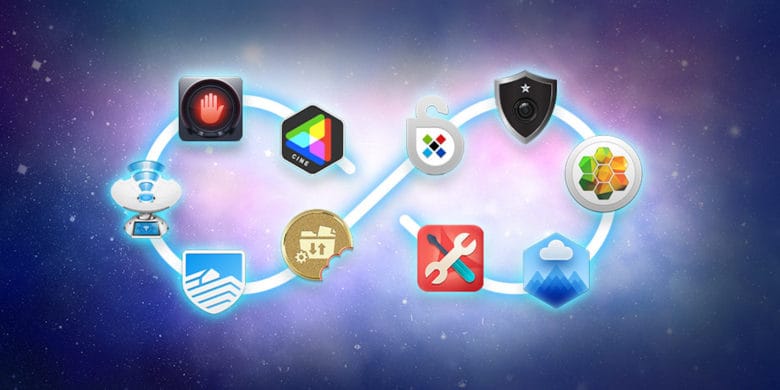 The World's First Lifetime Mac Bundle – 96% off
Finding the right software to fulfill all your wants and needs can be a headache, making The World's First Lifetime Mac Bundle great opportunity for anyone looking to maximize their Mac. This bundle offers lifetime access, including all updates and upgrades, to 10 premium Mac apps in categories including productivity, security and creativity. From photo and PDF editing to password management, optimizing Wi-Fi networks and way beyond, there's something here for everyone. And right now you can get the whole bundle for just $39 at Cult of Mac Deals when you enter coupon code "MACBUNDLE10".
Buy now: Access The World's First Lifetime Mac Bundle for $49, that's a whopping 96 percent off the usual price.
Gekkopod Mobile Smartphone Mount – 20% off
With mobile phones as with any other camera, a tripod can make all the difference in taking quality photos. Gekkopod is one of the lightest and most versatile smartphone, tablet, and GoPro mounts you'll find, able to perch on a rock or grip to a tree, hang onto bike, or just sit on your desk for easy video chats. It's lightweight but rugged, with a waterproof design that makes this tripod fit for any use you can think of, all while staying slim enough to fit in your bag.
Buy now: Get a Gekkopod Mobile Smartphone Mount for $19.95, that's 20 percent off the usual price.
VPNSecure: Lifetime Subscription – 91% off
Going online means being vulnerable to all sorts of hazards and headaches. From identity thieves and snoops to location restrictions on streaming content, one way to bypass these irritations on the Internet is to connect through a VPN. Right now, you can get a lifetime of protection from VPNSecure. Routing traffic through an international network of more than 45 server nodes, it encrypts and anonymizes online activity, with features like Smart DNS to unblock regional content restrictions. Working on up to five devices at once with unlimited bandwidth, it's perfect for folks who like to torrent.
Buy now: Get a lifetime of VPNSecure for $39, a massive 91 percent off.
CUJO Smart Internet Security Firewall and Free Subscription – 9% off
The smarter our homes get, the dumber it is not to protect them. CUJO's firewall is a great way to start protecting the internet-connected devices in your house from hackers and malware. Just connect CUJO to your network and its machine learning protocols will begin guarding each device operating on that network with business-level internet security protocols. An included mobile app makes it easy to remotely control and monitor all devices on the network, receive instant notifications and manage internet access for your gadgets.
Buy now: Get CUJO's Smart Internet Security Firewall and Free Subscription for $224.99, that's a 9 percent discount.