As far as smartphone cameras have come with improved low-light shooting and intelligent LED flash, there will always be some situations in which you could use just a bit more light. This is especially true for photographers who want to make smart adjustments for their photos, or people who tend to do most of their socializing at night. So it's worth shining a light on iblazr 2, a fantastic Bluetooth LED flash.
This successor to Concepter's original iblazr isn't just your ordinary wireless LED flash. It's equipped with tons of features that let me fine-tune the way I want my photo to come out. The most important feature for me is that it works with the native camera apps on iOS and Android. In fact, according to Concepter's website, it's the only wireless LED flash that does.
iblazr's special sauce
The iblazr 2 has four LED lights fit into a tiny, portable rectangle that takes up the footprint of a little more than two adjacent nickels. So it's pretty easy to carry wherever I go. It even comes with a small keychain hook and silicone diffuser/case so I can tether it to my keys.
It comes with a smartphone clip too. This just slides onto my phone (even with a moderately thick case on my iPhone), and then the light slides into the clip. It works like a charm.
Two of the four LED lights have a warm, yellow color temperature while the other two have a cool, white color temperature. This is not only to balance out all the light emitting from the iblazr, but because the device also allows me to manually adjust the color temperature. On the back is a touch-sensitive lightning symbol — if I move my finger up or down across it, the color temperature of the lights will change. On one end, it becomes totally warm by dimming the cooler LEDs and on the other it's totally cool by dimming the warmer ones.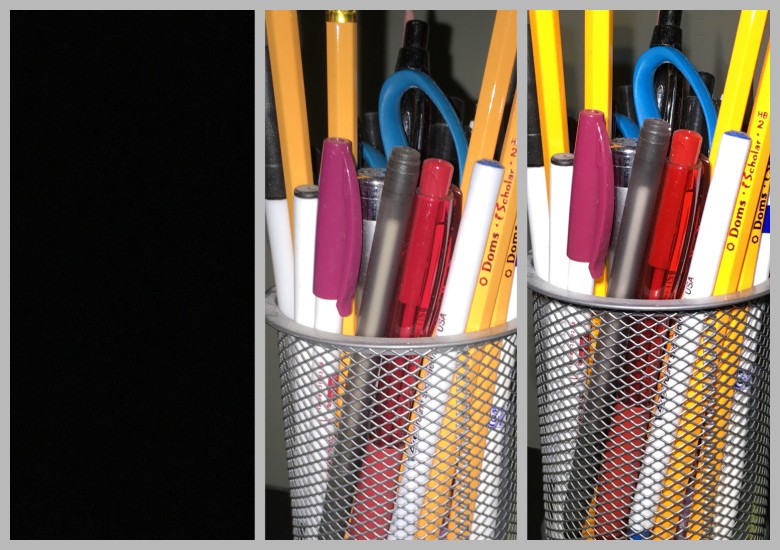 This touch-sensitive backside is also what I double-press when I want to take a photo with my native camera app. While I wish I could trigger the flash just by pressing the iPhone's shutter button, I imagine that's a software limitation on Apple's part.
In terms of brightness level, yeah, the iblazr 2 gets extremely bright. There are two brightness settings: Press once for standard light and press twice for a brightness boost. Even on the lower setting, I can barely look directly at the lights. I played around with it while typing this review and I had to stop typing for 30 seconds because the LEDs temporarily blinded me. But hey, if I want quality low-light photos, that's the kind of lighting I want.
iblazr's own app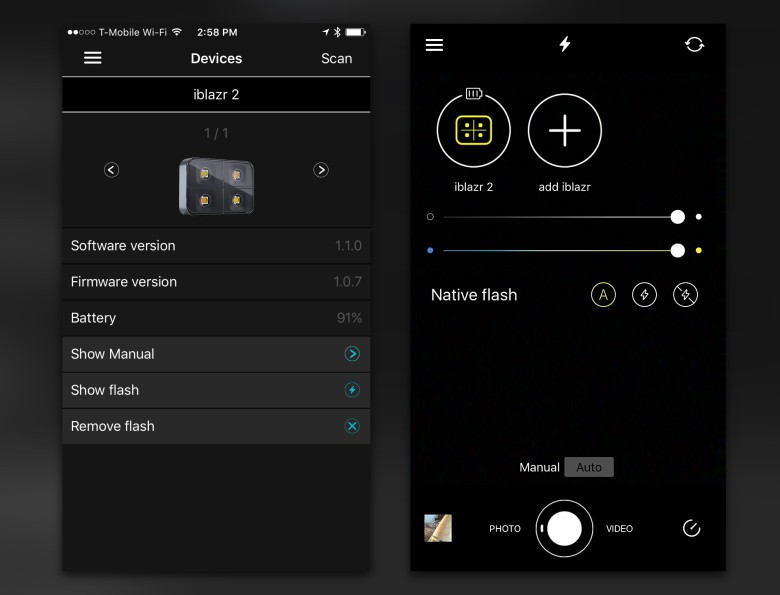 If you aren't satisfied with your smartphone's native camera app, you can use iblazr 2's free companion app called Shotlight. It can trigger the iblazr with a shutter button, and it offers other settings for brightening the flash, adjusting color temperature and fiddling with camera settings like ISO right from the app. I was worried by Shotlight's poor App Store reviews, but I didn't have any problem with the app at all.
Now for the downsides, but there aren't many. One, I do wish the iblazr was a bit more secure inside the smartphone clip. It slides in so nicely that I'm worried it'll just slide right back out as the clip loosens over time. Two, battery life is good but could be better. It can get through hundreds of photos in a night, which is awesome, but it'll only last about 20 minutes as a persistent video light. I would've liked at least a half-hour.
The verdict
The iblazr 2 is definitely worth its $59.99 price tag because you get the complete package: the flash itself, charging cable, silicone diffuser (which doubles as a case in my eyes), keychain clip and smartphone clip. I have practically everything I need now to take awesome low-light photos on the go, and iblazr 2 gets the job done wonderfully.
iblazr provided Cult of Mac with a review unit for this article.