Massive Attack just jumped ahead of the curve with a new app called Fantom Sensory Music. It uses your iPhone camera, motion sensors, location data and even the heart rate from your Apple Watch to remix one of four new tracks from the trip-hop collective that hasn't had an album out since 2010.
The app itself is a trippy, almost spooky black and white affair that will have you listening to the tracks as you point the camera in all directions, shake your iPhone, and jog in place to raise your heartbeat. Or, at least, that's what I was doing.
Launching the app gives you four tracks: Dead Editors, Ritual Spirit, Voodoo In My Blood, and Take It There. Tapping any one of them will show you a creepy skull x-ray with two options, Personal and Original. The latter, likely the Massive Attack track itself, isn't available as yet – you'll have to remix to hear the tunes.
Tapping Personal will get you the main remix screen. You can point the camera at anything around you to shift the remix composition and effects. Pointing your camera at different colors (even though the screen is black and white) and different areas of brightness will change the music on the fly.
Motion controls activates beats and effects. How you orient your iPhone in space will change the sound of the remix, as will moving it rapidly or slowly. Pulse uses your heart rate via HealthKit (you'll need to give the app permission to use your health "data" here) to change the low-end of the track. Faster heart rate seems to correspond to more energetic bass lines and booms.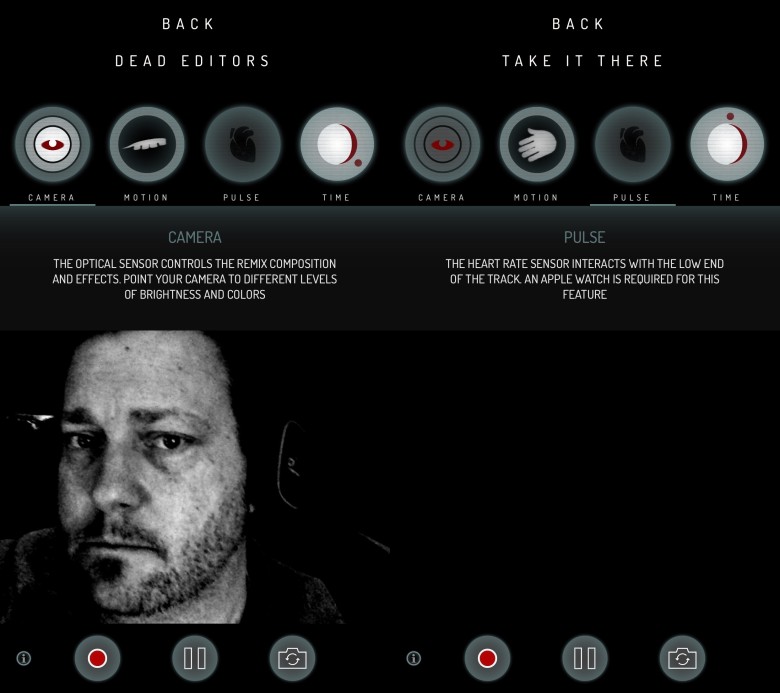 Your location and the time of day will determine the overall content of the track; listening at different times and in different places around the city will give you more sonic content to ponder. There's even a hidden social media function, where "notifications sent via a Twitter feed will also trigger interesting sets of mix events." I have yet to notice that sort of "event," but it's bound to be cool when it happens.
You can record 15 seconds of any of your remixes and then send them along via the normal channels, including iMessage, Twitter, Email or Instagram, which seems like a perfect match for the quick, creepy clips, like this one I've shared using a video of my dog, my location, the time of day, and my heart rate.
The music is pure Massive Attack, full of abstract ambient noise backed by solid electronic beats. The remix music is fantastic, though it'll be pretty great to hear the final tracks once they're released, hopefully in-app.
If you're a Massive Attack fan or just dig experimental new music apps, be sure to grab Fantom Sensory Music from the App Store now for free and get your heart pumping to the beats.