Apple's iOS 9 has been adopted by users at a pretty rapid rate, one that's faster than even iOS 8 enjoyed.
Apple just updated its developer information page, claiming that iOS 9 is now on 75 percent of all iOS devices out there. This is four percent more than it was just a month ago, showing steady, if slower, growth than the first few weeks after the iOS 9 release.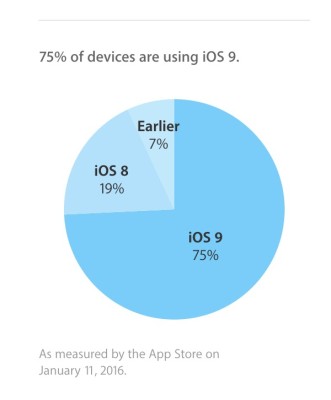 The graphic on Apple's developer page also shows that only 19 percent of iOS devices are running iOS 8, and only 7 percent are using earlier versions of iOS. Contrast that with the largest amount of users (37 percent on two-year-old KitKat) on one Android OS and you can see how Apple has been able to convince a larger majority of its users to use the latest and greatest version of it's mobile operating system than Google has.
While Apple doesn't provide numbers on the specific version of iOS 9 its users have installed, third-party app analytics company Mixpanel estimates that more than 59 percent of the iOS 9 user base is using the latest stable release, iOS 9.2, which released only last month.
Apple focused on making iOS 9 much smaller and easier to install for users with lower-capacity devices, and ensuring compatibility with earlier devices, all the way back to 2011's iPhone 4S, and added energy-efficiency features like Low Power mode.
Apple continues it's forward momentum this week, releasing betas for iOS, tvOS, OS X and watchOS for developers to test their apps against.
Source: Apple
Via: The Next Web