According to a new report from IBM, the greed consumer-driven shop-fest known as Black Friday.
The report shows a new high for online sales for this 2013 reporting period, as well as a soaring rate of mobile shopping, in which folks used smartphones to browse for deals while people were more likely to complete purchases with tablets.
The most interesting finding, however, was how much more iOS users spent than those on Android. Take that, Google!
On average, according to the IBM Digital Analytics Benchmark Black Friday Report 2013, iOS users spent $127.92 per order, while Android users spent $105.20 per order. The traffic from iOS devices hit 28.2 percent of all online traffic, with Android trailing way behind at 11.4 percent.
Bigger yet, the sales from iOS devices accounted for 18.1 percent of all online sales, with Android only capturing 3.5 percent of the same category.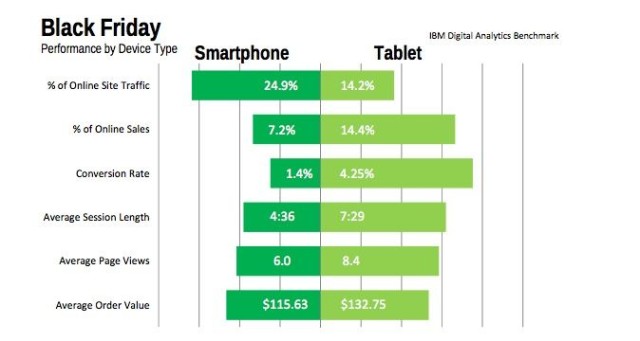 Just about 25 percent of all online traffic on Black Friday came from smartphones, while tablets only drove a little over 14 percent of the rush. At 14.4 percent, tablets like the iPad drove twice the amount of online sales as smartphones like the iPhone, which account only for 7.2 percent of online sales. The average order from a tablet device was $132.75, with smartphone order sales averaging $115.63 in average sales.
Retailers themselves took advantage of the mobile shopping trend, sending 37 percent more push notifications during the two day period of Thanksgiving and Black Friday. Facebook and Pinterest also played a huge role in the online shopping rush, with sales from Pinterest showing an average order value of $92.51, while Facebook turned in an average order of $52.30. Facebook did, however, convert sales at nearly four times the rate of Pinterest.
Bottom line, it looks like online shopping from mobile devices is coming to the forefront of this annual glut of retail consumerism, which makes a ton of sense given that most of us spend so much on our digital devices.
Source: IBM
Via: TechCrunch