BARCELONA, MOBILE WORLD CONGRESS -Mobile World Congress 2013 is now underway here in Barcelona, and there's one device we couldn't wait to get our hands on: the Galaxy Note 8.0 — Samsung's answer to the iPad mini. In addition to its 8-inch display, the device boasts a 1.6GHz quad-core processor, 2GB of RAM, and of course, the Note's trademark S Pen.
But can it give the iPad mini a run for its money?
If you're already a Samsung customer, then the Galaxy Note 8.0 will be instantly familiar to you. It looks a lot like a giant Galaxy S III — as we expected thanks to those leaked images that surfaced back in January — and it offers a very similar experience, thanks to Samsung's TouchWiz interface.
Powered by a 1.6GHz quad-core processor and 2GB of RAM, the device is certainly snappy. Switching between apps, scrolling through web pages, and loading games is a seamless experience. Even features like MultiView — which lets you split the display and use two apps at once — run without a hiccup.
The Galaxy Note 8.0 might be considered a midrange device, but it offers high-end performance.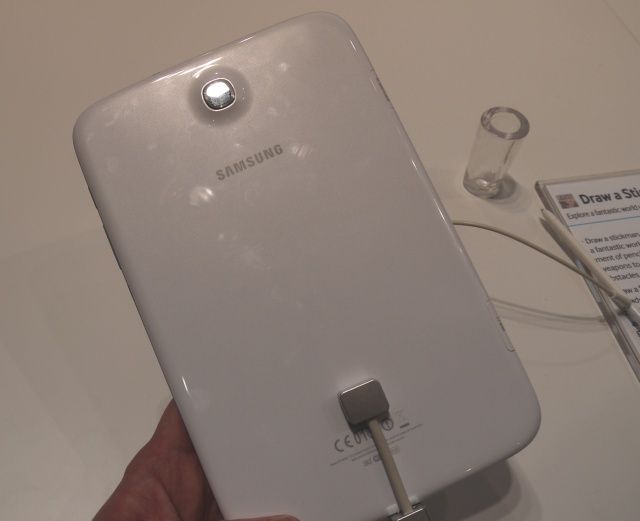 Like Samsung's other offerings, its latest tablet is almost entirely made of plastic. That's not necessarily a bad thing, and it's clearly not something Samsung's going to change any time soon, but it does feel a little cheap. Especially when you sit it next to the aluminum-clad iPad mini.
The Note 8.0 does feel nice in the hand, however, and at just 338 grams, it's very light. The device also boasts a 5-megapixel rear-facing camera, and a 1.3-megapixel front-facing camera. The pictures I got inside the venue weren't great, but I put that down to the awful lighting; even my iPhone 5 struggled at times. It'll be interesting to see what kind of photos it takes in a brighter environment.
The Note 8.0's 8-inch display offers a 1280×800 resolution, which isn't the best in comparison with today's high-end devices, but it's not bad. You'll see pixels, but they're unlikely to bother you after a while.
Being a Note, the tablet comes with all of Samsung's S Pen software add-ons, which are baked into its Android 4.1.2 operating system. That's not the latest Android OS, but we're fairly confident it'll be updated.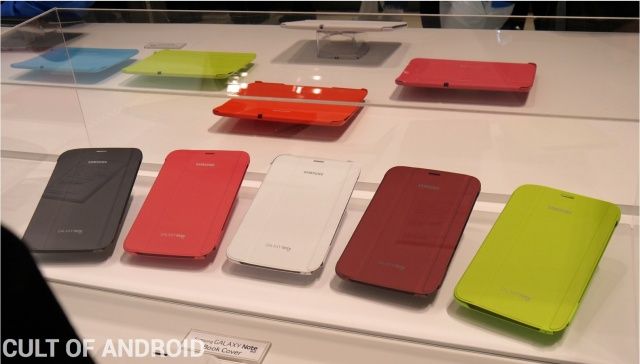 The Galaxy Note 8.0 will be available globally during the second quarter, Samsung says, but the Korean company hasn't announced pricing just yet. It has, however, unveiled a selection of Flip Covers for the device — as you can see above.