Apple's new 13-inch MacBook Air might look just like last years model, but don't let that fool you the insides have been almost completely replaced. Powerful new processors and upgraded internal components make Apple's powerful and ultra-portable notebook computer even better than last years model. I called it blazing fast last year, but this year I have to say it's smoking fast. Its performance leaves some MacBook Pros in the dust.
I've spent two weeks with my new 13-inch MacBook Air putting it through all kinds of real world tests, using it daily for a variety of tasks like word processing, web surfing, image manipulation, and running various applications including Windows 7 Ultimate 64-bit and Mac OS X Lion virtualization.
I'd like to share with you what I experienced during the first 14 days I used this new 13-inch mid-2011 MacBook Air.
Hardware
The model that I purchased was the $1,699.00 model featuring a 1.8Ghz Intel Core i7 with 4GB 1333 Mhz DDR3 RAM and  a 256GB SSD. This is the build-to-order 13-inch MacBook Air which is this years high-end model and by comparison last years high-end model cost $100.00 more.  That isn't to shabby when you consider all the improvements you are getting between this year and last year.
The physical specifications are unchanged, since Apple's ultra-portable is still under three pounds, 0.68 inches at its deepest point , and 0.11 inches at its thinnest point. It is so small and compact that it fits in practically any bag and it is so easy to carry you almost forget that you have it tucked under your arm as you walk from place to place. Once you use a MacBook Air for any length of time and then use a MacBook Pro things will feel pretty awkward due to the thickness and weight of the MacBook Pro. It is actually a surreal kind of feeling.
The system runs silent due to the most part because it uses a solid-state drive (SSD) versus a traditional hard disk drive, but occasionally when there is a lot of demand on the system the one and only fan in the MacBook Air can be a bit vocal. Loud in fact, but that is rare and not as frequent as last years model.
The 13-inch MacBook Air suffers from the same lack of expansion as its predecessors, but after a while you get used to having only two USB ports, a Thunderbolt/display port, SD card slot (13-inch model only), and headphone jack. The USB hub I stuffed in my laptop bag last year has gone unused — testimony to the fact the more isn't necessarily needed or even better. I've been just fine with access to only two built-in USB ports.

I found the hardware to be just as pleasing as last years model, but my only wish was that there were more Thunderbolt accessories out there — especially affordable ones. Unfortunately, for the time being, there aren't that many Thunderbolt accessories out there.
I missed the lighted full-sized keyboard in last years model so I was glad to see it return this year. It can come in pretty handy if you happen to find yourself in a darkened room. It even self-adjusts the keyboard brightness based on the lighting in the room.
The software and hardware support included this year for the Bluetooth 4.0 specification was nice, but I'm not quite sure what good that will do for me yet. I haven't really had time to worry about it.
The screen resolution 1440×900 was perfect for my needs and matches that of a 15-inch MacBook Pro. It was crisp and clear. I had no problems using it for lengthy periods of time and I never saw any reason to attach the computer to an external display. I seldom do that with any portable computer I've ever owned. After all a portable is a portable. I always thought that tying a display to a portable computer was akin to adding a boat anchor onto it. I prefer a separate desktop like my iMac instead.
The sound in this years model was adequate for something as small as the MacBook Air, but it doesn't come close to the sound you'd expect from a MacBook Pro or iMac. It was more than acceptable for me and probably will be for you too. Plus you can always use the supplied headphone jack to add external speakers if you absolutely had too.
Battery Life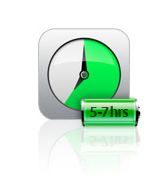 The largest internal space inside of the 13-inch MacBook Air contains a custom battery that Apple says lasts for 7 hours. I got more than that out of it so far. I used it all day and it just kept going and going. It wasn't until late evening before it finally needed to be charged. I was pushing it hard and used all the defaults for screen brightness and energy saver. Standby, according to Apple, is supposed to be 30 days. I doubt I'll leave it alone long enough to find out if that is true or not.