Apple Store 2.0 has launched in Australia and it looks like some of the rumors are true. The new version of the store features interactive product displays using iPads.
The iPads are used to display information about products sold in the Apple Store. You can see prices, do feature comparisons, and ask for help from a store specialist. The iPads are all running a new app, but it cannot be determined if the app is a native iOS app or a web app.
According to website Mac Prices Australia has posted photos from the updated Apple retail experience:
Retail stores around Australia have launched 'Retail 2.0′ to mark the 10th anniversary of Apple Retail stores. We knew this was coming but what exactly has happened?
iPads display product prices & information for products.
iPads display product features, prices and lets you compare between models.
Use the iPad to ask a specialist to come to you.
Apple store staff appear to be wearing party hats.
You can see more photos like the one below from an Apple Store in Sydney by visiting this website.
My closest local Apple Store doesn't open until Noon CDT and I'll be there to check all of this out for myself. I'll update the post later with additional information from my field trip.
Updated May 22, 20011 at 12:20 PM PDT: I visited the Apple Store at Baybrook Mall in Friendswood, Texas and I got to see Apple Store 2.0 for myself. I can see now why there wasn't any cake or a party.
The store layout has changed severely with accessories taking the biggest hit. There were four tables set up for Personal Setup activities. There was a plethora of iPads around the store acting as mini-kiosks that pretty much replicate some of the information from Apple's online store. The Home button on all these iPads was disabled so I wasn't able to determine if the app running was iOS or web-based. I think it is iOS based.
You could spend time looking through the product information on the iPad and summon a sales associate when you were ready to buy or just needed more information.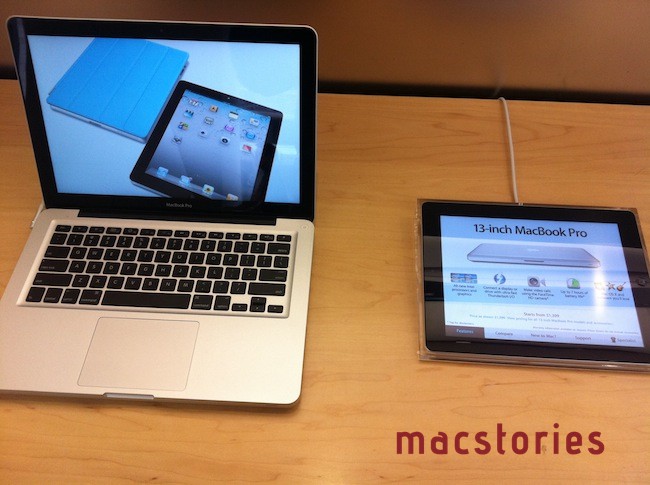 [via Macstories]