A feature called "Now Playing,"  launched in  fall 2007,  allowed latte-sippers to wander into a Starbucks, log onto the iTunes Store with a laptop, iPod Touch or iPhone and instantly see what song was playing in-store, plus browse and buy music on iTunes.
Unwired View found a patent Apple filed for a similar feature.
The basic idea: place a local cache of iTunes media store server at a retail location and follow the music played from that cache. The associated info is beamed to iPhones and Macbooks via local Wi-Fi network.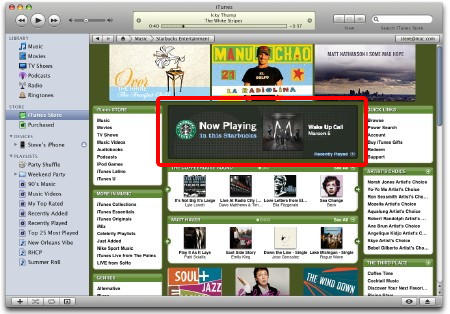 Apple envisions lots of in-store tie-ins and cross selling thanks to the feature.
From the patent application:
"One advantage of the invention is that patrons of establishments can dynamically receive store-based information while at the establishments. Store-based information facilitates user experience and can also facilitate locating associated media content from an online media store.
In store-based information can be displayed on a patron's portable electronic device while the patron in the store… The online media store can coordinate with central management to make store-based information centrally stored and accessible…"
Via Unwired View