The iPad isn't just creating revenue for Apple and iOS developers, in many retail establishments it's now tracking revenue as well. Everyone's favorite iDevice has been increasingly seen helping out at the checkout counter and point-of-sale operations in restaurants and coffee shops worldwide.
Several vendors are now offering iPad software and integrated terminal hardware supporting order management, payment processing, reporting and remote management capability. What an ideal Geek Trend: iPads, Coffee, Cupcakes and Commerce!

• • •
iPad Register in San Francisco Coffee Shop
We first noticed this phenomenon back in April 2010, when the Sightglass coffee shop in San Francisco was seen sporting an iPad with credit card reader at the front counter. Powered by Square software (which also works on the iPhone) and housed in a custom wooden swivel case, this tasty setup would also feel at home in a public library or kitchen table. (Photo Credit: Laughing Squid)
• • •
iPad Checkout in Grand Central Terminal
Meanwhile in the midst of busy Grand Central Terminal in New York, Joe coffee uses this discreetly shielded iPad running ShopKeep software to track inventory and ring up sales both cash and credit. Grand Central is a busy place, and the setup seems to handle the flow well. According to ShopKeep similar setups are also used in several other Joe and Steve's Ice Cream area locations.
A good opportunity for security vendors here too – iPads can grow legs in a railroad terminal very quickly!
• • •
Restaurant Management by iPad in Sausalito
Back in Sausalito CA, Lappert's Fish & Chips uses a Revel Systems Point of Sale terminal to power their checkout. This high tech setup sports the latest in Brinks style aesthetics, comes with an optional produce scale and supports multiple payment systems. Table management versions are available, and remote management capability keeps things running in times of crisis.
• • •
Restaurant Wide Service in Japan with Flavius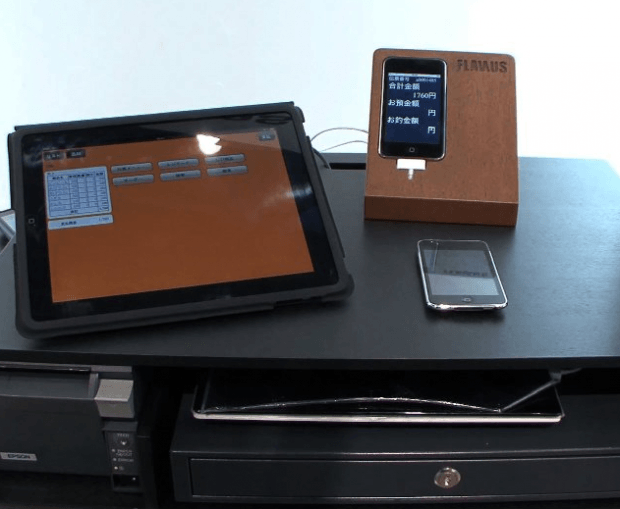 Across the globe in Okinawa, Japan, Global Network Systems offers the FLAVIUS system, which combines the register, a customer counter, point-of-purchase stations (using, presumably, iPod touch systems) and a WiFi router. The software also includes integrated attendance management and reporting functions, and keeps the cash drawer politely out of sight.
An iRestaurant in a box. Just add food.