This a is a guest post by Jerry Halstead of Frontier Design Group, a small, independent app development company.
Not everyone's app is going to be featured in a viral video. Maybe yours will be mentioned by a celebrity, used in an Apple commercial, featured in a blog or news story. Whatever the event, be prepared to act quickly and don't be reluctant to try to capitalize on it.
Here's how we capitalized on a viral video featuring our app, iShred.
Friday afternoon, October 15th, we ran across a Gizmodo link. Something about a band performing on a subway using iPhones. Sure enough the guitarist of the band, Atomic Tom, was playing our app iShred. Lots of great closeups of our app. We couldn't ask for more! We grabbed the Youtube link, posted it to our Facebook and Twitter streams and didn't think much else of it.
Saturday morning I fired up AppViz (handy app with great support!) and checked our store rankings and sales. Whoa! iShred showed almost 4x its normal average. It was also going up the charts. None of the other apps had a bump so it must have something to do with the video. A quick check around the net and YouTube confirmed that Atomic Tom was indeed going viral with their iPhone song. Apparently we were along for the ride. I modified our App Store description with a "as seen on" line and video link to help anyone looking confirm the app was ours. I also updated our website with an embedded version of the video and a mention that they were playing iShred.
Looking through websites like TechCrunch, Cult of Mac, TUAW, Engadget, Gizmodo, NYT, and YouTube I started noticing a trend. Quite a few people were asking what the guitar was. I started posting reply comments explaining that I was one of the developers and that the app was iShred, sometimes posting a link to our website. At first I was hesitant, thinking we'd come off as comment spammers, but soon realized that this is what people were looking for. Twitter searches started showing a heavier stream of Atomic Tom tweets as well.
Sunday had an even bigger surprise: Saturday's numbers were double Friday's, almost eight times normal sales. This time a few of the other apps were starting to get a little love. A check of the websites and twitter found that everyone was abuzz over Atomic Tom and, in turn, our app was getting more and more attention. After an hour or so answering comments, posting to Facebook and Twitter, I came up with an idea. We should have a sale and knock the price down from $4.99 to $0.99.
I sent the idea to the owners. One was interested, the other hesitant.
His reasoning:
* angering those who just bought it for $4.99
* "devaluing" our product's perception in the market (lower price == lower quality)
* potentially reducing the current fairly healthy income stream
* doing it too late to matter … we've already missed the greatest publicity bump on TechCrunch
My response:
* people are used to seeing apps go on sale
* it's a short term sale, which shouldn't hurt perceived value
* yes, a potential revenue drop, but that might be a small price to pay for the advertising gained
* sales were still high, it probably wasn't too late (yet)
The main reasons for dropping the price:
* at that very moment there were thousands of people looking at our app
* it's very hard (and expensive) to get that many eyeballs in today's app store market
Now 4x the number of people had bought it on Friday and 8x bought it on Saturday, even though $4.99 is considered a higher price point for iPhone apps. Turning it into a $0.99 cent app should remove any barrier or hesitation. They see the app in a video, it looks cool, it's only a buck: super duper easy impulse purchase. If my theory was right we'd get a lot more sales, perhaps make it to the top of the music charts, which in turn drives even more sales.
The three of us talked it over for a while and eventually decided it was worth a shot. The price was dropped to the lowest tier ($0.99 in US), the description was modified to mention a HUGE sale along with the Atomic Tom video, and we blasted it out over Twitter and Facebook. From then on whenever we answered someone's comment about the guitar app we also noted it was on sale.
On Monday morning the Sunday revenue was less than hoped for, but still good. The number of sales was much higher (3x over Sunday, about 28x our average), but since the price was so much lower we actually made less revenue than the day before. On the other hand the Atomic Tom video was really heating up. The video had passed a million hits and now TV and newspapers were starting to run stories about it. Some of the newer blog posts were even starting to mention the name of the apps they used.
By Tuesday there was no doubt that we had made the right choice. Sales were now at 100x and we were at the top of the Music App charts all around the world. The biggest surprise came when we looked at overall sales. iShred had jumped over 60 places to be in the top 10 in Japan and it was now in the top 50 in the US. I'd seen all of the tech blogs posting about Atomic Tom and it occurred to me that they might be interested in some of the positive app store side-effects of a viral video. I shot off a quick note to the folks at TUAW outlining our numbers so far. That afternoon TUAW published the story, giving us another nudge up the US charts.
Wednesday found us in the top 40 in the US and alternating between the #3 and #2 in Japan. I cooked up a promo idea where we'd put ALL of our apps on sale once we got into the US top 20, or #1 in any country. By the time a web page was thrown together, including a Japanese version, and was published to our Twitter and Facebook streams, interest in Atomic Tom had already started to fade. We also have a relatively small user base on the two services, so the promotion didn't propagate as widely as I'd hoped.
Lessons Learned
All in all, the "wave" lasted just a little under two weeks with the main activity lasting less than a week. The first few days were a flurry of investigation, reacting, and even a little panicking. We'd been featured in other videos, some with pretty good exposure and some even semi-viral. But to be honest we hadn't ever really thought about them as a marketing opportunity other than, "gee, I hope this helps sales." Luckily this time, a couple of days into the Atomic Tom viral frenzy, it hit us that we might be able to do something to take advantage of the visibility. In hindsight this may seem obvious, but looking at the other apps featured in the video not a single one of them makes mention of Atomic Tom in their app store listing or supporting web sites.
Steps we took:
1. Check app statistics regularly and try to understand the changes, especially what's driving noticeable increases in sales.
2. Update store and web site text to mention the event, include whatever supporting materials (videos/images) you can.
3. Spread the word, both for your app and the "event." We made a custom bit.ly just for the video, http://bit.ly/iShredAtomic to help spread the word and posted it to Twitter and Facebook. The better the "event" does, all the better for your app.
4. Search out people that are searching for you: check blogs and news sites for comments. Respond and be upfront about who you are. Don't assume they'll figure out what the app is or how to get it.
5. Decide how far to go to drive the promotion: we reduced the price and got a huge increase in sales, but only did so once momentum had been built.
6. Most of our apps feature an in-app "News" page and notifier. We sent out a sale promotion a couple of times along with an embedded version of the video.
7. Make custom short URLs for everything (i.e. http://bit.ly/iShredAtomic ) You can't select or copy text in iTunes so this makes it easier for people to remember or type your URLs
Monitor your web site and other support elements constantly. A few days into the promotion I noticed that our website was starting to slow down. It turned out that our MySQL server was seeing a huge surge in traffic. Some was obviously from the increased web traffic and queries for in-app News. But no doubt the increase was also due to the app's AirPlay feature, which plays shared songs. There are over 3,000 songs stored in the AirPlay database and many new users were probably using it to discover new songs and see what could be done in iShred. We simply needed to allocate more resources to the MySQL server, which cleaned up the logjam.
Unknowns:
1. Should we have bought Google ad words, Facebook ads, and YouTube advertising for iShred and Atomic Tom searches?
2. Would press releases to news sites and gadget blogs have added more buzz?
3. Would a bigger Twitter and Facebook following have helped? We haven't spent much effort trying to grow these.
After two weeks the Atomic Tom video racked up over three million views and over six thousand comments on YouTube alone. Based on the logs from that period here's how the traffic to the iShred web site was broken down:
Traffic Sources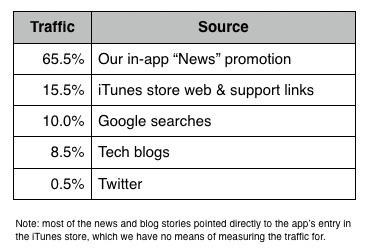 65.5% Our in-app "News" promotion
15.5% iTunes store web & support links
10.0% Google searches
8.5% Tech blogs
0.5% Twitter
Note: most of the news and blog stories pointed directly to the app's entry in the iTunes store, which we have no means of measuring the traffic for.
Summary
Not everyone's app is going to be featured in a viral video. Maybe yours will be mentioned by a celebrity, used in an Apple commercial, featured in a blog or news story. If you aren't actively looking, chances are that you'll never know. Whatever the event, be prepared to act quickly and don't be reluctant to try to capitalize on it.
About Frontier Design Group: We're a small company from New Hampshire founded by two friends who got their start making professional grade audio cards and software for PCs in the 90's and a variety of digital audio workstations and audio interfaces since then. In 2008 we released our first iPhone apps (Rainstick, Cowbell Plus, and Theremin) as a way to dip a toe into the new market. A few months, and a bunch of coding later, we released our first large scale music application: Guitar (since renamed to Guitar: Play and Share) and then iShred, a little over a half year later. In the past year we've released PianoStudio, a composition and performance tool for keyboardists, and iShred LIVE, an amp modelling iPhone app for use with a real guitar.
iShred links:
App Store – http://bit.ly/iShred
Web Site – http://fdgm.us/iShred
Video Demo – http://www.youtube.com/watch?v=eZpnzzKbY2I