One of the App Store's must-have games this week is Floop – a highly entertaining physics-based puzzler in which you shoot acorns in to the mouth of a squirrel. It sounds easy, but you'll need to practice your skill and accuracy to complete each level.
NBA Elite 11 by EA Sports is also a Cult of Mac favorite this week, and it's also the only true 5-on-5 NBA game for iOS. Delivering authentic basketball action with graphics made to maximize your device's Retina display, and EA's trademark impressive gameplay.
Revolt is a dual-stick 3D shooter that boasts advanced, fast-paced gameplay, sharp 3D graphics, and killer music & sound effects – also on our list and guaranteed to blow the socks off any shoot 'em up fan!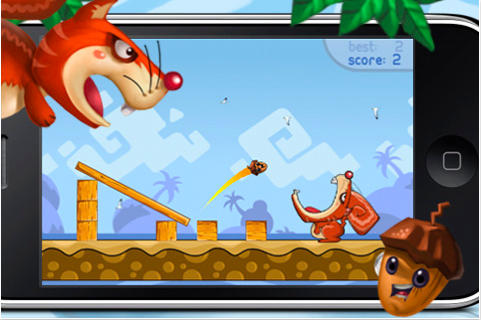 Floop – ($0.99) iPhone – Games
Hungry squirrels are everywhere, and in this physics-based puzzler, it's your job to feed them. It sounds easy, but Floop requires you to perfect your skills and accuracy in order to complete the 50 increasingly challenging levels that require you to shoot an acorn in to the mouth of a hungry squirrel. Play with 3 different characters and you'll be rated out of 3 stars for each level you complete. Every level is unique and features a variety of elements that require you to shoot the acorn with a cannon or a catapult, destroy ice boxes, ride an ice speed racer and more. With Game Centre integration that features global leaderboards and achievements, Floop is hours of fun!
NBA Elite 11 – ($4.99) iPhone – Games
NBA Elite is the only 5-on-5 NBA game in the App Store and features authentic pro-hoops action with updated rosters for all 30 NBA teams, over 450 favorite players with unlockable legends, and commentary from ESPN's Mike Breen. Made for players of any level with 3 difficulty settings and multiple games modes, including exhibition, an 82-game season, the 'do-or-die' playoffs, an all-new 3-point shootout for quick and casual fun. Boasting graphics that maximize your device's Retina display and 3 different camera angles to immerse you in the action, NBA Elite is the total NBA experience.
httpv://www.youtube.com/watch?v=r7icBAVLst8
Revolt – ($1.99) iPhone – Games
Set in the future where a devastating virus out most of humanity and machines have risen up to exterminate the remains of the population, you must take control of a resistance fighter and battle against the robotic hordes. Choose from one of 15 weapons including SMGs and rocket launchers, and blast your way through 8 story levels and 20 survival arenas in which you'll take on 8 different enemies and a bad-ass boss! Revolt boasts advanced, fast-paced gameplay, awesome 3D graphics, 3 difficulty modes, and OpenFeint & Game Centre integration. Check out the video above for some gameplay.
Baseball Superstars 2011 – ($4.99) iPhone – Games
Baseball Superstars is a full-featured baseball game that takes a unique and refreshing look at sports simulation. It boasts 6 game modes, customizable characters, and achievements galore. Take control of your player and guide them through a successful career by purchasing the right equipment and performing the necessary training, then dominate other players in match play mode. There are a whole host of achievements to earn from batting, fielding, and breaking special records, that challenge you to complete a variety of tasks.
Capcom Arcade – (Free) iPhone – Games
Four awesome Capcom games are back and better than ever in these near-perfect ports of the originals. Featuring Street Fighter II, Ghouls 'n Ghosts, 1942, and Commando in their entirety for the first time on iPhone. Each game is free to play three times every day, and users can purchase more tokens if they'd like to play more often. Two new games will be added to the Capcom Arcade every month, and each one features special premium DLC 'cheats' that unlock special abilities, upgrades and weapons.