This week's must-have iOS apps include the universal release of the official Twitter client, a fun and unique way to make music, and an app that turns your device in to a USB memory stick.
Check out a few of our favorite apps from the past week after the break!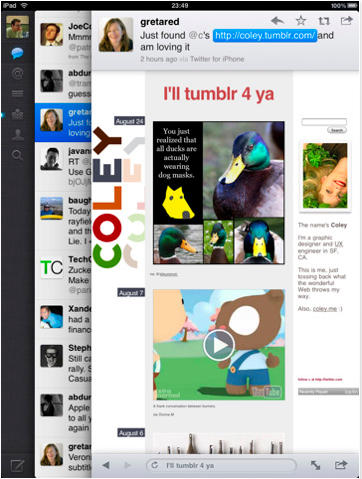 Twitter – (Free) Universal – Social Networking
It's been arguably the best Twitter client on the iPhone for a long, long time. And now the official Twitter application is available on the iPad, and I love it! It's just as simple and easy to use as the iPhone client, but this version features a unique way to browse through tweets which allows you to slide panels from side to side to quickly navigate through content. You really have to try it out for yourself to see how good it is. It's free so there's no reason not to!
httpv://www.youtube.com/watch?v=wCDW3Q1kKvc&feature=player_embedded
Seline HD – ($8.99) iPad – Music
Seline HD provides you with a unique and innovative way to create music with the ioGrid; an ergonomically designed playing surface in which a fully adjustable 16-note scale is divided in to two parts – odd & even. It features 23 instruments and 9 drone sounds, an automatic backing track, 25 included scales with the opportunity to create your own, and the ability to record and save the music you make. To gain a better understanding of this app and to see just how awesome it is, check out the video above!
USB Disk – (Free) iPhone – Utilities
I've lost count of the number of times where I've needed a memory stick but haven't had one to hand. I've got a couple of file storage applications for my iPhone already, however they all work over Wi-Fi and sometimes that's not ideal – USB Disk is on of the first I've found that lets you transfer files to your device over USB. Use the file sharing feature within iTunes to sync files with your device. Store and view documents, send documents via email, view and download email attachments and play a variety of audio and video formats with this handy application.
Well, that's it for this week, folks. If you've managed to find any notable apps over the last 7 days, please let us know about them in the comments.