Today we're going to figure out how to use GarageBand's Live Loops feature. These let you drop a little loop of music into a square on a grid (or record your own), and then trigger that loop by tapping the square. Everything plays in time, so you can use it to DJ with loops and samples and create sick drops like VITALIC. Alternatively, Live Loops are a fantastic way to remix your own recordings on the fly, letting you experiment with how your own songs progress, without all that tedious dragging of audio track in timelines.
GarageBand is a cut down version of Apple's Logic, but that's a bit like saying that a Ferrari is a cut down version of a Rolls Royce. It would have to be a really fast, well-handling Rolls Royce, and this is already a terrible car simile, but you get my point: GarageBand is awesome, and super-powerful. And so are Live Loops. They might look like a one-hit wonder, but they are in fact a fantastic way to create an perform songs. Lets' take a look.
A look at Live Loops
To get started, open up the free GarageBand app, create a new project, and tap Live Loops at the top of the screen. Like everything in GarageBand, Live Loops work on both iPhone and iPad. The easiest way to get started with Live Loops is to open up one of the existing templates. I picked Electro Funk, but any one will do.
Here you see the grid. The rows contain different instruments, and the loops from each of those instruments are arrayed across the screen in columns. Tap play and the first column plays. Tap either of the loops in that column to start and stop them. You'll notice that they don't start or stop as soon as you tap them — they wait until the beginning of the next bar to do that. This ensures that the loops play in sync.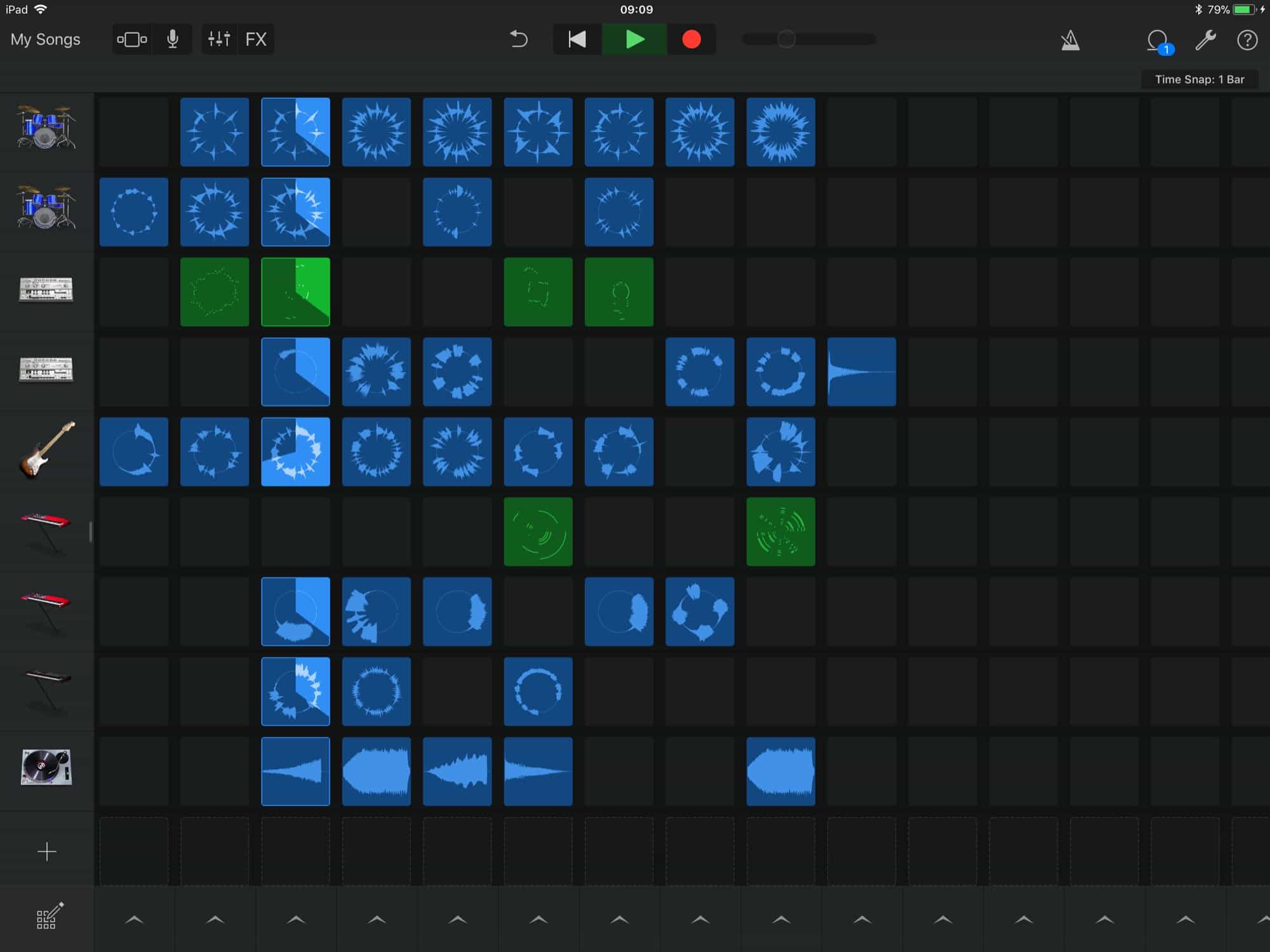 To switch to a whole column at once, tap the up-pointing chevron at the bottom of that column. This is a great way to switch between a verse and a chorus, say.
There are some rules to which squares can play. Well, one main rule — only one loop can play in a row at a time. If you think of the instrument in that row as being played by a human — a guitar for example — then they can only play one part at a time. This has the neat side-effect of letting you trigger a whole column, and then switching the guitar part only, say.
Editing the Live Loops
You can edit the contents and setting of a loop in one of two ways. In the normal mode, which we've been using so far, you can double-tap an empty square, or cell. To edit the existing loops, you need to enter Edit Mode, which you do by tapping the grid-with-a-pencil icon at the bottom left of the screen.
In edit mode you can tap a cell to copy/delete, edit the cell's contents, or change its settings. This is where you go to force a loop to follow the tempo and pitch of the rest of the song, for example, or to choose whether the loop loops over and over, or just plays once. We won't deal with this today though, but it's good to know where these things are.
One thing to note is that a Live Loop is really just the same as an audio or MIDI track from the main timeline view, the one where you see all your tracks laid out in rows. It's just that they are squashed into squares, and have a neat clock-like animation to show the progress of the track within.
Because they are regular tracks, you can edit them as such. In edit mode, tap a cell, tap Edit in the black bubble popover, and the track will open up, ready to edit.
Creating new loops
What about building your own songs? After all, the supplied templates are fun, but they're the same ones everybody has. Lets start over with a blank Live Loops grid. You can also switch into the Live Loops view from one of your own songs at any rime by tapping the little Live Loops icon at the top left of the screen.
To go back to the main Live Loops picker screen, tap the icon that consists of a large square flanked by two smaller squares. On the iPad, it's the icon to the left of the microphone icon. Tap that, and then tap the bank New button. If there are instruments in here already, tap them and hit Delete in the black bubble popover until the screen is empty.
There are three ways to get loops into the grid. One is to drag in an existing loop, or audio track. Another is to record the loop using one of GarageBand's software instruments — the keyboard, or the new drum machine, for example. The third is to record from an outside source. This can be another music app on your iPad, or an instrument connected to the iPad, like a guitar.
Add an Apple Loop to Live Loops
To add an existing loop, tap the loop icon (like a loop of rope), and you'll see the list. You can pick from Apple Loops, your own audio files (if you have added some to GarageBand), or music from your library. I'll add some drums. To do so, just drag them to the grid and drop them. I picked three similar loops, and put them in the same row.
Then we'll add some bass the same way. If you set a loop to play, then you can preview the Apple Loops against it.
Record a touch instrument into Live Loops
Now we have some funky bass and drums, thanks to the GarageBand-supplied Apple Loops, we'll add a cool keyboard line. I'll do this with one of GarageBand's synths, and record direct into the loop cell.
First, create a new track by tapping the Plus button in the source column. Then tap Instruments, and pick keyboard. I chose the Alchemy synth. Now, play around until you find a sound you like. I'll wait.
Now, to record, just tap the cell you want to record into, and pick Record Into Cell from the black bubble popover. Now, hit play to get everything running, and tap the record button when you're ready to record. The on-scree metronome countdown starts to count you in, and then you're off. Play your loop, and it is recorded into the cell. Hit stop and you'll see it appear.
If you recorded a shorter part than the cell was expecting, you can enter edit mode, tap your cell, tap Settings, and tap Length. There you can reduce the length of the loop to fit your recorded audio — you may half the number of bars, for instance.
Other tips for Live Loops
As you saw when tapping around in the Live Loops settings, there are all manner of advanced setting in there. But for now I'll leave you with a couple more tips for adding tracks.
If you're in the regular old-fashioned tracks view, then you can take a track and add it to the grid. Just tap the track's icon (a drum machine in my example, above), and pick Show in Grid to do just that.
You can also drag music tracks in from the Files app. Just open it up in Slide Over view on the iPad, and drag an audio file to the Live Loops grid. It's that easy.
Live Loops is a powerful way to build tracks, and to perform them, and that's before we even get to the ability to record a performance. It take a bit of practice, but hopefully your initial frustrations will be smoothed over with this how-to.