Rhythm-based gaming isn't new to the App Store – for a while now, there have been several games that offer players the ability to play along and 'jam out' to their favorite music. However the largest, most successful game in the genre is Guitar Hero. With huge success on pretty much every console available, the biggest music video-game franchise has finally found its way on to the iPhone and iPod Touch, and my God does it rock!
Guitar Hero features 6 songs to begin with, which you can play over three difficulty levels using either the guitar or the bass. There are also challenges to complete for each song which require you to do things like hit 80% of the notes, get an 80 note streak or earn a 3-star rating for your performance.
Once you've mastered the 6 songs that come with the game, you can purchase more from the in-game store. At the moment, there isn't a vast quantity to chose from, however there will be more to come. Additionally, Guitar Hero can also check out the music library on your device and notify you when one of your tracks in your library becomes available to play in the game.
Guitar Hero introduces a fantastic new control system that will have you tapping, strumming and sliding your fingers across the screen to hit all the right notes and rock out to the rhythm of the song. Unlike other guitar games in which you are simply required to tap along, this system offers a slightly harder challenge and along with the store, makes it more likely for you to keep coming back to the game for more.
Another great feature within Guitar Hero is the ability the customize your 3D rockstar and then share pictures along with your high scores with your friends on Facebook.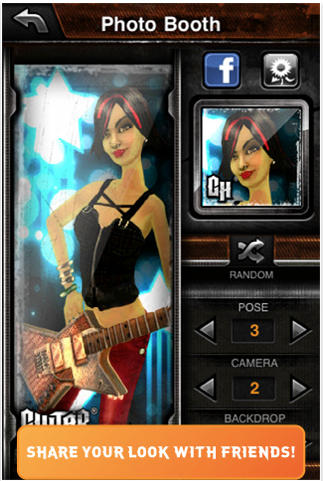 The only downside for me is the lack of a career mode. One of the best features about the console versions of Guitar Hero is progressing through the game by playing different concerts and gigs which get bigger and harder the further you go. Having said that, I think the challenges in this game are enough to keep you playing and entertained.
I've tried several of the guitar games available in the App Store, and a couple of which I've really enjoyed, but Guitar Hero is by far the best. The control system and ability to compete against friends over Facebook puts this game above the rest, and it's an absolute steal at $2.99.
Guitar Hero is developed by Vicarious Visions and published by Activision. You can find it in the App Store here.